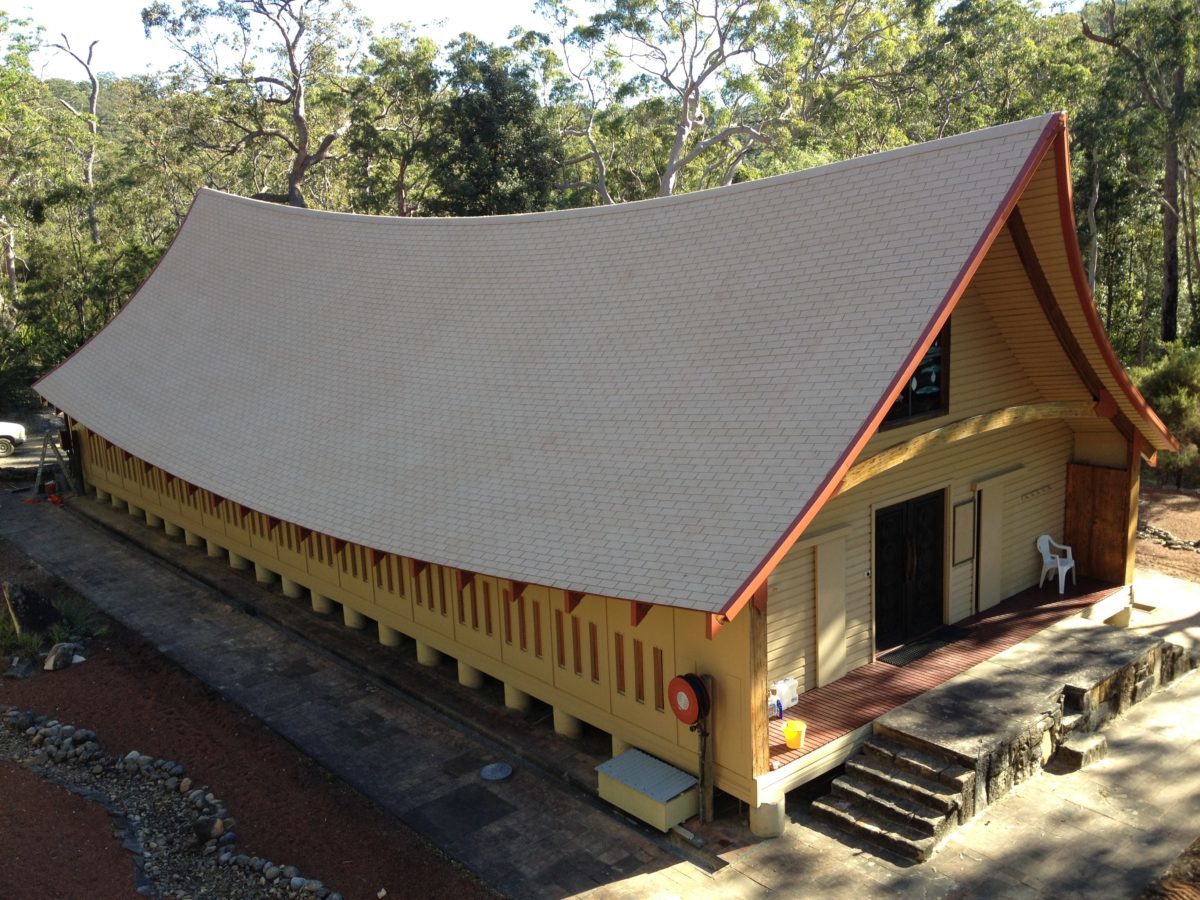 At Wat Buddha Dhamma, photo via wbd.org.au.
This story has been edited to reflect updates since its original publication on December 4.
Wat Buddha Dhamma, one of the oldest Buddhist monasteries in Australia, has experienced damage caused by the "Three Mile Fire," a New South Wales bushfire which is one of "137 burning across the state."
Wat Buddha Dhamma is a monastery of the Thai Forest Tradition, and was founded by Phra Khantipalo and Ven. Ayya Khema. It celebrated its fortieth anniversary in 2018.
According to Australia's Daily Telegraph, last week:
It was a long night for property owners with news the fire claimed a dwelling yesterday afternoon within the Wat Buddha Dhamma, a Theravadin Forest Monastery, in Dharug National Park.
At least one property was engulfed on Wednesday in the Three Mile fire in the Wisemans Ferry area on Sydney's northern outskirts, with other buildings under threat.

It is believed the property is part of a Buddhist monastery complex — a water bombing helicopter could be seen trying to save the meditation hall at the forest monastery, which trains monks and lay preachers at Ten Mile Hollow.
Update: The Wat Buddha Dhamma website now contains a December 7th update regarding the fires. It reads:
We have just heard from a member of the Rural Fire Service, who visited the monastery earlier in the day. He confirmed that the majority of the structures are still intact. However, we lost three monks huts, the lay shower block, three caravans, and most of the wooden walking meditation paths. The kitchen/office area and the Sala are still there.

It's uncertain when we will be allowed back as there are still active fires in the surrounding National Park and many fallen trees across the dirt road leading to the monastery.

The community of monks and lay people have relocated to Santi Forest Monastery and are having a much needed rest from the smoke and busyness of the past few days.

Again, we would like to express much gratitude for the outpour of support and good wishes from local and overseas friends.
Donations can be made at the Wat Buddha Dhamma website or via the Wat Buddha Dhamma Building Fund.
THANK YOU FOR READING LION'S ROAR. CAN WE ASK FOR YOUR HELP?
At Lion's Roar, our mission is to communicate Buddhist wisdom in today's world. The connections we share with you — our readers — are what drive us to fulfill this mission.

Today, we're asking you to make a further connection with Lion's Roar. Can you help us with a donation today?
As an independent nonprofit committed to sharing Buddhist wisdom in all its diversity and breadth, Lion's Roar depends on the support of readers like you. If you have felt the benefit of Buddhist practice and wisdom in your own life, please support our work so that many others can benefit, too.

Please donate today — your support makes all the difference.

Lion's Roar is a registered charity in the US and Canada. All US & Canadian donations are tax deductible to the full extent allowed by law.