When age and dementia undo her friend Julia, Elizabeth Brownrigg discovers that true compassion sometimes means setting boundaries.
On a cold, rainy afternoon I sorted through Julia's papers. There were hundreds of letters without envelopes or return addresses. So many friends had written so many heartfelt messages over the years. Where were they now? Julia wandered by the lakeshore calling for them.
There were old photo albums that she'd kept as a way to remember her life, only she couldn't recall where the pictures were taken or the names of the people in them. There were young lesbians in flannel shirts, groups of women sitting around and drinking, and some very intriguing shots of Julia standing naked in a forest. Going through the papers added so many dimensions to the person I'd come to regard only as a burden.
The papers and photographs were going to the university archives. I kept a box of blank postcards for myself. They were the pictures of Julia's life and mind.
Les Guerilleres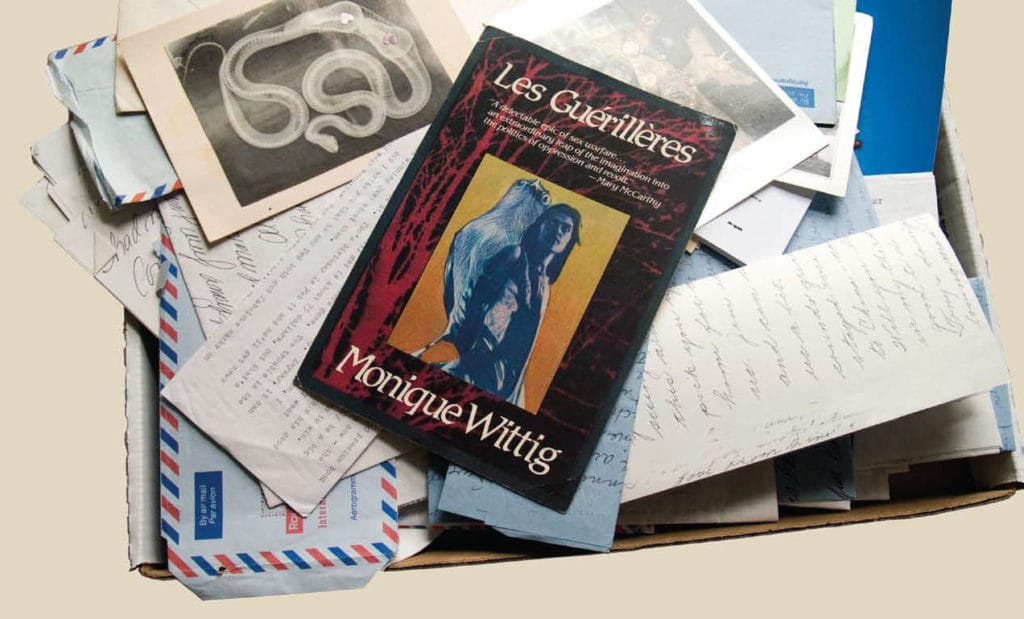 A drawing of a defiant woman merged with a bird. The postcard is an advertisement for Monique Wittig's book, which is described as "A delectable epic of sex warfare… an extraordinary leap of the imagination into the politics of oppression and revolt."
When I first met Julia in 1993, I was forty and she was seventy. She was colorful, unpredictable, a little abrasive, very smart. She had a long history of rebellion. In the 1970s, during the heyday of radical feminism, she'd left her position as a theater professor, founded a lesbian political journal, and traveled around the country with her much younger lover.
Her apartment was crowded with books and photographs and artwork—the gatherings of an interesting life well spent. On the wall, an artist friend had hung a cardboard snake made of these words: "The View After Seventy is Breath-Taking." When Julia had a mastectomy a few years later, the last words were changed to "Breast-Taking."
She was at the center of our community. She wrote poetry and plays. She spent her evenings at the theater or the movies. She liked films that no one else cared for because the lighting reminded her of early French cinema or the staging was interesting. She saw the differences in the portrayals of men and women, how women are often naked and exposed objects but men never are.
She dressed with a sense of style: a black beret contrasting with her silver hair, a little bit of makeup, a colorful tie, flowing jackets. She walked as though she were striding across the stage. She was a mentor and a promise of what my old age might be.
As the years passed, Julia complained of her failing memory. She said, "I can't think clearly when it's cloudy." She didn't read long books anymore; she couldn't remember what had happened in the previous chapter. She spent her days in her dark apartment and tried to reconstitute her disintegrating past. I took her to doctors' appointments, resolved crises that usually concerned missing objects, and attempted to make sense of her checkbook.
On Fridays, we went out together. It was a little challenge for us both to find something new to do every week: seeing a play or an exhibit at the art museum, having lunch at a place we'd heard about. In keeping her world from shrinking, my world expanded; we showed each other the sights from our different perspectives.
She called me whenever she needed me; she called more and more often. She was slowly losing ground, especially on "cloudy days." But she could still drive, take care of herself and her cat, more or less keep up with the bills.
"I'll be eighty years old in August," Julia said. She mentioned it every time she saw me. I planned a big party for her. We invited all the people in her address book. Her godchildren traveled to North Carolina from Connecticut and California. The party was a slice of Julia's long life: an old friend sitting happily demented in a chair, former students, young neighbors, allies in the feminist struggle. When it was over, she said, "That was absolutely perfect."
The Snake With Two Hearts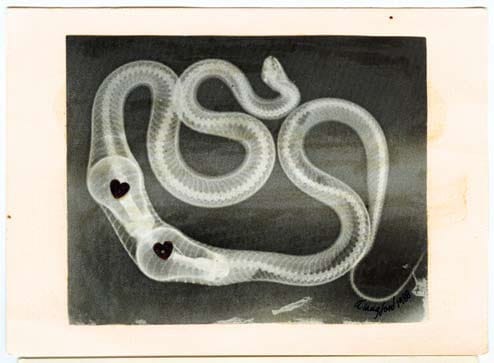 An X-ray of a snake that has swallowed two lightbulbs. A shiny heart-shaped sticker is affixed to each bulb.
A month after the birthday party, Julia invited me to dinner. "You know what's wrong with you?" she suddenly spat out. "You're not a real feminist."
Her eyes were cold and glittering. She quizzed me about my past, dismissing every bit of evidence that I offered that, why, yes, I was a "real feminist," whatever that meant. She was enjoying herself. Clearly, she'd been planning this moment. I left as quickly as I could, not engaging, keeping up a veil of politeness.
Days later, Julia sent me a card saying that she merely wanted to "blow my cool."
"You'll forgive me, won't you?" she pleaded. "I don't want our friendship to change. I want it to be like it was." We went to a piano recital. It was in the woods, at one of a collection of hand-built houses occupied by artists and musicians. On our drive through the countryside, Julia kept up a steady stream of complaints about how we were lost and how I didn't know what I was doing. After the recital, we went to a restaurant for dinner. Julia tried to pick a few more fights with me and, failing that, she lit into the waiter who didn't serve her quickly enough.
My friendship with her became like living with an alcoholic. I avoided restaurants. I was careful not to make any changes in scheduling and to arrive at the exact time that we'd planned—not that it made much difference. She misremembered the hour and chewed me out anyway. It was like tiptoeing through a minefield where someone kept moving the mines.
Julia could be a generous friend or the crudest of enemies. I never knew which person I'd encounter. Over lunch one day, she thanked me for giving her the best seat. We had a real conversation, as two close friends might, about our complicated feelings for our mothers. Often, she offered me clothes, lamps, paintings, money, saying, "Take this, take this, you do so much for me. How can I pay you? Take this."
Or, her edge became a sword she wielded without warning, slicing me off at the knees. She was raging against the dying of the light and the rest of us still in the sunshine. Ultimately, there was something wrong with everyone. They were "ageist," or "shallow," or "materialistic," or "dassist," or "too sensitive," or they "took advantage of people." With Julia, familiarity really did breed contempt.
I struggled with what I should do versus what I could do and what boundaries I should set. What was my obligation to my friends? Which friends would I do anything for and which friends would I only go so far for?
Dress Rehearsal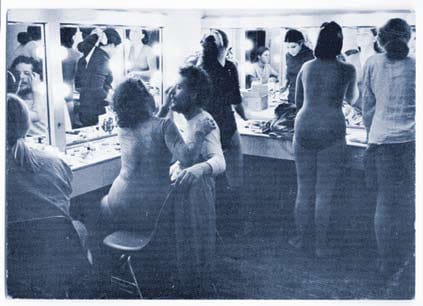 A dressing room filled with actors putting on makeup and donning costumes for the stage.
Julia considered moving to a retirement community, where she would have regular meals, safety, and some social contact. She decided and un-decided, signed the contract and ripped it up, agreed to a tour of places and then refused to go. Her goddaughter from Connecticut, her ex-lover from Canada, and local friends in North Carolina all searched for a place for her. Finally, with our help, she found an apartment and didn't change her mind. Over the month before the move, I packed her books, helped her get rid of things, and carried boxes over to her new apartment in the broiling August heat.
She fired me a week before the move. She accused me of stealing her will and threatened to call the police. She said she didn't trust me, that I was mad with power. My emotions during this bizarre exchange were curious—I felt my adrenaline pumping, of course, but I also felt a cold rage, almost an exhilaration. Hooray! Free at last!
Somehow, though, I had to orchestrate the move without Julia knowing of my involvement.
I called the ex-lover to see if she could talk some sense into her. She remarked that her life had been subsumed by Julia's when they were together. We shared the experience of being the caretakers/enablers in an abusive relationship with the same person. Julia was who she has always been, only now dementia had unfettered her.
Eventually, Julia asked for my help because she couldn't manage the move by herself. Life pretended to go on. She forgot she was angry with me and that I might be angry with her.
Night Flight of Dread & Delight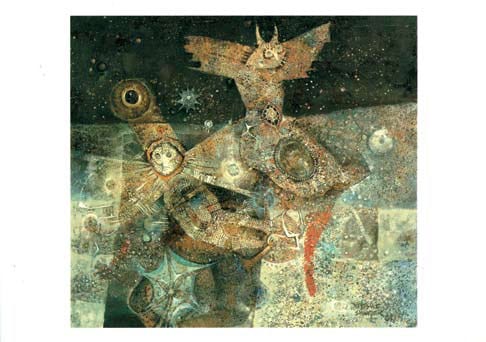 A painting by Skunder Boghossian of owls and demons flying through the Ethiopian night.
Every morning I awoke in a foul mood and saw everything through a mesh of anger. If I hurried fast enough, the anger faded. I wanted my mind to be different; I wanted to just be in the world and be happy about that. Faintly, through my anger, I heard a beautiful day calling me. I could see it, but it was as though I were autistic. I knew it was pretty, but I didn't feel it.
I tried to explain Julia's taxes to her. She was mad at me for her loss of comprehension. I said nothing while she shouted. I left, my legs shaking with anger.
I had panic attacks whenever I approached her apartment. I panted; I couldn't get enough air. One day, after being blasted once again for neglecting her, I thought I heard a car door slam in my driveway. I thought it might be her. My physical reaction was sheer terror.
I could have made a horror movie out of this: Here cometh the embodiment of all my guilt and worst fears about my future. Here cometh my own rage, my own self-accusations. Here cometh a situation that is always on the verge of spinning out of control. No wonder old women are monsters in fairy tales. No wonder children are trapped by them. We cannot run away because we cannot in good conscience abandon our parents. Even if we do run away, they pursue us, because no matter what we do, it is not enough.
I wondered if meditation might release me from the clutches of my own mind. I signed up for a weekend meditation retreat.
The first thing I discovered was the startling depth of my self-hatred. During those two days of sitting and walking, sitting and walking, I glimpsed a bit of light on the far side of the enormous room of my mind, and then I pulled myself back because I needed to hang on to my thoughts, lest my true self come screaming out of the darkness. I was sure the other meditators in the room were staring at me and finding me lacking.
The most valuable lesson from that first long weekend was one of forgiveness; no matter how many times my thoughts carried me away, no matter how many times I failed, I could always return to the breath and begin again. There was only this moment, with its limitless possibilities.
Maybe the value of my experience with Julia would come from working through it. This was a complicated love, a love born of necessity. How could I survive that love?
Two Women, Disrobing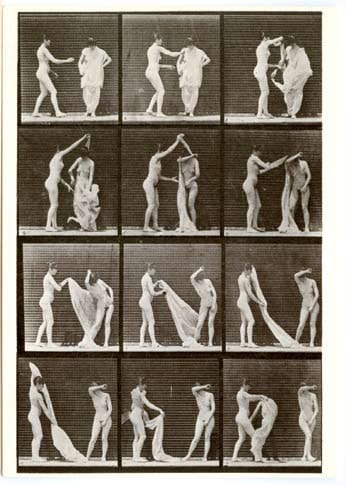 A series of photographs by Eadweard Muybridge, from his "Animal Locomotion" studies. A naked woman approaches another woman who is clothed in a Grecian robe. The first woman unwraps the robe from around the body of the second.
I was caught on the horns of compassion and rage. I saw Jack Kornfield's A Path with Heart on a bookstore shelf and wanted nothing to do with it. Compassion was my problem. Look what it had gotten me into. Why would I want to practice it anymore? I didn't understand what compassion was.
Compassion means caring for everyone, including yourself. It contains the irony of separating yourself from someone else even as you acknowledge that you are not separate. It means saying, "This is all I can do." In The Places That Scare You, Pema Chodron says, "In order not to break our vow of compassion, we have to learn when to stop aggression and draw the line. There are times when the only way to bring down barriers is to set boundaries."
One day, I had a breakthrough with Julia. I went over to her apartment to work through her horrible finances. She wanted to be heard, like everyone else. So I let her talk. But I didn't confuse compassion with enabling. That was the tricky part for me: knowing that understanding how someone feels does not mean that I have to take care of them, or do everything for them, or even condone their behavior.
I felt so sad for Julia, with her constrained finances and her constrained life. She couldn't think straight or make any more money, and she knew it. During meditation, I contemplated compassion and understanding, detached from the conviction that I was responsible for fixing the misery. I could understand her fear and rage, without knowing what, if anything, I could do about it.
Julia called one evening with paranoid delusions about the retirement community management. She said they didn't think she was who she said she was. If one should ever doubt that thoughts aren't real, here's the proof. Julia's fears were reflecting off the walls of her skull as reality. "I'm angry" turned into "everyone is out to get me." "I don't know who I am anymore" became "they don't believe I am who I say I am."
I just listened and said I'd vouch for her if anyone questioned her identity.
Flight Research #5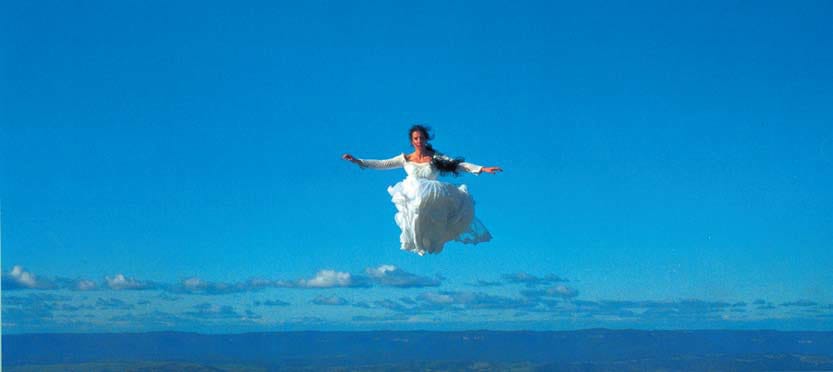 A photograph by Rosemary Laing. An Australian stuntwoman wearing a white wedding dress is suspended in flight against a bright blue sky.
Despite all this newly acquired wisdom, I was not really out of the woods. My flashes of compassion were overwhelmed by Julia's demands, the orchestrated crises, the angry phone calls.
Finally, I saw a therapist, who suggested there was a reason I'd chosen to be in this pickle. Here was an opportunity to understand my own part in the situation. The therapist suggested I stop being the caretaker; I'd done enough. Others had said they would help out, but since I'd assumed responsibility, they hadn't needed to. What did I want my role to be?
I steeled myself to talk with Julia. I even wrote what I was going to say on an index card. I told her that feeling responsible for her was very difficult for me and that it contributed to the tension between us. I could still help her with financial problems and medical appointments, but couldn't she think of other people to call on for other things? I mentioned a few names. She said she didn't like this person and didn't trust that person. I let that be her problem.
She said I didn't have to feel responsible, that other people were making me feel responsible. I let that one go.
We appeared to part on good terms and to have a new understanding. I felt immediately freed. I saw how much I'd contributed to the situation by acquiescing to the role of servant. I saw that, rather than stonily withdrawing, I could tell Julia what I was feeling.
Of course, Julia turned our conversation into a different story. She called her goddaughter, who in turn called me to ask if it was really true that I'd have nothing more to do with Julia, and that I had refused to help her out. Julia continued to spin fanciful tales of how I just wanted her money and I couldn't be trusted. My phone calls and visits were met with frosty silence.
During meditation, I contemplated change. Relationships change. They change the people involved in them. The people change, independent of the relationship. We arrive at a new understanding or reach an impasse. What endures?
The hardest thing of all is to change the dynamic you already have with someone else, especially if they're not willing participants in the change. Julia was perfectly pleased when I was in the servant role. Changing this had provoked her outrage. Dementia was her trump card. She interpreted my bid for independence as abandonment. She couldn't change, but I had to. It tore me up to pull away from her. It was an excruciating exercise in turning my back on someone else's pain/my own pain. But I had to step back in order for others to step in. Now other people were helping Julia.
Months later, I encountered a remnant of things past when Julia left a message asking me for help with her taxes. I lived through a thousand angry scenarios before I called her back. I was the shell-shocked veteran ready to hit the dirt at the sight of a trash bag fluttering by the side of the road. Sometimes it was only a trash bag; sometimes it was an IED.
This time, it was only a trash bag. Julia was amazingly sanguine about my filing her tax return. She wanted control, but she also wanted someone to take care of her problems.
The pendulum continued to swing, more slowly now that I saw her less often. She was pleased with me one time, angry the next. We enjoyed an evening at the theater. Then I returned from vacation to three increasingly furious phone messages: Julia said she had been outed as a lesbian and that she needed to leave the retirement community. Why was I ignoring her? She hung up on me when I called her back. Once again, I was left with the toxic detritus of her rage.
New England Fall Colors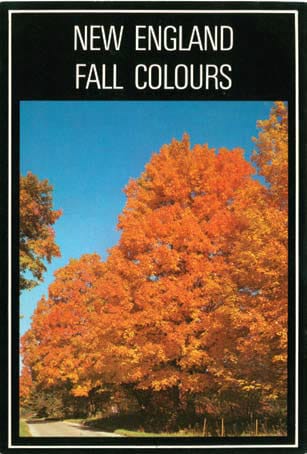 Sunlight shines on brilliant orange trees along a country road.
Julia's goddaughter decided to move her up to Connecticut to be near her. I felt sad and relieved. This was what I wanted, and yet I wished I could have helped Julia the way I'd set out to do. The goddaughter said she couldn't bear to think of Julia fading away alone in North Carolina. It tortured both of us. You were damned if you helped her and damned if you didn't.
As the plans for the move progressed and it slowly became a reality, there was a seismic shift in my own psyche. From this new vantage point, the person who had taken responsibility for Julia's sorrows was a stranger, and clearly someone with boundary issues. I saw my place in our dynamic—how my stepping in, taking responsibility, trying to control a disaster—had given Julia someone to rebel against. The energy left my anger, like air escaping from a balloon.
On a fall day, we were driving past oaks and maples, gum trees and sycamores in shades of red and yellow. "That's what should happen to old people," Julia said. "We should turn different colors as we age. Wouldn't that be lovely?"
We saw Corneille's The Illusion at the local repertory theater. Julia didn't understand the plot but enjoyed the lighting and the staging. She still loved the look of the world, even though she couldn't understand what it was saying.
On our last day together, I took her to the airport. She fussed a bit about some object she'd lost. I started to reply and she said, "You don't have to take care of it."
At the waiting area next to the gate, it was nice to spend time with her, to chat about this and that. She remarked on the shapes of women's hairstyles as passengers walked past us. I watched her go through the gate, her silver hair a fading beacon.
The House of Cleopatra at Delos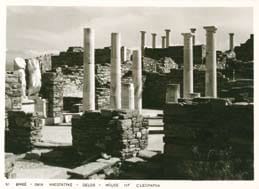 A black-and-white photograph of white columns, the ruins of stone walls, and headless statues of women.
Only recently have I allowed myself to miss Julia and what I loved about her, all the qualities that were obscured by our difficulties.
What is loyalty? What is compassion? What is forgiveness? It's our suffering that unites us and divides us.
Now I have a vision: I am walking across a barren, windy landscape. In the far distance I can hear the crash of surf, but I can't see the ocean. At the top of a hill, I see the silhouettes of enormous old women, as still as stone. As I draw closer, I find that the silhouettes are really ruins, weather-worn and broken. The ruins cannot speak. The wind whistles through them as though it were saying something, but I can't make out what the wind wants to tell me. Maybe the wind will bring the old women's memories to me. Maybe it will blow them away.