In the mid-1970s, Carolyn Rose Gimian found herself practicing with Chogyam Trungpa Rinpoche, and would soon become a caretaker of his teachings, editing them and crafting them into books that would come to be known as modern Buddhist classics.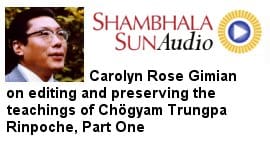 Here, Carolyn talks about how this came to be, and paints a picture of the early days of the Shambhala organization, and her work with its legendary founder.
Longtime practitioners might recognize some names from those heady early days here, including those of Judy Lief, and of Sam and Hazel Bercholz. But you needn't be a longtime practitioner to appreciate Carolyn's story of good fortune and right livelihood.
Just click this player to listen:
In our second installment, Carolyn discusses what new Trungpa books have yet to be released (the answer might surprise you), and shares advice for those who might wish to serve a Buddhist community in the way that she's served hers. To listen, click here.