Lion's Roar readers know David Sipress; he's the cartoonist who's provided so many great single-panel cartoons to recent issues of our magazine — for example, this one: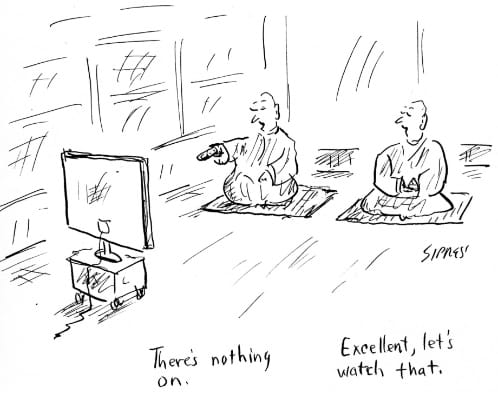 (David's work will also be familiar to readers of other magazines, The New Yorker among them.) We've talked to David about his cartoons for Lion's Roar here on SunSpace before, and soon you can see him — along with fellow cartoonists like Roz Chast, Sam Gross, Ed Koren, and George Booth — in the documentary film, "Funny Business: An Inside Look at the Art of Cartooning." The film will be showing soon on several PBS stations across the US. More details at the film's website.)
For more of David Sipress's Lion's Roar cartoons, see "What's So Funny About Buddhism?" — cartoonist David Sipress explains.