A review of Buddhist musician Meg Hutchinson's new album, "The Living Side".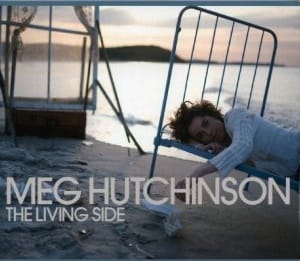 Featuring supporting musicians Crit Harmon, Brad Hatfield, Kevin Barry, Steve Sadler, Richard Gates and Jeff Berlin, Meg Hutchinson's latest release, The Living Side, is a must-have for any Buddhist singer-songwriter aficionado. "Is it true, what they say, that everything changes?" Hutchinson queries rhetorically. The Living Side's music roots itself in impermanence, mimicking the gentle swell and release of ocean waves while its lyrics turn on themes of suffering, longing, paradox, surrender, gratitude, and ultimately hope.
Hutchinson's tight harmonies and Crit's Harmon's lush, yet simple arrangement are a good counterpoint to the contemplative, questioning tone of the lyrics. Likewise, Hutchinson's natural voice allows her to deliver an honest performance of nuanced, political writing. Hutchinson's autobiographical writing style lends itself to intimacy but remains broad in scope.
The opening song, "Hard to Change" struggles between personal sorrow and acceptance, and being both part of and separate from the machine of America. With references like, "Year of the billion dollar bail-out" and "across the highway the Americans shop," Hutchinson cleverly positions herself both as a part of America, and as an outside observer. "Hard to Change" leans on the line, "Tell me 'bout your dreams," a self-reflexive invitation from Hutchinson to both her audience and herself, to take a journey of discovery.
As a Buddhist, Hutchinson sees herself as connected to others, and her compassion shines through in lyrics like, "Inmates down in the courtyard, so close that I can feel /So much rage and hope and grief, and this dream of getting free." Hutchinson sees herself and perhaps all of us, simultaneously as prisoners and agents holding the keys to our liberation.
With nuanced lyric, "I don't want to have to choose between two lives/ Guess that's the danger in working nights," Hutchinson evokes both an illicit romance and a struggle with bi-polar disorder. Throughout the CD's trajectory is an unwavering commitment to stay, to observe rather than to judge: "Call it my disease or my medicine/But my third eye is opening… Now I don't look away."
Attend carefully to this patchwork of personal prayers for redemption from a rising voice, and rock yourself to sleep on a sea of dreams.