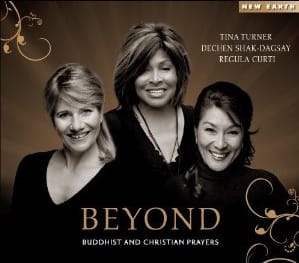 Beyond: Buddhist and Christian Prayers is a collaborative CD delivering a spiritual message, which was released this fall in the United States. Featuring rock icon Tina Turner, Dechen Shak-Dagsay, a Tibetan mantra singer, and Regula Curti, a Christian and music therapist, the CD was inspired by an inter-religious dialogue between the Dalai Lama and Swiss monk, Abbot Martin Werlen.
At times contemplative, and at others jubilant, Beyond is a compelling compilation of original Buddhist and Christian music, ranging from Tibetan Mantras to medieval chant to Turner's personal chants.
"The Beyond Project is an invitation to open up a space where it is possible to include each individual to contribute to this vision," says Tina Turner. "We are all the same, looking to find our way back to the source."
Peace is the abiding message of the record, going beyond hate and fear to  recognize our inexorable connection with every living thing. Beyond is a great gift for yoga teachers and meditation practitioners as it succeeds at soothing while avoiding the pitfalls of generic relaxation music.  The songs flow seamlessly into each other providing enough variation to keep your attention while transporting you to a peaceful place.
The CD's fusion of styles and vocal techniques works surprisingly well, and a rich palette of textures result from the use of instruments like didgeridoo, horns, chimes, and sitar. Impeccably arranged, recorded, and produced, listening to Beyond comforts and delights like sitting in front of a burning fire on a winter night.