On July 6, the Dalai Lama turns 80. In the above video from Sunday, June 28, thousands of Glastonbury festival-goers — including Patti Smith — sing "Happy Birthday" to His Holiness before he cuts his cake, and gives a short, sweet address on compassion. To celebrate his life and legacy, we've put together a special publication, The Dalai Lama. But there are all manner of celebrations set to happen all around the world.
The #WithCompassion Campaign
The only gift that the Dalai Lama has asked for on his 80th birthday is that people around the world act with compassion. Friends of the Dalai Lama has launched a campaign to get people around the world to share their stories with the hashtag #WithCompassion. Supporters of the campaign include Common, Arianna Huffington, Larry King, Russel Simmons, and more.
Upcoming Celebrations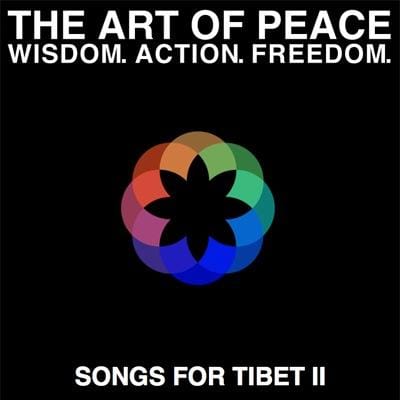 From July 5-7, the University of California, Irvine will host a three-day celebration, featuring the Dalai Lama in dialogue with world leaders, Nobel laureates, and celebrities.
DalaiLama80.org is writing a post every day for the 80 days leading up to His Holiness's birthday.
Tibet House US is crowdfunding a graphic novel of the life of the Dalai Lama. They're looking to raise $25,000 by July 6 in order to produce the novel for the Dalai Lama's birthday. As of June 5, they're up to $8,748. Click here to watch Robert Thurman's pitch and make a donation.
Tibet MX has posted a petition for Google to create a doodle for the Dalai Lama's 80th Birthday, which you can sign.
The Tibet Fund will host a dinner reception at the JW Marriot in New York City on July 7. Attendees will offer a long life prayer for His Holiness. Tickets are $252 for one person or $450 for two people. Depending on ticket sales, the organizers hope to make a donation to the Tibetan Community Center in Queens, NY. To RSVP, call or email the Tibet Fund, (212) 213-5011,

[email protected]

.
On July 6, Sting, Peter Gabriel, Kate Bush, and others will release "Songs For Tibet II," a tribute album, with proceeds being used to "promote the wisdom of the Dalai Lama & Tibetan culture."
On June 25, Sikyong Lobsang, the prime minister of the Tibetan government-in-exile, published a statement on His Holiness's birthday.
Check back here for more events. We'll add them as we receive announcements.