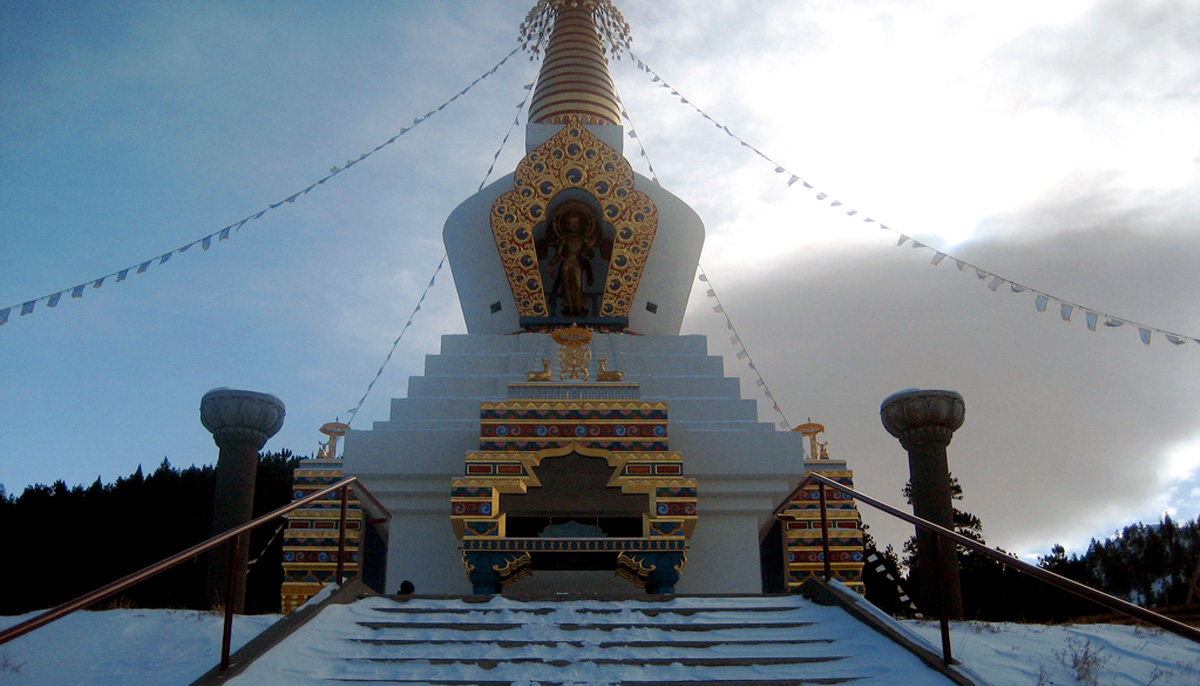 The Great Stupa at Shambhala Mountain Center. Photo via Wikimedia Commons.
Chapman University has suspended its January travel course to Shambhala Mountain Center in Colorado following allegations reported in a Chapman News student journalism story about events that occurred during last years' course.
Every January, Chapman University offers the interterm travel course "Mind, Self, & Society in Tibetan Buddhism," in which students travel to Shambhala Mountain Center for a Buddhist retreat. In the video report published in December by Chapman News, it was reported that female students were made uncomfortable by the "disturbing behavior" of a longtime Shambhala member hired by the center to work with Chapman students.
"Out of an abundance of caution, Chapman University will suspend travel courses to Shambhala Mountain Center until their internal investigation is complete and we are confident the center is a safe environment for our students," Jamie S. Ceman, vice president of strategic marketing and communications for Chapman University, told Lion's Roar.
In a statement to Lion's Roar, Michael Gayner, executive director of Shambhala Mountain Center, said the teacher in question was "immediately dismissed from his position" and removed from the property the day after the incident reported by Chapman News:
We understand and respect the decision of Chapman University to cancel this year's program.
Most importantly, we want to apologize to the student who was subjected to a demeaning and racist encounter with one of the assistant teachers for last year's retreat. We would also like to apologize to all the students for the way the teacher's behavior tarnished and interfered with the purposes and intent of the retreat. We respect the way the students and journalists at Chapman University have come together with the motivation to end such instances of harm and protect their fellow students.
We want to be clear that we do not tolerate abuse in our community at SMC. The teacher in question was immediately dismissed from his position on the night of the incident and was removed from the property the following day. We conducted an investigation following the program, which resulted in his being permanently banned from teaching at SMC. At the same time, we've heard from the students that several inappropriate comments and interactions preceded the event that ultimately led to this teacher's dismissal. We acknowledge that SMC should have had a better grievance procedure in place by which these red flags could have been safely brought to our attention.
The Chapman news report also pointed to reports of abuse that have come forward about the larger Shambhala organization in the last two years. SMC is committed to not minimizing or rationalizing allegations of harm. We have openly communicated to our community, participants, and the general public about reports of misconduct in Shambhala. However, in this instance, SMC failed to communicate this information to the Chapman students. For this we are sorry.
We recognize that there remains work for us to do in order to create a culture that fully represents our values and intentions. Over the past year, we implemented several initiatives at SMC to prevent misconduct and better respond if it occurs. This work includes a new code of ethics to be signed by all teachers, guests and staff, a new grievance procedure, and numerous staff trainings on power dynamics, bystander intervention, and sexual violence prevention.
Can you help us at a critical time?

COVID-19 has brought tremendous suffering, uncertainty, fear, and strain to the world.
Our sincere wish is that these Buddhist teachings, guided practices, and stories can be a balm in these difficult times. Over the past month, over 400,000 readers like you have visited our site, reading almost a million pages and streaming over 120,000 hours of video teachings. We want to provide even more Buddhist wisdom but our resources are strained. Can you help us?
No one is free from the pandemic's impact, including Lion's Roar. We rely significantly on advertising and newsstand sales to support our work — both of which have dropped precipitously this year. Can you lend your support to Lion's Roar at this critical time?