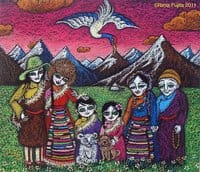 A children's book dedicated to helping Tibetan children preserve their culture has an upcoming charity exhibition.
Rima Fujita is a New York-raised Japanese artist and founder of Books for Children, an organization whose purpose is "to produce children's books for the orphans and children of the countries in need, not only to help with their education but also to help them preserve their languages and unique cultures."
Her latest book, Save the Himalaya, with forewords by the Dalai Lama and Richard Gere, will be released this coming fall. An exhibit of the original works of art from the book opens on April 29 at Tagore Gallery in Beverly Hills and runs through May 22.
The gallery opening will feature special guest Mr. Lobsang Nyandak, a representative of His Holiness the Dalai Lama. Dr. Stephen Commins of UCLA will speak about the Himalayan environmental crisis, as will Tenzin Dorjee, the executive director of Students for a Free Tibet.
Save the Himalaya is an educational book about ecological issues surrounding the Himalaya and its culture. The proceeds from the book will go toward donating a few thousand copies to 82 Tibetan refugee schools in exile by Losar 2012 to educate Tibetan children about the environment. The book will be published in several languages, including Japanese, English, and Tibetan, so that it may educate not only Tibetan children but children around the world.