Two respected figures from the independent-music world have released an album inspired by Dzogchen – "The Great Perfection" – the main teaching of the Nyingma school of Tibetan Buddhism.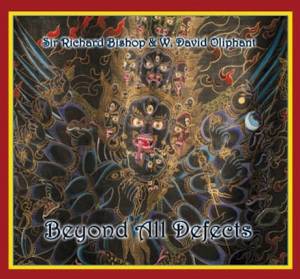 As music site TinyMixTapes.com reports:
"Sir Richard Bishop (of Sun City Girls and a ton of solo work) and W. David Oliphant (of Life Garden, Maybe Mental, and a ton of solo work) … [have released] their first collaborative album, Beyond All Defects, through their own ChodpaMedia label. The set was recorded last December in Phoenix, with Bishop playing acoustic guitar and Oliphant producing sounds through computer software and a MIDI controller. Bishop's guitar on the record was frequently detuned, bowed, and beaten, as 'treated' by Oliphant.
"The songs on Beyond All Defects were inspired by the concepts of Tibetan Buddhism, in particular the Dzogchen body of teachings. Additionally, many of the musical ideas presented on the record derived from dreams the duo had the night before recording. If this all sounds a little too high-minded for you, keep in mind that the impetus behind the collaboration was Bishop's desire for 'big-ass Tibetan horn sounds.'"
Watch/listen to "Sambhogakaya" here: