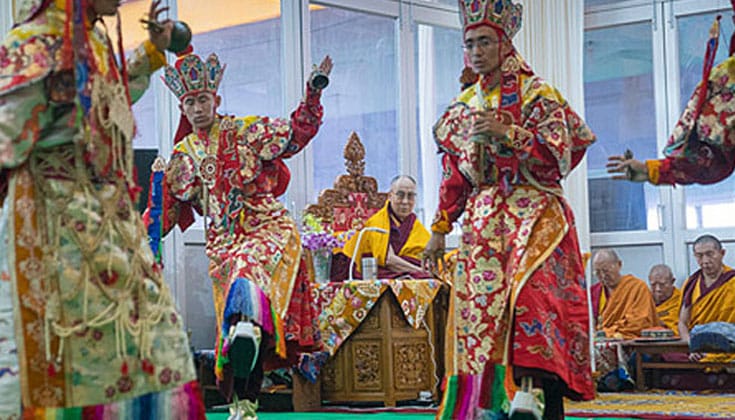 The Dalai Lama watches ritual dances in Bodh Gaya, India, Jan. 3, 2017. Photo via
Radio Free Asia
.
Chinese authorities have warned Tibetans not to attend His Holiness the Dalai Lama's Kalachakra ceremonies taking place at Bodh Gaya in India, calling the event "illegal" and threatening punishment to those who attend or spread news of the event, Radio Free Asia (RFA) reports.
Kalachakra, meaning "wheel of time," is a gathering where key Buddhist teachings are passed on to devotees. It involves with several days of teachings, prayers, chanting and pilgrimages at Bodh Gaya, a religious site and place of pilgrimage where the Buddha is said to have attained enlightenment.
An estimated 100,000 devotees have traveled to Bodh Gaya for the event, which runs from January 11 to 13. As The Indian Express reports, 7,000 devotees have already returned to China, citing pressure from authorities. Others who had hoped to go have reportedly been blocked from leaving China.
RFA reports that official notices circulated in Yunnan province's Dechen county, threatening jail terms from 10 days to five years for involvement in the event. Authorities have also deemed activities related to Kalachakra to be forbidden, such as promotion or celebration of the event.
This year marks the 62nd year of the Kalachakra initiation, and is the 34th time that the current 14th Dalai Lama has delivered the teachings.
Beginning in November, authorities allegedly began confiscating passports of Tibetans who were authorized to travel abroad in preparation for Kalachakra.