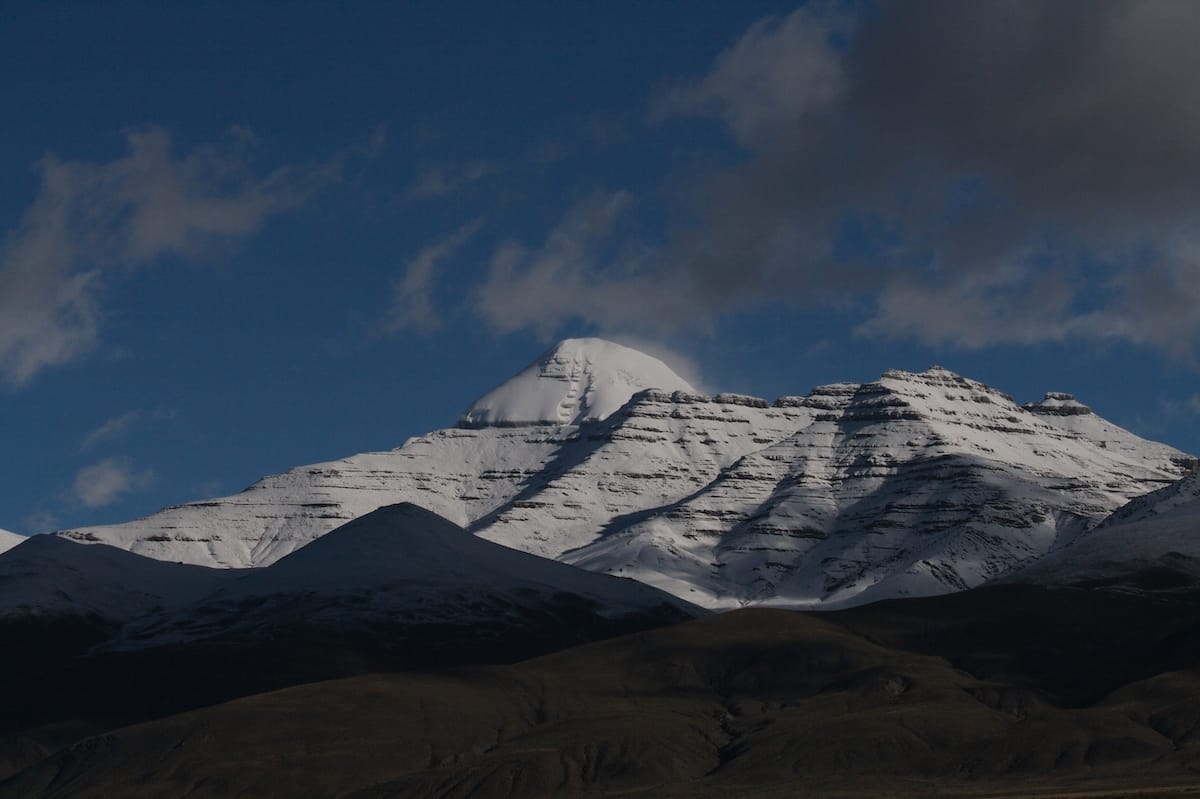 Photo by
Vijay Kiran.
Haunted by the famed mountain since he was a young monk, Robert Thurman leads a small group of pilgrims overland to Tibet's Mt. Kailash, the sacred axis mundi of central Asian cosmology. In this excerpt from Circling the Sacred Mountain: A Spiritual Adventure Through the Himalayas, the party arrives at its destination. The narrator is Tad Wise.
We break camp by eight-thirty in the morning and head northwest across the Tingri plain, picking up the southern road to Kailash, which turns due west at the Brahmaputra. Through noon we dodge in and out of sight of it and after lunch we finally cross the "Lion-mouthed River" ten miles shy of Saga, where we'll camp for the night.
The double-pontooned ferry runs along a cable fixed in the crotch of two crossed timbers on either side of the Brahmaputra. As we arrive the craft is in mid-stream, returning over the milky glacial blue-green water.
The ferry is piloted and docked by handsome, hearty young Tibetan women in work clothes. They are both happy-go-lucky and efficient. Chatting with Tenzin (Robert Thurman) they habitually cover smiles with their hands even though their mouths are already hidden with dustmasks. Putting their backs into steadying the arm through which the cable runs, they catch docking lines, winching these by hand against stanchions welded onto the deck. These are the best jobs in town, even if this boat is merely a barge hurtling forth and back across a five hundred yard stretch of water, water so fast-moving and clouded that the bottom is never once glimpsed at either shore.
A cargo of yaks, loudly and roughly unloaded by nomads with red strings running through long, thick, black hair, leaves a place for two of our three jeeps. Also on board is a local bicyclist, very proud of his black, Taiwan-made three speed.
"The geniality of Tibetans!" Tenzin (Robert) yells into the river wind, smiling broadly at the girls. "Not that they can't be a pain in the neck, too, of course. But as a whole, people usually like Tibetans. They gravitate to them, and it has to do with the fact that for more than a thousand years the Tibetans have lived in a constant awareness of being related to all beings. Since the whole culture is so steeped in it and so many people used it to transform their tribalism and prejudices, they all developed a sense of other beings being familiar to them, like family. They got out of the rut of 'me and my ancestors, my lineage, my mother, my father, my grandfather, my great-grand-father—we're the great lineage, and other families are all sort of alien,' which cultures that emphasize the ances- tor-worship-thing get into. So even in the midst of genocide the children of the dharma are still cheerful."
As we land, parents unsuccessfully discourage their children from begging. I toss the remains of a loaf of rye bread bought in Kathmandu. The children catch it, sample it quickly, and are mystified. Now the parents taste it, and, as they disappear into the dust thrown up by our jeeps, I imagine they are explaining that such useless alms are a fitting reward for bad children who beg.
Throughout the sprawling settlement of brick, block, stone, and rusting corrugated steel, rag-tag children look up from their mud- games and run toward our dust-devilled jeeps "Halloo!"-ing us as visiting royalty while we approach, then shooing us on, like impotent gods, as we retreat. It inflates our importance and exaggerates our betrayal. We are omnipotent, in comparison, yet witnessing their poverty we do nothing to change it. I think of Tenzin's constant harping on the god-state. Suddenly I get it. To these hurraying children—we are gods. Yet we are incomplete and dissatisfied, charging around in gasoline driven chariots.
I wonder how I might possibly convey this sense of opulence to my wife Cynthia, panicked and alone with a first baby in a stranger-filled Portland. "How can I help them, when she doesn't want my help?" I wonder. "And how can I help them, when she does?"
The next afternoon I hit bottom. Sure, I've hit bottom before but on the eleventh of October, stuffed six in a jeep, grinding up a washed out gravel bed of a road, I begin to despair of never not despairing. I didn't invite complaint or compliment. I didn't laugh or cry. Didn't take pictures or make notes or read anything. I know for a fact that we stopped just beyond Paryang, but I have absolutely no recollection of the last camp before Kailash. My last clear remembrance is the morning, watching a pair of black-necked cranes doing a herky-jerky mating dance amidst the streamside bog- humps. Jay got his camera up and they flew off for a more private seduction. I remember feebly helping Lobsang pick up other trekkers' trash and burying it in a blackened fire pit. Then the big truck wouldn't start, and even Tenzin could not sufficiently wind the huge crank to make the engine catch. Thinking through the failure that this failure would induce was the start of the "shutting down" process. So that even after one of the jeeps was tied to the truck, careened around in a circle, and it was jolted awake—I had already gone into the morbid mode of thinking: "We are one fuck-up away from disaster."
I awaken from this twilight zone on the 12th of October, our eighth day on the road. I'm in a jeep with those I feel safest with: Freddie, Richard, Jay, Jock, and the sweet, tall driver whose nervous tick of his head—sideways toward his shoulder—I only later find out is the Nepali manner of shaking your head to say yes.
We've been told Kailash will be seen and, if all goes well, reached today. So there's hope suddenly; a second wind starts to blowing over us. Jay is back on track, recounting another scene from another obscure foreign film to Richard, who has actually seen the thing, when I interrupt.
"Guys!" I yell out, hardly knowing why. "Sorry but I really need you now," and I kick into "the color of shining diamonds" Vairochaniye mantra. Without argument of any kind we're all wheeling through it. Jay puts his arm around the driver, squeezing him tight. Smiles are everywhere. A very cool vibe is coming up from our feet when suddenly the jeep pulls off the road, the driver whips off his hat and starts tapping his forehead saying, "Kailassi! Kailassi!" and we all turn to where he's looking. And there it is. Where it's been the whole time. Peacefully awaiting every broken down explorer or pilgrim who's ever heard of it, and so whipped the burro of his being until the beast finally up and delivered it into sight. At last, heaven help us, the sacred mountain.
The other jeep pulls in front of us. Car doors are crunching open, everybody is jumping out, laughing, shouting, embracing. I hear Tenzin say, "Where's Tad?"
Opening his arms he shouts: "We've made it! We've really made it to Kailash!"
There's iron in his hug. Shining eye to eye I shout out, "Finally!" before turning to embrace the others, one at a time, like Burton and Speke embracing their party at the source of the Nile. Why do I think this must be much better? Because this is sacred Mount Kailash!
After much rejoicing, building small stupa-cairns, and picture taking, Tenzin leads us aside in the direction of the opalesque Lake Manasarovar, quite close to us to the west. He sits us down on suitable rocks and begins our last session on the Systematic Path: my nemesis, the teaching of the wisdom of selflessness.
Dharma Talk by Tenzin (Robert Thurman)
"At last, here we are at the sacred mountain. As we first beheld it, storm clouds had just lifted to reveal its glory.
What a good omen! See it glitter in the streaks of afternoon sun, like the sperm-drenched crown of a great phallus, or a beautiful white breast oozing with milk. The gleaming dome is adorned with a streaming plume of blowing snow. Lifting bands of clouds stand off to the south and north. Think of how many pilgrims must have reached here with foreboding unrelieved, as dense clouds blocked their longing gaze.
"Just now in this dusty field among the many small stupa- cairns, I had a really strange thought. Dim memories broke through from what seem to be some recent former lives as a Mongol or Tibetan. I was completely taken by surprise. But the thought burst forth that I must have been a person who was devoted to Chakrasamvara, the Superbliss Buddha, and I must have developed a longing to visit the sacred mountain, but was never able to get here. So the frustrated desire just now surged out from part of an unconscious I didn't dream was there, mixing intensely with the joy I feel at being here in this life. I lived those lives near or here in Tibet. I studied hard, meditated, prayed, and dreamed, but never did I behold the real mountain for myself. It was too hard to travel here. Too many bandits. No government permission. In this life I was born far away in America, on the other side of the globe, yet now I get to the sacred mountain, coming with jeeps and trucks during a time when Tibet has been devastated and groans in torment under foreign domination. What irony!
"The minute Kailash came into my sight, the world did change for me. Such strange memories came from beyond my normal barriers; I am not given to psychic experiences. The seemingly impenetrable Western sense of conventional reality that usually forestalls any possibility of the miraculous is showing a tiny crack. I hope it will be encouraging to you.
"This is our last teaching on the foundational path. So focus yourself—calm down—count your breaths a few rounds. When you're ready, set up the refuge field. See your mentors (gurus) above you in the mind's sky. Their smiles and radiant faces send liquid rays down through the aperture at the top of your head, filling you up with nectar light. You begin to feel like a new person. not so set in old mental ways. The many beings in the field around you—all your mothers—look at you and see you glowing as if you are their mentor. Your gratitude flows up to the mentors and their pleasure radiates more light to you, completing the infinite circuit among you. Even if you can't see them clearly, know that they're there.
"As this is experiential learning, we review all the themes to make them more and more familiar. First reflect on your human embodiment with liberty and opportunity, free of the eight inconveniences. Pleased that you have this human life, with access to the teachings of enlightenment and the intelligence to understand them, inspired by your relationship with the mentor, you then reflect upon the fact that you will die soon. The inner mask that you uphold as your identity is a temporary structure, and it will soon go. You can't know when, so you should be prepared for it at any time. Your soul-essence, your open heart of bliss, your buddhanature, will continue in a coherent stream. You become inspired to focus your precious human life on positive evolution.
"Sure of evolutionary causality, you resolve not to kill but save lives, not to steal but give gifts, not to harm sexually but only benefit, not to lie but speak truth, not to backbite but reconcile, not to chatter but speak meaningfully, not to speak harshly but sweetly, not to covet but be generous, not to hate but love, and not to hold unrealistic views but realistic ones. You are made of your past deeds and you make your future with your present deeds. Next bring to mind the suffering of the egocentric life-cycle, the sam- sara. Release your fantasies that a particular egocentric experience will satisfy. Excuse yourselves from driven ambitions. Love yourself realistically and enjoy transcendent renunciation.
"Then turn to the seven-fold causal practice of love and compassion. Recognize the motherhood in all beings because of your infinite connectedness in previous lives and aim at gratitude toward all beings. Resolve to repay their kindness by taking away their suffering. As you assume universal responsibility for all beings, the spirit of enlightenment becomes part of you, even when you don't think about it. It becomes the seed of that deep inner openness. No longer are you unconscious of the core of your being. You awake from sleep-walking in self-obsession to the waking wonder of a will for the happiness of all beings. Your core becomes this infinite embrace of all beings, amplified by the sense of infinite unity with all previously awakened beings.
"The final part of the Systematic Path is transcendent wisdom. It is the most important of all, because compassion will not succeed in really making beings happy unless we become enlightened, and renunciation itself is not full liberation. We cannot achieve Nirvana—the perfect freedom from suffering, total bliss—unless we develop transcendent wisdom. This wisdom is an exact experiential knowledge of everything in the universe, complete and exact knowledge of the self, exact knowledge of the body-mind complex, and the total memory of all past lives and foreknowledge of all possible futures.
"Contemplating wisdom is the essential key that frees us. We have covered the first noble truth of suffering and the second noble truth of its causation. Now we come to the third noble truth of freedom. The Buddha said this was his greatest noble truth, his supreme discovery; that a human being can actually become totally aware of reality and totally free from suffering forever—and thereby become the evolutionary engine for all others to find their own release. People talk of freedom all the time, demand it, love it, long for it, but deep down it is only a relative thing to them. A moment of freedom from this or that torment. Very few can imagine a total, achievable freedom. So freedom is the main noble truth since the essential first step is to imagine it.
"Wisdom is called the wisdom of selflessness, but it isn't attained by accepting a dogma that one has no self. That would lead to nihilism. The nihilistic sense of being a nothing-self is the great ideological poison of modern humanity and the real cause of our imminent planetary destruction. Greed is secondary; anger, even in warfare, is secondary. The real catalyst for our suicidal behavior with the planet is the delusion that we don't really exist, and so we will not be held responsible for the destructive consequences of our negative actions.
"Wisdom prevents our sinking into nihilism by turning us to examine the self and realize selflessness. The proper understanding of selflessness is the root of liberation. Mastery of selflessness is essential for universal compassion to be effective. Nothing less than liberation is the goal of transcendence. So wisdom completes the path.
"The teaching of selflessness is the Buddha's greatest gift to the world. It is also unique to him; no one else ever taught it. Many people taught, 'You should be selfless, be moral; put others ahead of yourself' That moral teaching is a common thread in all social etiquettes and religions for the simple reason that societies couldn't function otherwise. But the complete technical, philosophical and psychological teaching of selflessness was not discovered by anybody but the Buddha. This is not to praise him as religiously superior, because it's not a religious achievement. It's a scientific achievement: he analyzed the self and the world to its ultimate depths, and discovered the real nature of the self, which he usually called 'selflessness' or 'voidness.' He further integrated that insight with life.
"The Buddha supplemented the valid teachings of the great religious teachers who exhorted us to be kind to others. He gave an understandable explanation that the reason we don't so easily love our neighbors is that we are caught in a distorted perception about the centrality of ourselves as fixed, independent, isolated entities apart from all others. He discovered how we can each come to understand how that is a distortion, see through the error with critical wisdom, and then actually free ourselves from this lack of love, this false isolation based on a misperception of the self.
"The heart of the second noble truth of the cause of suffering is precisely this 'self' delusion, this active misperception of the self and the universe, consisting in the following: 'I feel, personally, that I have an irreducible center or core that is me, that is somehow absolutely different from everything else. And I similarly perceive other things as having what is called an 'intrinsic reality' in them. The table, the teapot, even Mt. Kailash—I perceive each as a thing in itself, an intrinsically identifiable, real, objective, and absolute thing.' This absolute view of myself and things is the core of delusion.
"Dispelling the naive absolutism of ordinary beings, the Buddha did not settle for nihilism and make nothingness the ultimate. Instead he pioneered a practical middle way between absolutism and nihilism. How do we approach this selflessness? Selflessness means that there's no absolute self, but there is a relative self. It's not that difficult, but it's a little tricky. A simple way of understanding this is: 'Since I am not and have no absolute self, I am free to be a relative self.' This acknowledgment of two levels of reality is the key."
I've heard this before. Back at Amherst, where I was a student of Tenzin's, I'd interrupt with a "Yes, but…" at selflessness. Today Kailash, home of buddhas and bodhisattvas, shines out in loving proof: "Hush your silly mouth!" it tells me. "Listen! Learn!" The great scar down the front face of the snow-capped pyramid glistens with a light not of this world. But it is right here before me—Tad—most certainly of this world. Here is my tiny reconciliation of dichotomies.
We drive through an enclosed garrison-like village, nodded through by an unofficial looking sentry. I suppose he could have been a yak-counter with no political duties, but we've got our guard up. Ominous types seem to study us from every doorway— our instinct, unfortunately, is not unrealistic.
Back out on the flats before Kailash, the glow returns. Our jeeps trade off pulling over and photographing the Ever-White one, as below the brown altar a golden carpet of rye bows on either side of a meandering tributary, bound—we know—for Manasarovar, lake of compassion. I climb up a little bluff behind Jay who's clicking away. I call his name and get a shot of him, camera in hand, looking away from his portraiture of Kailash, caught as if a moment before kissing the bride, happy as can be, and powerless to explain why.
We drive past a solitary figure who salutes us with a proud, upraised arm. He is Asian, yet I could swear that dangling from his neck hangs a cross. We press on up the widest, flattest, most desolate desert yet, up a road that isn't a road, merely a sandtrack running past hundreds of dangling wooden crosses—not telephone but telegraph lines! In the distance a medieval wall and gate take shape before the mud-wasp pods of Darchen, over whose purgatorial squalor towers our piece of heaven. The deep scar Kailash wears is now partially sunk in shadow, though the snow filled channel refracts intense light at its eastern edge. Cross striations, caused by the cake-like layerings of sedimentary stone, catch the snow in straight, even lines. Wind and gravity will knock the icing from these tiers at vertical edges, and the resulting montage of horizontal and vertical lines to some eyes takes the shape of a great swastika, the ancient symbol of happiness and goodness. Thus the Bon-pos call Kailash Yungdrung Gu Tse, or "the nine-story swastika mountain."
All along this long, neatly arranged brown terrace, equally symmetrical minor peaks kneel with perfect posture east and west, in obvious subservience to this god-king of mountains. These altar boys and girls would seem quite remarkable in themselves, were they not dwarfed and otherwise diminished by the preeminent lord of earth blazing before us.
I force myself to use a masculine description, since Kailash is considered the great lingam, or phallus, of rock that impregnates the heavens with sexual-spiritual energies, inseparable. Even so, to refer to this as the king of mountains is difficult for me. For how could anything so jewel-like, so ermine decked, so effortlessly faultless and radiant, not be a woman? Something to meditate into proper perspective, no doubt.
Do we stop and consult? No. The dharma- mobile heads straight for the gates. I'm glancing to the east where "pilgrim trucks" unload gypsy caravans full of Tibetans from every corner of a tyrannized nation, to do as their hearts tell them. To make the Kora round Kailash and do prostrations. To pray for the return of their leader. To make offerings at altars and cairns. To spin prayer wheels and say mantras. All day long and in their dreams to save the world and every being in it. Om Marti Padme Hum.
I want to camp over there with them. And I'm certain Jay, now in the dharma-mobile ahead, wants the same thing. To sleep out in the open and sit around a Tibetan fire, to understand nothing of what is said and to understand it all. But we can't do that. This is occupied territory, we're behind an iron curtain. There are rules to follow, and for the transgressors of such rules, harsh consequences.
Tenzin, in the lead jeep, charges forward through the open gate. We follow, driving into a rocky, lifeless, empty lot. Piling out of the jeeps into the prison yard we greet one another's disbelieving faces. Western trekkers must camp here, in this five hundred by seven hundred foot rectangle within which a few concrete slabs have been poured.
I start to laugh. Here we've endured a solid week of grueling travel, facing hardships real and imagined. Now, at last, we've actually reached our long-sought goal. We pull up at the foot of what indeed looks to be a manifestation of the divine, shimmering in a pale white veil above, and what do we get for it? We're in jail!
From Circling the Sacred Mountain, by Robert Thurman and Tad Wise. © 1999 by Robert Thurman and Tad Wise. Reprinted by permission of Bantam Books, a division of Random House, Inc. All rights reserved.