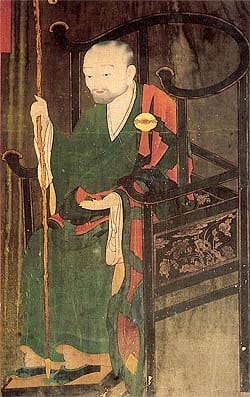 "The Collected Works of Korean Buddhism seeks to make available in accurate, idiomatic English translations of the greatest works of the Korean Buddhist tradition, many of which are being rendered for the first time into any Western language," said Robert Buswell, the UCLA Buddhist studies professor who led the translation efforts, in the preface.
Buswell explained that the thirteen new volumes collect Korean Buddhist writing from the Three Kingdoms Period, which began in 57 C.E., through the Joseon Dynasty, which ended in 1910. The texts include commentaries and teachings from important Korean scholars, as well as Seon gongan cases, discourses and verses, and historical documents and travelogues. Many of the texts are complete, and for longer pieces, the translators have offered a representative selection of excerpts.
The table of contents for the thirteen volumes is available here; you can also download the complete text from the same page.
(Painting: Jinul, public domain, via Wikimedia Commons.)