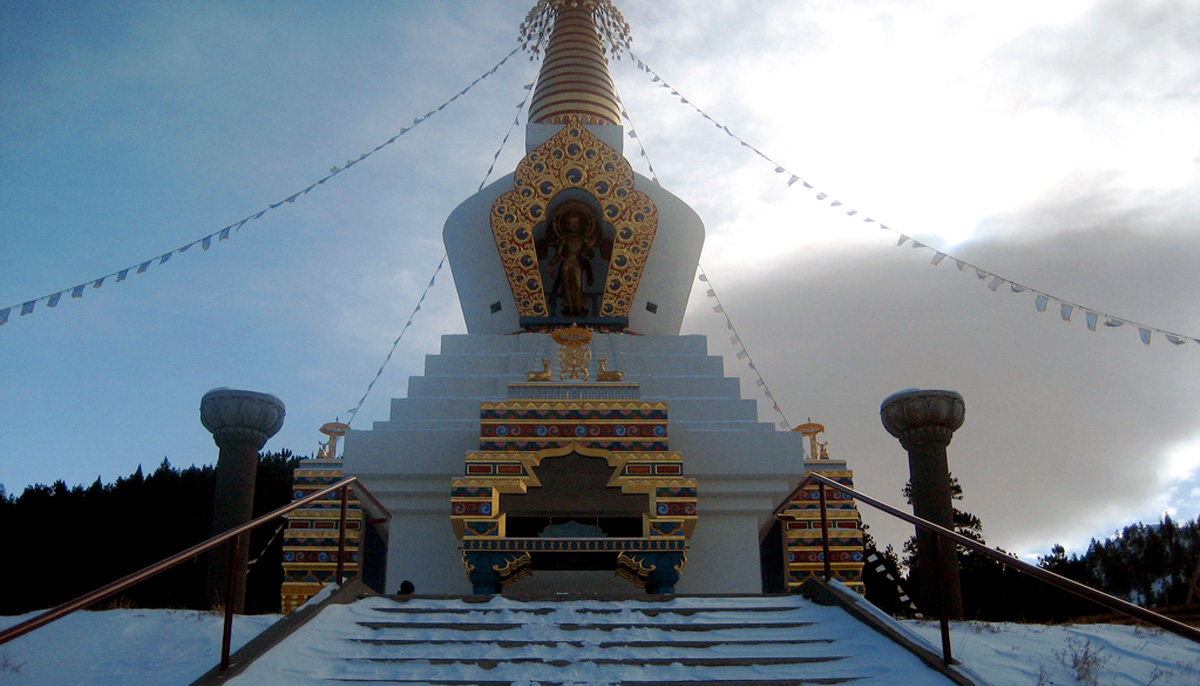 The Great Stupa at Shambhala Mountain Center. Photo via Wikimedia Commons.
UPDATE February 19, 2020: The investigation into possible criminal activity at the Shambhala Mountain Center has been closed with no charges filed. David Moore, a spokesman for the Larimer County Sheriff's department, told Lion's Roar "Our investigation is closed and no charges were filed with the DA from our office."
The Sheriff's Department in Larimer County, Colorado, has confirmed that it is investigating possible criminal activity alleged to have taken place at Shambhala Mountain Center in Red Feather Lakes, Colorado.
David Moore, a spokesman for the department, told Lion's Roar, "The Larimer County Sheriff's Office received information involving possible criminal activity involving Shambhala Mountain Center. Investigators are currently sorting through to see where that information leads."
In a statement released Monday, Shambhala Mountain Center's executive director, Michael Gayner, said, "SMC reached out to the Larimer County Sheriff's Office and spoke with a Public Information Officer there. His response was that information has been forwarded to their office and they are examining it to see if there is anything that requires an official investigation. At this time, we have no information about the specifics of this examination… SMC has offered its support if a formal investigation is launched and remains committed to ensuring that Shambhala Mountain Center remains a safe and nurturing space where our guests and staff can meet their own and others' wisdom."
The investigation was initially reported by author Joshua Eaton at ThinkProgress. It comes after three reports on sexualized violence in the Shambhala community published by Buddhist Project Sunshine published this year. The reports detailed several allegations of sexual misconduct and assault by Sakyong Mipham, as well as allegations against other Shambhala community members.
Following the allegations against him, Sakyong Mipham stepped back from his administrative and teaching responsibilities. The nine members of the Kalapa Council, the highest leadership body in the Shambhala Buddhist community, also stepped down following the allegations.
An independent investigation of the allegations by a law firm in Halifax, Nova Scotia, has been ongoing since July, with the firm's findings expected to be released in early January.
THANK YOU FOR READING LION'S ROAR. CAN WE ASK FOR YOUR HELP?
At Lion's Roar, our mission is to communicate Buddhist wisdom in today's world. The connections we share with you — our readers — are what drive us to fulfill this mission.

Today, we're asking you to make a further connection with Lion's Roar. Can you help us with a donation today?
As an independent nonprofit committed to sharing Buddhist wisdom in all its diversity and breadth, Lion's Roar depends on the support of readers like you. If you have felt the benefit of Buddhist practice and wisdom in your own life, please support our work so that many others can benefit, too.

Please donate today — your support makes all the difference.

Lion's Roar is a registered charity in the US and Canada. All US & Canadian donations are tax deductible to the full extent allowed by law.