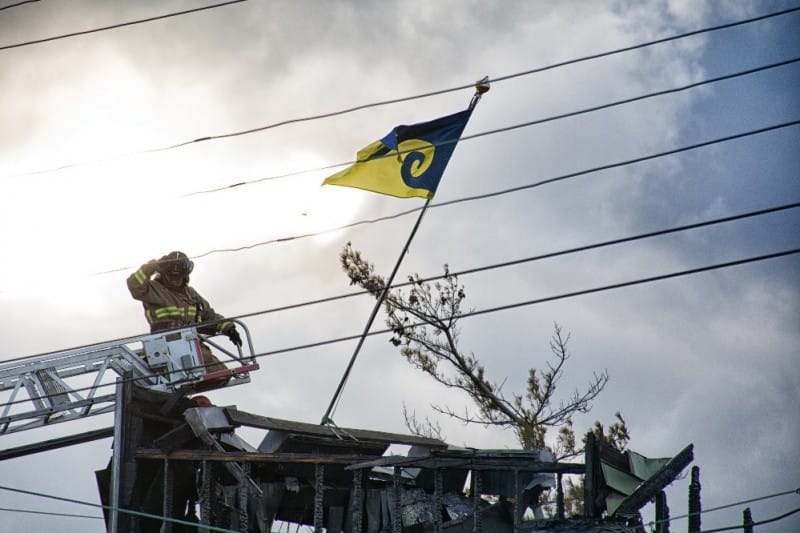 This image from the Columbus KTC GoFundMe page shows that while the center was destroyed, the Karmapa "Dream Flag" found there avoided damage.
A Buddhist center in Columbus, Ohio that was destroyed by arson fire in January 2016 has raised $1.5 million dollars toward its $2.3 million goal to rebuild, The Columbus Dispatch reports.
The Columbus Karma Thegsum Choling temple originally set their fundraising goal to $1.5 million, which was raised through a successful GoFundMe campaign, their local community, insurance proceeds, and donors around the world. However, after reaching their initial goal, the congregation discovered they will need more funds due to inflation and growing construction costs. The congregation is now seeking another $800,000 — totalling $2.3 million — before construction can begin
The new building will be 10,000 square feet, with a 100-person meditation hall, classrooms, offices, and an area for children.
The congregation has existed in Columbus for 40 years, offering free public meditation to the Columbus community for three decades. While waiting to rebuild, they have continued to meet in a local Jewish synagogue and hosted their weekly meditation at an Episcopal church.
The center's mission is to "provide, for all levels of practitioners, a respectful and open community for the study, practice, and activities of Buddhism of the Karma Kagyu tradition."
To make a donation to the Columbus KTC Rebuilding Fund, visit their GoFundMe page.