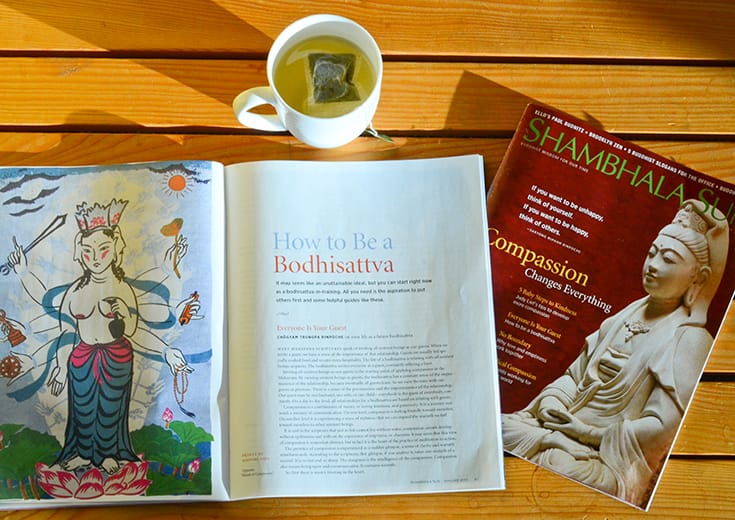 The January 2015 Shambhala Sun magazine is now on newsstands everywhere, featuring the cover theme, "Compassion Changes Everything." (We'll also be focusing on compassion, sharing helpful teachings, here on Lion's Roar. See a selection below.) Inside, supporting that theme, you'll find:
"How to Be a Bodhisattva"—teachings from Chogyam Trungpa Rinpoche, Judy Lief, Thich Nhat Hanh, the 17th Karmapa, and bell hooks on doing just that
"Radical Compassion"—We profile Adam Bucko, Vandana Shiva, Joanna Macy, and Bernie Glassman—four spiritually inspired activists dedicated to helping people and making the world a better place
"Open Hearts, Open Doors"—Meet the people who make Brooklyn Zen Center what it is: a model of urban dharma and love in action. Also included are BZC executive director Greg Snyder's four tips for a real relationship with the people in your neighborhood, and an exclusive interview with Zen teacher and Brooklyn Zen supporter angel Kyodo williams. See also this web-exclusive interview with Luke Holland, who leads BZC's 12-Step Sangha.
"Buddha's Birds"—Andrea Miller explores the intriguing role that birds play in Buddhist mythology and teachings
Plus: Thich Nhat Hanh's new translation of the famed Heart Sutra, Thupten Jinpa on proven techniques to help us deepen and expand our natural kindness, a Q&A with Paul Budnitz of Ello.co, Sakyong Mipham on how to make the study of Buddhist teachings stick, Lodro Rinzler on five Buddhist slogans that are helpful at work, Carolyn Rose Gimian on "The Animals Inside You," book briefs, and more.
Subscribe by clicking below, or visit Wheres My Magazine to find a copy on a newsstand nearby.
---
Teachings on Compassion:
Photo by Alison Wright.
"Nothing to Give, No One to Receive It," by Norman Fischer
"The Heart of Generosity," by Gina Sharpe
[gard group='5′]