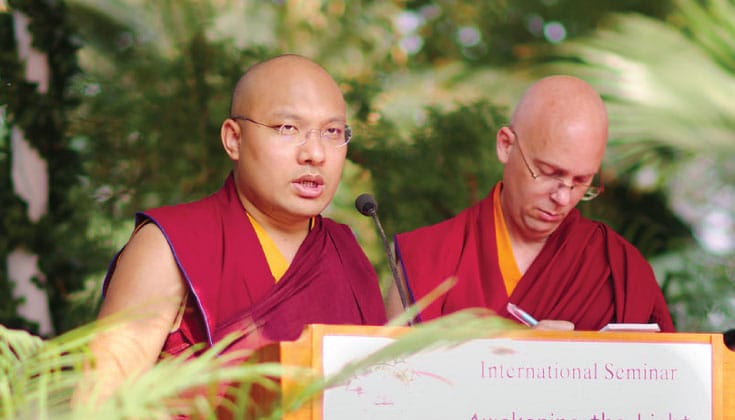 The Karmapa speaking at the "Awakening the Light of Dharma" conference in November, 2015. Photo by
Kristian Niemi
.
His Holiness the 17th Karmapa, Ogyen Trinley Dorje, will be training monastic representatives on disaster preparedness and risk reduction at the 7th Khoryug Conference for Tibetan Buddhist monasteries and nunneries beginning today.
The four-day conference will prepare monasteries and nunneries for potential natural disasters and ensure their monastic representatives are trained as first responders and risk reduction educators for their local Himalayan communities. Over 50 monastic representatives from more than 25 different centers in the region are in attendance, according to a press release on His Holiness the Karmapa's website.
The Himalayan region has seen three severe earthquakes in the past five years, the most recent being the 7.9 magnitude earthquake that struck Nepal last April, causing severe damage. Disaster management experts and seismologists have predicted more to come, due to the re-rupture of tectonic plates caused by the last three earthquakes.
The Karmapa asked conference attendees to learn from and follow the example of monasteries that provided shelter and care to thousands of victims following the last earthquake.