Each Friday, we share three topical long-reads in our Weekend Reader newsletter. This week, Rod Meade Sperry looks at how we can contribute to a world with less suffering. Sign up here to receive the Weekend Reader in your inbox.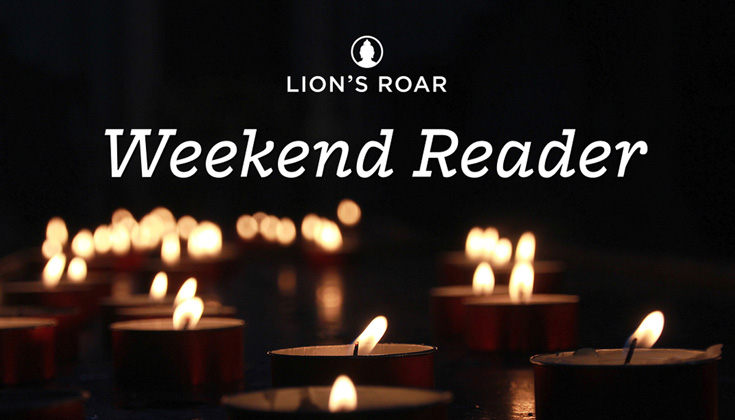 I'm sometimes taken aback by how some folks react when we at Lion's Roar cover topics like, say, America's mass-shooting epidemic and its attendant racial aspects. Readers get upset, of course, but not just because it's tough to confront these realities. Some get upset that we even went there — as if we're monolithically siding with one political platform or another.
Now, some might be tempted to say that "guns" isn't a subject that Buddhists (who aren't generally known to be packing) should have a voice in. But they would have to ignore the nine Buddhists killed in the Waddell Buddhist Temple massacre 28 years ago today — the deadliest shooting in Arizona history. And the danger of gun violence has of course only become more widespread since. It threatens to touch us all. Waddell, El Paso, Dayton, Orlando, Columbine — all major, life-changing, life-ending events. And yet, they're all but drops in the overflowing mass-shooting bucket.
I do think there's a side that Buddhist-sympathetic folks should be on here. Simply put, it's the one that aspires to lead to the least suffering. In the US, that doesn't seem to me to be the one with the most unobstructed access to guns. I'm not saying that Buddhists have any unique solution or approach to gun-violence. I don't think we do. But we most certainly do have contributions to make when it comes to combating the poisonous powers of anger, ignorance, and violence.
So this Weekend Reader is about taking a good hard look at what we can offer — to a healthy dialogue, to ourselves, and to others.
Will we learn to take care and offer refuge to one another — despite any inner or outer differences — or will we become further inured and insulated? It's up to us. Does the bodhisattva, hearing the cries of the world, turn toward or away from their source?
Whether you consider yourself Buddhist or not, and whether you consider yourself left, right, or center, thank you for reading and for whatever you're doing to contribute to a world with less suffering.
—Rod Meade Sperry, editorial director, Lion's Roar Special Projects and LionsRoar.com
After December, 2015's mass-shooting in San Bernadino, Zen teacher Lewis Richmond had to wonder: What is an appropriate or effective response as a Buddhist?
The first and foremost precept of Buddhism is ahimsa — non-violence, non-harm, no unnecessary harm. This is true of all sects and traditions of Buddhism past and present. I feel strongly that as Buddhists we should represent our non-harm precept in any way we can, and be prepared to stand up for it. I don't think this means we should just meditate, say the loving-kindness prayer, and so on. I think our response needs to be more muscular and practical than that. When someone is firing randomly into a crowd with a semi-automatic rifle, the loving-kindness prayer is not going to help.
There will only be social justice in America, says Jan Willis, when we see all people as our equals. She offers an ancient Buddhist meditation to help us do that.
This is the liberating view held by Dr. King and Gandhi, by the Buddha and Nelson Mandela, by Bishop Tutu and His Holiness the Dalai Lama. It is the view that we are all, ultimately, exactly the same. Not better, not worse. Human beings reckoned as human beings only. What a marvel.
Greg Snyder on how to reclaim the grace and humanity that our access to guns has led us to squander.
Prior to Zen practice, I was often owned by rage. More than once, friends pulled me off another man after a switch flipped and destroying the perceived cause of my humiliation was the only reality in front of me. The walls of that closing, swirling tunnel always felt impenetrable. Fortunately in a fight there is room for grace to intervene in the form of a friend's hand delivering an abrupt jolt to a locked mind. In a fight there is time for grace, time to wake up, time to consider how far things will ultimately go. Guns rob us of this grace.
Can you help us at a critical time?

COVID-19 has brought tremendous suffering, uncertainty, fear, and strain to the world.
Our sincere wish is that these Buddhist teachings, guided practices, and stories can be a balm in these difficult times. Over the past month, over 400,000 readers like you have visited our site, reading almost a million pages and streaming over 120,000 hours of video teachings. We want to provide even more Buddhist wisdom but our resources are strained. Can you help us?
No one is free from the pandemic's impact, including Lion's Roar. We rely significantly on advertising and newsstand sales to support our work — both of which have dropped precipitously this year. Can you lend your support to Lion's Roar at this critical time?