Each Friday, we share three topical longreads in our Weekend Reader newsletter. This week, Buddhadharma deputy editor Koun Franz says it's time to see how big the dharma can really be. Sign up here to receive the Weekend Reader in your inbox.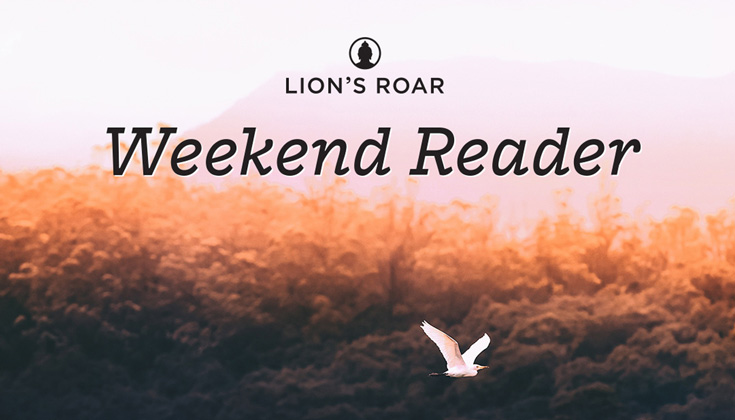 A few weeks ago, at a meeting of about thirty Soto Zen priests in Los Angeles, I did a quick head count and saw that, as I'd suspected, half of the teachers in the room were women. I'm used to it — many of those women are my seniors. They've been teaching and leading sanghas for years. They have students who are teachers in their own right. As individuals, they've had their seat at that table for a long time. But collectively, when we consider the history of Buddhism, their presence is almost entirely new. My teachers in Japan likely never sat in such a room, where ordained men and women gathered in equal numbers and spoke with equal power. My teachers' teachers probably couldn't have imagined it.
Sometimes I need to remind myself to pause and appreciate my own good fortune, practicing the dharma in this moment, with these remarkable teachers.
In working on Buddhadharma's special women's issue, I felt gratitude at the many reminders of how far women have come, and how much Buddhism has gained from them. If you first encounter Buddhism through LionsRoar.com, Lion's Roar magazine, Buddhadharma, or the Eastern Religions section of your bookstore, you will be met with women's faces. And that means that your initial understanding of the dharma — not only of what the dharma holds but also of who can hold it — is different from that of almost anyone in the past. Simply by their presence, women in Buddhism have made this path wider and richer than it ever was before. In this issue's forum, we hear the voices (and see the faces) of a Buddhism that was a dream just decades ago.
But, for me, this issue of Buddhadharma is also a reminder of loss. For two and a half millennia, women have been kept at arm's length from the dharma, especially from ordination and positions of authority — in some traditions, this situation persists today. (And men, for those same twenty-five centuries, have been denied the benefits of practicing alongside women and of becoming their students.) In "Chanting Names Once Forgotten," Grace Schireson speaks of the Zen Women Ancestors Document, which records the names of centuries of women practitioners whose names were almost lost, who practiced tirelessly and thanklessly in the shadows of men whose lineages they weren't permitted to enter.
The opportunity before us now is an exciting one: to finally confront our relationship, as Buddhists, to patriarchy; to step free from it; and to open up the dharma to the voices we've always been waiting for. Rev. angel Kyodo williams, in "Your Liberation Is on the Line," is speaking to race, but the story is the same — we have, for too much of our history, resorted to a dharma "made small" to accommodate a privileged few. It's time to get out of our own way and see how big it can really be.
—Koun Franz, deputy editor, Buddhadharma
Pema Khandro Rinpoche, Myokei Caine-Barrett, Narayan Helen Liebenson, Rebecca Li, and Myoan Grace Schireson share their experiences and insights into being a female teacher and leader in today's world.
Narayan Helen Liebenson: I do think, in terms of the double standard, that women teachers are allowed less space — they can play with fewer colors of the rainbow in terms of tone of voice and vocabulary, that kind of thing. Show the tiniest bit of passion and people get upset. So I say, find your own voice and share the dharma in as powerful a way as the moment calls for. We must encourage younger women teachers to find their own voice and to find a kind of authenticity within their own experiences, whatever their experiences have been. You can be married or unmarried, have children or not. Get behind the form you've chosen, without shame. Really be out front with it.
A quiet movement to reshape our understanding of Zen lineage and history is bringing attention to the forgotten names and voices of women in the tradition. Grace Schireson explains how the Women Ancestors Document came into being and what it means for us.
Our women Zen ancestors left home to enter the realm of physically arduous monastic practice. Rarely did these women Zen masters receive the recognition and financial support awarded to their male counterparts. They survived by banding together, offering sustenance to their communities through clinics and schools in exchange for material donations. Women's teaching generally differed from the great masters, who lived in remote locations and extolled the transcendence of all worldly attachments. Women expressed their humanness and longing to actualize their vows amid daily life — even as they lived with worldly attachments.
"No one who has ever touched liberation could possibly want anything other than liberation for everyone," says Rev. angel Kyodo williams. She shares why we must each fully commit to our own path to liberation, for the benefit of all.
The Buddha left us a 2,500-year-old institution that brings people in regardless of color, caste, and now even gender. That was his teaching — not solely the words someone captured hundreds of years later. He left us an institution based on giving people back the opportunity to be liberated no matter who they were. He stripped away the things that were most telling of where they came from — what class, what rank — and he said, every single person has the right to be free. Only those who sit in a position of perceived supremacy would imagine that they somehow understand better what this brown man, whose teachings they have appropriated, was up to. It is the people who are most marginalized, the people who have most been bound by societies, who most deeply understand what it is to be free.