Is "comfort food with zing" a contradiction? This spicy noodle platter on the cover of our new special publication, The Mindful Kitchen, proves that it is not.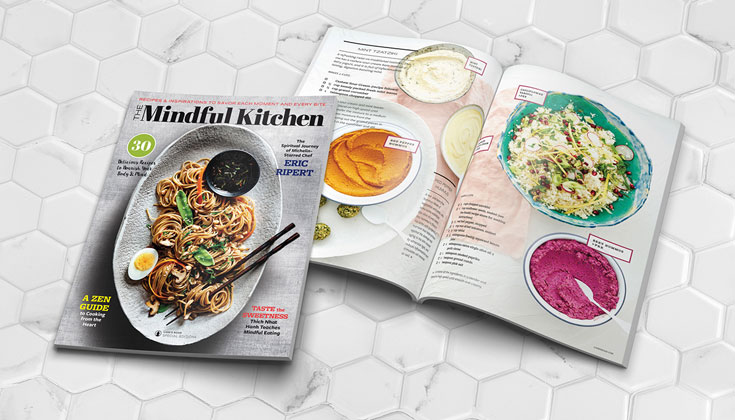 Serves 3–4
Ingredients
For the sauce:
2 tbsp. soy sauce
1 tbsp. rice vinegar
1 tbsp. lemon juice
2 tsp. dashi or fish sauce (optional)
3 tbsp. cold water
2 tsp. sugar or mirin
1/2 tsp. ginger, grated
1 green onion, thinly sliced
1–2 red chilies, fresh or dried, finely diced or sliced
2 tsp. sesame oil
For the noodles:
3–4 bunches* dry Asian noodles (wheat, egg, or soba)
2 tsp. sesame oil
8–10 snow peas
1 egg, hard-boiled
2 cloves garlic, minced
1 tsp. ginger, finely chopped
2 tbsp. vegetable oil
6 shiitake mushrooms, sliced
1 pinch salt
1 pinch white pepper
1 tbsp. crushed peanuts
1 small carrot, shredded
1 green onion, thinly sliced
2 tsp. roasted sesame seeds
*One bunch is roughly the diameter of a quarter.
Recipe
To prepare the sauce, mix all the liquid ingredients except the sesame oil in a small bowl. Add the sugar (if not using mirin) and stir well (don't whisk), until the sugar dissolves. Add the ginger, green onion, chilies, and the 2 tsp. of sesame oil. Mix gently and set aside.
To prepare the noodles, bring a large pot of salted water to a boil and cook the noodles according to the package instructions. Drain and coat with the additional 2 tsp. of sesame oil. Set aside.
While the noodles are cooking, blanch the snow peas for about a minute, drain, and rinse with cold water. The peas should still be crunchy and bright in color.
Heat the vegetable oil in a pan/wok, then sauté the garlic and ginger. Add the mushrooms, salt, and pepper. Sauté for a few more minutes, then add the cooked noodles and crushed peanuts. Immediately remove from the heat and stir well.
Gently mix in the carrot and blanched snow peas. On a large serving plate, shape the noodles into small bundles. Garnish with the green onion, sesame seeds, and halved egg. Drizzle the sauce over the noodles just before serving. Enjoy!