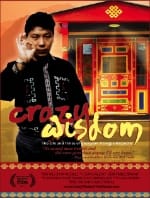 We told you the other day of the premiere of one new film about the Tibetan Buddhist teacher and pioneer Chögyam Trungpa. Well, another Trungpa documentary has also been in the works, and you'll get to see it soon. Crazy Wisdom: The Life and Times of Chögyam Trungpa, Rinpoche has its premiere this February at the Santa Barbara International Film Festival; you can watch its trailer here.
The New York Times reviews Crazy Wisdom. Crazy Wisdom has been selected as one of the Santa Barbara Independent's "Films to See." And, Jetset Extra has just published a new interview with the director of Crazy Wisdom, Johanna Demetrakas. Read it here. And you can also see a large version of the film's poster (a thumbnail is shown here) here.
Crazy Wisdom Trailer from Matthew Mecer on Vimeo.
Click here for more about Crazy Wisdom (and to donate to help the film). And for more about Chögyam Trungpa, see our Spotlight page of his best from the Shambhala Sun archives, or his teaching, "The Tender Heart of the Warrior," in our new March 2011 issue.