Each Friday, we share three topical longreads in our Weekend Reader newsletter. This week, Lion's Roar art director Liza Matthews looks at the resonance between creative and spiritual paths. Sign up here to receive the Weekend Reader in your inbox.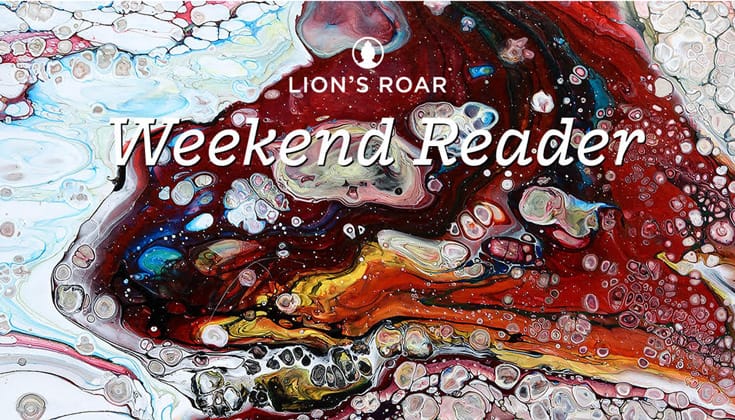 My job at Lion's Roar magazine is finding illustrations for articles and designing pages. Some articles on Buddhist principles, such as emptiness or karma, don't have obvious illustration solutions. We spend a lot of time scrolling through Google Images and stock photo websites, but those only go so far. The design and editorial teams meet to brainstorm and clarify illustration directions for each article, but often we designers are left on our own without much to go on. So, we have various tricks.
One of mine, when I feel stuck, is to read the article and find the one sentence and idea that I love the most, and that propels me beyond inertia to look for equally inspiring illustrations. Another trick I use when stuck with what feels like a boring layout is to duplicate the layout and mess it up quickly and crazily, noticing what might arise spontaneously. Another designer in our office looks at totally unrelated visuals, like a skateboarding magazine or historic image archive. Other tricks from the design team: changing creative modes to work on a music or writing project for a while; a nap and a drink; or taking a shower. Many artists have famous creativity hacks, such as William Burroughs's cut-up technique, Brian Eno's Oblique Strategies, and painters who use artificial constraints like drawing with the non-dominant hand. What most of these tricks have in common is that they break through to openness beyond habitual thinking and promote intuitive feeling and spontaneity.
Discipline, training, and intelligence are the foundations of any creative endeavor; but, in addition to that, breakthroughs are courted by going into the somewhat uncomfortable place of patiently holding space for feeling and innocence. The creative and spiritual paths are so related here. Whether creating or meditating, insight comes from resting in the space beyond conventional hopes and fears. As Julia Cameron says in the article below, "if smart were the solution, very few of us would be screwed up. Smart isn't the solution, the heart is the solution."
These three articles on creativity from our archives clarify this resonance between creative and spiritual paths, and apply to everyone. Geshe Tenzin Wangyal Rinpoche describes 3 stages in any creative process, whether asking your boss for a raise or making a stroke with a calligraphy brush. Julia Cameron says "Creativity allows you to purify swirling emotions," and "We actually create from the heart." In the interview between Pema Chödrön and k.d. lang we hear about "the gap" that gets rid of the chatter and allows creativity to arise. As k.d. lang says, "real creativity comes from getting the heck out of the way."
May we enjoy resting in the creative space of nowness this weekend and every moment.
–Liza Matthews, art director and associate editor, Lion's Roar magazine
nformed by the profound teachings of Dzogchen, the Great Perfection, Geshe Tenzin Wangyal tells us how to unleash powerful creative energy we can use anywhere, from the office to the art studio.
Spontaneous action is joyful action, and that is true creativity. Whether it is a great artist immersed in the act of painting, a mother embracing her child, or a bodhisattva expressing compassion to sentient beings, full immersion in the creative flow brings a sense of freedom, playfulness, and joy.
If you create from this place, hours can pass without your noticing. You go beyond time and space. You have many enlightened qualities during that timeless moment, and those qualities are far more valuable than any product you create.
Julia Cameron, the author of The Artist's Way and The Vein of Gold in conversation with Samuel Bercholz.
Julia Cameron: Both Buddhism and creativity involve the art of listening to the heart. That's where the creative impulse arises from. That's why I cannot distinguish between creativity and spirituality. When you're practicing creativity you become a grounded individual, and that communicates the universal.
I've been a writer for more than thirty years, and the issues that arise in the creative practice are the same kinds of issues that arise in a spiritual practice. You get to look at your insecurity. You get to look at your inquisitiveness. You get to look at your fantasy that a satisfied desire will lead to satisfaction. As near as I can tell, this is what happens with a grounded meditation technique: you go through all of the shenanigans of the restless nature of the mind and what you are left with is, just be. Out of being, things are made. So creativity is the act of being.
The beloved Buddhist teacher and famed singer joined Sounds True founder Tami Simon for a lively and insightful conversation about meditation, learning from hard times, and what it means to get "gapacious."
Pema Chödrön: When you kind of get over yourself, even briefly, that's when creativity happens. That includes being able to speak in a way that communicates to the heart and minds of people. Something changes because of the basic goodness of people connecting with each other. So whether it's you singing, or someone teaching the dharma, anything that stops your mind connects you with the best of yourself. When a ballet dancer leaps beautifully through the air, or a singer hits a note — I bet you've had this experience, k.d. — everybody stands up and applauds because of this universal experience of something touching you so deeply that it's inexpressible—because it's… gapacious!