Adventurer Jason Lewis is the first person to circumnavigate the Earth using only human power, and has chronicled his adventures in a three-part memoir, the Dark Waters trilogy.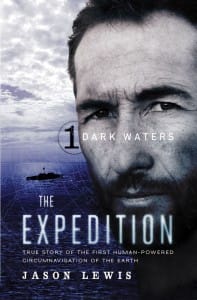 His Holiness the Dalai Lama was the world patron for this record-setting journey, and has endorsed the memoir, writing: "I believe it is important in our era of cars, trains and airplanes that we are reminded what human beings can achieve using their own strength and resources. I have always admired those who, in addition to expressing well-intentioned words, actually do something practical to further their cause. Undertaking a human-powered journey around the world takes great courage and determination. I am reminded of the many journeys on foot made down the centuries by people in Tibet. They were mostly going on pilgrimage or on their way to join a monastery to further their education, but like these adventurers, they too would dedicate their efforts to the welfare of others."
We present an exclusive excerpt from The Expedition, Part 1 of the Dark Waters trilogy:
Passing a low wall between the villages of Chadang and Chongquig, a farmer with a dead hamster moustache and all his front teeth missing beckoned me over. He was a dead ringer for Captain Hook with his eye patch, crimson smock, and blood-red bandana knotted over his forehead, tassels dangling either side of his leathery face. When I dismounted and produced a camera, he sprang into showman-mode, snatching fistfuls of yellow barley and flagellating himself.
"Whoa! Look at me!" He was shouting in Tibetan, whooping with glee as he whipped himself over one shoulder, then the other. "Look at me working like a Trojan while you're swanning around on that bike!"
At least, that's what I liked to think he was saying. His wife, teenage son, and daughter were working nearby––bent over their sickles, whirling the shorn bunches of barley like batons before binding them with loose stalks. Even in the heat, the two women wore folds of black cloth on their heads, long-sleeve purple shirts, and ankle-length dresses as heavy and as dark as any blackout curtain from the Blitz.
I then experienced something that was to happen on several more occasions, always with men, and even some in the twenties and thirties. The father stopped playing the goat suddenly and glanced nervously up and down the road. Then, kneeling, he fished out a pendant from inside his smock. When he pushed the clasp, a faded black and white photo of a young man stared back at me, his face open and guileless: the fourteenth Dalai Lama, Tenzin Gyatso, and the expedition's world patron. This made sense. The Buddhist leader had fled Tibet forty-seven years ago, aged just twenty-four.
The piratic farmer then became distraught, gabbling in Tibetan, and gesturing between the photograph and me, as if trying to solicit something. Money perhaps? Surely no. I recognized the Chinese phrases for English and American governments–Yīngguó zhèngfǔ and Měiguó zhèngfǔ, Then I twigged it. As a westerner, able to leave Tibet, I could speak to the British and American governments once I got home, and tell them to put pressure on the Chinese to allow their beloved leader to return.
The wife and children had given up working and were now sitting cross-legged on the stubble, listening intently. It was a heart-wrenching scene, the little Tibetan family huddled together in their barley field in the high Himalayas, tears streaming down the old woman's face, the father wringing his hands, imploring me to do the impossible: reverse the inexorable tide of Han Chinese expansionism. I was moved to tears myself, at how endearingly naïve they were of the size and complexity of the world beyond their borders, and at the bravery of the old boy to keep such a photograph in his possession–anyone caught with an image of the Dalai Lama could expect to be beaten and imprisoned by the PSB. Above all, I was touched by their loyalty to a man who'd done a bunk nearly fifty years ago. Where else in the world could you find such devotion to a religious figurehead who hasn't already been dead a thousand years?
---
The Expedition is available now from Amazon and Barnes & Noble. Or visit billyfishbooks.com for more information about the Dark Waters trilogy.