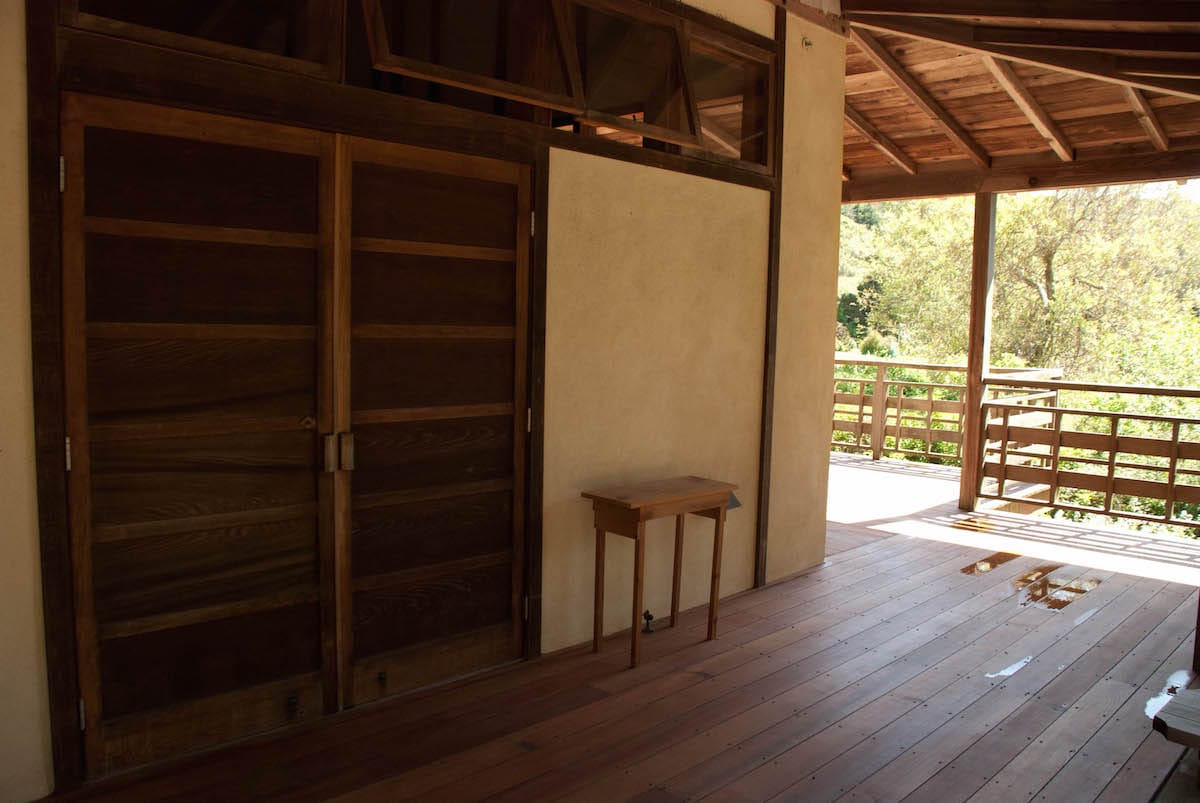 Photo by
Digital Archaeology.
It's a scene out of an Andrew Wyeth painting: a 200-year-old stone and clapboard House, surrounded by the cornfields and rolling hills of Pennsylvania. But step through a door marked Mt. Equity Zendo, and you could be in Japan: a Buddha on the altar, a scroll black meditation cushions on the floor, temple bells, a gong.
On the door of the large red barn beyond the house, someone has painted a white circle. It was there before Dai-En Patricia Bennage Roshi returned from her twenty-three-year stay in Japan. The Chinese characters dai and en mean great circle—an embrace that includes everything, without exception.
When she finished her Shike, or roshi training, in July 1990, Dai-En, as she simply prefers to be called, had to decide whether to stay in Japan as the priest of some small Soto Zen temple or to go back to the United States. Because of her mother's declining health and her wish to be of use to American Buddhists, she returned to Muncy, Pennsylvania, renting an apartment in the old farmhouse on Mt. Equity Road.
It's an unlikely spot for a Zen center, yet one is reminded of Case Four of the Book of Equanimity, in which the Buddha stops, points to the ground, and says, "This is a wonderful spot on which to build a temple." A Bodhisattva places a flower on the ground and says, "I have just built a beautiful temple."
Dai-En spent her childhood in Lewisburg, not far from where she lives now. She was a ballet major at a Texas college and danced with the Fort Worth Civic Ballet. When she wasn't dancing, she was reading.
"I was a lonely northerner, I spent my time with books," she remembers. "One day I saw a book by D. T. Suzuki with a Chinese character on its cover, which I later learned meant Zen. I didn't understand a thing in it, but also I understood everything in it—but I didn't know how I understood that! And that enigma was with me for many, many years. I continued reading about Buddhism from the age of seventeen until I was thirty- three, when I finally got on the meditation cushion—and I really needed to get on the cushion. The Japanese say thirty-three is your most difficult year, and it certainly was mine."
Dai-En's first trip to Japan was as a businessman's wife. She had left college because of family financial setbacks aTid went to New York City, where she met her husband. Not long afterward, his company sent the young couple to Japan for three years.
"The visa for that trip came on November 22, 1963," she says. "I heard people crying in the streets. Kennedy had just been shot." When they arrived in Japan, every shop had a black-ribboned photograph of JFK in its window. "People would walk up to us and say, 'American? So sorry.' They had just gotten Telstar, and people had stayed up late to watch it. The assassination occurred at 2 a.m. their time; it was their first big news event."
After she and her husband returned to America, she found it difficult to readjust to the violence and turmoil of a country polarized by the Vietnam war. She felt homesick for Japan. Her marriage was faring no better than her country. The couple decided to separate, and in 1969 she returned to Japan.
"I was able to pick up dance ties there, but since dance didn't pay, I needed to teach English to survive. I was very busy teaching English, dancing, and studying, but I kept running into problems, because I was trying to live my life in Japan with the only set of values I had, which were American."
In 1972, at the age of thirty-three, she found herself in a spiritual crisis. Her marriage had ended in divorce, plans for a second marriage had been derailed, her father and nephew had died, and her best friend from high school had been killed in Vietnam. "I desperately wanted to get clear. If anyone really needed to meditate, I did."
By chance, she was asked to a rural area to teach children English and dance. She stayed in the home of one of the families there and each morning she noticed that the man of the house would leave very early. "It's just his funny hobby," his wife explained. "He goes to do zazen."
"That's just what I had wanted to do all of those years!" she says, "but I had just never had the right connections. My dancer friends would say, 'Zazen, what's that?' " Learning of her interest, the man offered to take the young American with him. "The first time I went, I passed out," Dai-En recalls. "But when I came to, I said, 'I'm home. I know where I am. That cushion is where I need to be.' * The man said to her, "Well, if you like zazen this much, you'd better go see our teacher." The teacher, Omori Sogen Roshi, was at Koho-in, just three subway stops away from her apartment in Tokyo, and she began Zen practice in earnest.
"After about three years of sitting meditation, I just found that all the crud had gotten burned up," she says. "Then, about the time we were to talk about my doing koans, he had a stroke. So I was in a quandary. Also, I had been having more and more trouble with asthma. I thought, 'Will I not be able to live in this country anymore? If not, there's one thing I want to do.' "
That one thing was to make a pilgrimage to the eighty- eight temples of Shikoku, the smallest of Japan's four main islands.
There, at temple number one, the caretaker couple, worried about her frail health, told the next pilgrim, a Shinto priest who was doing the pilgrimage by car, to offer her a ride. "I was glad," she says. "I was not in terribly good shape because of the asthma, and I wasn't used to carrying a rucksack.
"Then the next day, as we were going due east, there down the road was the figure of a monk, a black silhouette against the dawn sky. 'Wait, stop!' I said to the priest. 'Let me out! I appreciate the ride, but I'm going the rest of the way by myself.' I realized that I had to do the pilgrimage the right way.
"It was all I could do to go ten kilometers with my backpack in the beginning, but by the end of those forty-six days, I could do twenty-eight in a day. The body acclimates.
"I remember coming out of the mountains one day, in an area where flowers were raised for sale. They looked so lovely; it was a paradise. I stopped and just stood there in the rain, for I don't know how long; and then I realized that the pendulum was not swinging anymore. And I realized that what I had seen in front of me that I thought was the photograph was in reality the negative, and here was the photograph.
"I felt so embarrassed at myself. I had thought, 'Here's this great American woman doing this pilgrimage alone.' Well, how foolish! How could I say I was doing it alone? I couldn't even raise my eyes without seeing more and more areas where I was obligated, where everything was being done for me." She felt impelled to find a teacher with whom she could deepen her understanding. "I knew I couldn't go back to Omori Roshi. Where could I go?"
It was between temples number eighty-two and eighty- three that she found her sign, literally: it read, "Zen Dojo, That Way."
She decided to digress temporarily from the pilgrimage route, and found herself at a strange collection of structures: five upside-down soy sauce vats with doors and windows, and a white bus. Standing on her tiptoes to peer in the bus windows, she saw that the seats had been removed. A yellow carpet covered the floor; there were meditation cushions stored on the overhead racks, a statue of Bodhidharma in the back, and a mokugyo ("wooden fish") drum used during chanting.
"I digressed, and it changed my life," Dai-En says. "The scales fell from my eyes. I realized you don't need an expensive ancient temple with a beautiful curving roof; you just need to be a true-blue monk, a real teacher, and then a garage is fine, an apartment is fine. Any place is fine if you're a real teacher, so what I had to do was find out how to be a real teacher.
"Then a voice came from behind: 'Pilgrim, your white kimono is not very white anymore. Maybe you should wash it here, so it will be fresh for you to be on your way tomorrow.' I thanked him and said I'd take him up on it."
After washing, her kimono was hung outside on a ladder. And then it rained. It rained for three days, and the kimono remained wet. "I couldn't go out, but the bottom of my heart came out." She had met the man who was to be her lineage teacher, Noda Daito Roshi.
"I asked him, 'Could I practice here?' He said, 'No.' I said, 'I beg your pardon?' He said, 'To practice here, you have to be a nun.' And I said, 'That's what I've been thinking about the whole time I've been doing this pilgrimage. How do I go about it?'
"He told me, 'You sit down, you shut up, and you live on alms for ten years.'
"Then I started turning chicken. 'Well, I don't know if I could really do that, because I'm a woman, and this is not my country.' And he said, 'I'm no different from you. My family lost everything in Manchuria; they had this little plot of land, but it didn't grow anything. I've been putting compost on it for years, and it's just now producing buckwheat. There were four brothers and sisters after me; my father died young. I got an old Harley Davidson from a G.I. and I loaded the kids on it to take them to school.'"
Noda Roshi told her of how he had gone to night school to learn acupuncture, and of his remorse over a patient's death that had led him to become a monk. later, the death was discovered to have been caused by an unrelated heart attack, but still something that had lain dormant in him had surfaced.
When Noda Roshi finished his training at Eihei-ji and Zuio-ji, he returned and found that the house had collapsed and his family had moved away. Someone gave him a soy sauce vat which was just about the size of two tatami mats—enough space for bedding and a small desk. He lived on fern fronds and somen noodles a friend had sent.
"For one month, I ate somen and those acrid fern fronds," he told Dai-En, "and you know what? I didn't die. And you won't die. If you have a heart for the way, you will always have enough to eat and enough to wear. And if you don't have a heart for the way, you'd better forget about the whole thing, because you don't have the basic ingredient."
Dai-En told him she wanted to save up some money, go back to America, talk with her mother, visit a few Zen centers, and then come back. "Go ahead," he said. "If you need to come back, you will."
She did return in January, to spend the coldest months there to see if she could bear the life, bear living in a soy sauce vat. Her ordination was scheduled for March 21, 1979, the first day of spring and Noda Roshi's birthday.
That day Dai-En took the vows of a Buddhist nun. Noda Roshi shaved her head with a straight-edge razor. "I spent one lovely week following the ordination," Dai-En says. "Noda Roshi took us to a movie about the head of the Pure Land sect. That was the end of the party. The other 358 days were a living hell. I didn't know for a long, long time that I had had four dharma brothers who had escaped. If I had known, perhaps I would have too!
"He was relentless. He did not allow me one breath alone. I couldn't take it sometimes, so I'd go into the toilets. We had metal toilets, and I'd go in there just to take a breath, and he'd begin pounding and shouting, 'You come out of there! I know why you are in there!' His wife would come out and whisper, 'Now sometimes, you know, ladies have to be in the restroom longer times than others.' And he'd scream, 'I know that, and I know when she's in there for that and when she isn't. You come out of there!'
"There were many things that I did not understand," she says. "I didn't know what he required of me. And I just had that question mark on my forehead all the time, and he read it just as though I had spoken out, and he just would not tolerate any of that."
Dai-En spent her days doing construction work with her teacher. She repaired the stone road with a pick axe, made her own hermitage, dug her own toilet. Their diet was brown rice, vegetables, and some tofu. "I had a body that would have won a prize in body-building!"
At the end of that year, she was confronted by a new challenge: Noda Roshi told her he was sending her for further training to the Aichi Semmon Niso-do, a training monastery for Soto Zen nuns in Nagoya under the abbotship of Shundo Aoyama Roshi (author of Zen Seeds). Dai- En protested; he insisted.
"That's what teachers are for," she reflects. "If you say, I don't want to do this, I don't want to do that,' you're putting yourself in that tiny ego box again. Your teacher knows what you need; you just have to trust that. The relationship between a Japanese teacher and student is so intimate, there's no difference between one and the other; there's no need for ego-reinforcement.
"American egos are so enormous. It has a lot to do with the linear way we see the world. For us it's man versus nature; in the East it's man in nature. If you have that trust that nature is there and nature is good, you can just be there and be taken care of. You are where causes and conditions will have you be. But most Americans just won't trust that."
For many Americans, absolute trust in one's teacher has pejorative associations with cults and mind control. For Dai-En, there were no such reservations. "My background in ballet certainly helped. When I was a student at the School of American Ballet, we had the finest Russian dancers as teachers. They yelled, they struck us with their sticks; I saw the results in the fine dancers they had trained. So in Japan too, I always thought the teachers were right; what was wrong was that I hadn't gotten the correct perspective, but I never doubted the teacher."
Dai-En's innate reverence for nature helped too. "I trusted that I couldn't fall off the universe; I just had to get clear about what the message was.
"Also, I always knew there were checks and balances in Japan; one could always consult with other teachers. There's a system in place there that we don't have in American Buddhism, and it's one that I hope will grow out of the various kinds of networking we're doing here now."
Dai-En set off for the women's training temple on foot. Having learned that her 23-year-old cousin had died, Noda Roshi gave her the week off to walk to Nagoya. "That was one of the finest gifts he ever gave me. It was the first week of April and all the cherry blossoms were coming out. I followed the old Tokkaido Road, a thin asphalt river with ancient houses on each side, and I knew after one week where my cousin was. It had nothing to do with a place."
When she arrived at the women's temple, she was served a welcoming meal. "It was a feast such as I would never see again. On day number two, the crackdown came." She found that life as an ordained nun was very different from that as a Western layperson living in Japan. She was no longer considered a guest but a rather backward child. "I was now living on their terms, and I was a minority. I kept trying to get the other women to like me, but they wanted nothing except for me to go away."
Whenever something went wrong, there was a chorus of voices: "Who did that? Dai-En did it!" Nearly every day various nuns would complain to the roshi about her. "Aoyama Roshi was so kind to me, and that would just make things worse." Her difficulties multiplied when a group of four foreigners came to stay. "Their practice is your practice," she was told, and from then on there was
a steady stream of accusing screams. "Every time one of the foreigners did something wrong I'd hear, 'Dai-En San!' And the Westerners would complain to me as well. I'd say, 'I'm sorry, I'm all you've got.' One of the Americans went back after six months."
In her second year she came down with malnutrition. "We were reconstructing one of the buildings so we were living like rodents in nooks and crannies. We had nuns sick with tuberculosis and pneumonia. Malnutrition was very common because there wasn't enough protein in the diet. I had no muscle tone and couldn't get up after our bows. I suffered memory loss, deafness; my teeth were going; I didn't get my periods, and I had constant aches and pains. I couldn't open the Bufferin bottle my mother had sent. Because of my lack of strength the others complained even more; they had to do a lot of my work."
She remembered having been remarkably healthy while living at Noda Roshi's country temple, despite the heavy labor, and she yearned for the brown rice she had eaten every day there. At the women's training temple, the allotment of brown rice was traded for white. "I offered to cook brown rice, but the other nuns refused to have it. But one day bugs got into the brown rice so it couldn't be traded. We all ate it and everyone began feeling better."
After seven years at the women's training monastery, she now began a four-year roshi-training program, during which she spent three months each year at temples where she was the only woman.
"It was a bit rocky at first," she recalls. "After so many years of living solely among women, men had become stereotypes to me. But then I remembered that men get sick and hurt, that they have to work even when they feel frail. And after about a month there, I found some chocolate chips and made cookies, and I was in like Flynn!"
Part of the training was devoted to social action. Of particular concern were the Burakumin, who are considered outcasts (buraku is translated as a set-aside area, or ghetto; min means a group of people). "There are about three million Burakumin. These people have the misfortune of living at certain addresses that are not considered, well, kosher. As a result, they can't get good jobs or have good marriages. They simply can't get out of their social situation."
She and the other roshis-in-training reached out to the Burakumin, visiting them in their homes. "That took quite a lot of negotiation. They dress like everyone else and go to their jobs using public transportation; the only way to tell them apart is by following them home. They are very reluctant to have anyone visit them; they feel shame at being exposed."
Concomitantly, the inferior status of women was being addressed. Dai-En was encouraged to sit near the front of the classroom, according to seniority rather than to Japanese social custom. But almost immediately she could feel that the freshman monks behind her were distracted by her pink head and white neck. "What do you do not to cause monks to be distracted from the dharma? This is why the Buddha taught what he did about the separation of the sexes. In the beginning of training, it's better for women and men to practice separately; when there aren't so many buttons that can be pushed, then it's OK to be together. But still, when you find someone attractive, and you're living in silence, you have no way of putting distance between you. Words have that power."
In July I990, Dai-En officially became a Soto Zen roshi, or master. In the fall, she participated in the fourth East-West Spiritual Exchange, held that year in Japan, and then, as a kind of coda to her spiritual training, she went for a four- month stay at the Vietnamese teacher Thich Nhat Hanh's community, Plum Village, in France.
"Thich Nhat Hanh changed my practice around with three sentences: 'You can enjoy your breathing. You can enjoy your sitting. You can enjoy your life.' " Dai-En had grown accustomed to practicing in an atmosphere that was strict, austere and regimented. She was taken aback at first by the lack of formality at Plum Village. "Thich Nhat Hanh doesn't go for formal practice, and I didn't hang loose enough. He is very slow, and Japanese practice is very rapid. To set aside so many years of one way and take on another was really excruciating at first! There is something quite wonderful about the traditional Soto and Rinzai Zen structure which takes all of us, weak, stumbling, and strong, and carries us along. But through Thich Nhat Hanh, I was able to examine that structure and I saw that although it is very sound, it could benefit from some fresh air."
Dai-En's first few months back in the U.S.A. were a time of culture shock. Such acronyms as CNN, MTV and AIDS were unfamiliar, as was the power of the media. "It's like a mother complex, this fixation with the screen. Everyone's stuck at the breast," she says.
"We have to examine what's coming up with the politics of masculinity, the realization that men have strayed so far from the land that they've lost their personhood. Maybe we can't go back to the land, but we can be more compassionate toward each other; we can realize the incredible fragility of our planet now. Everything comes down to our own responsibility. Ecology may seem an exciting issue to get involved with, but when we actually deal with it, it's not so glamorous. How much of a pinch can we tolerate on an individual level? How many of us can give up a hot shower so that all beings can have more water, more heat?
"The grand gestures don't accomplish anything unless there is personal change. As thich Nhat Hanh says, we can each vow to bring joy to one person in the morning and to alleviate one person's
pain in the afternoon. If all 200,000,000 of us do that, every day, the BTU's will really be warm!"
Increasingly, her days are filled with the responsibilities of a Zen master. About a dozen people join Dai-En for zazen and morning service at Mt. Equity Zendo on Monday, Wednesday, and Friday mornings; on Tuesday evenings, they take turns reading from texts and she gives talks during which she encourages interruptions for questions—something unheard- of in Japan. She also divides the evening in thirds, so that those whose family and work responsibilities prevent them from coming at 7 p.m. can slip in during walking meditation and those who are farmers can leave to get to bed early.
"I bend over backwards not to be orthodox in my teaching but to create a middle way," she says. "I don't know where I fit in American society yet, but I very much want to be a part of it. I love the quote in Natalie Goldberg's new book, Long Quiet Highway, from Simone de Beauvoir's The Second Sex: 'In order to create you have to be deeply rooted in the society.' So my teaching method is not very strict for now. I hope there are a few people who can follow me down the road. I want not only sitters, but trusters, people who really want to hear the dharma."
Dai-En's rigorous training, both in ballet and Zen, sets her apart from many American practitioners. "The hardships of Japanese training were certainly justified," she says. "I was in the potion; it dyed me the colors I turned out to be.
"I loved my life there. Sure it was cold, sure there were discomforts, but what choice did I have? It was a way of getting real. In that training, when things come up you're not allowed off the hook. If your reaction is not skillful the teacher sees it, acknowledges it, and you have to deal with it.
"It's just what you don't want in life that is what you get in monastic training—but whereas in life it may be a lethal dose, in monastic training there's always the safety net.
"If you don't jet go of your own parameters to trust in big space, you can't really do this practice. It's a free fall."