Danny Fisher interviews Dr. Michaela Haas, author of "Dakini Power: Twelve Extraordinary Women Shaping the Transmission of Tibetan Buddhism in the West."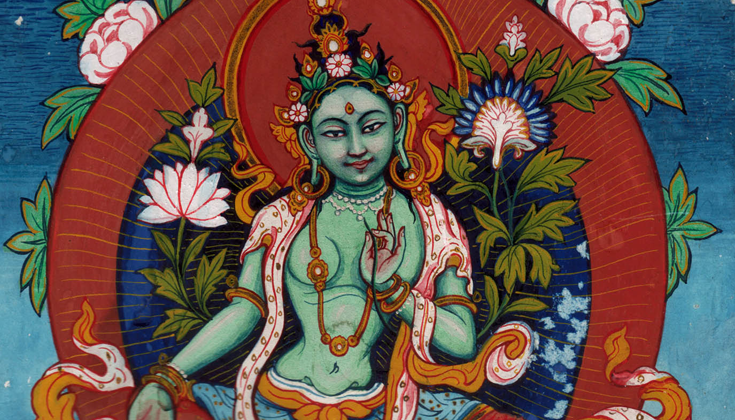 Dr. Michaela Haas is the author of the new book Dakini Power: Twelve Extraordinary Women Shaping the Transmission of Tibetan Buddhism in the West. A lecturer and research scholar in the Religious Studies department at the University of California, Santa Barbara, she also serves as media consultant and board member for Lotus Outreach — the secular humanitarian organization founded by Dzongsar Khyentse Rinpoche, dedicated to "ensuring the education, health, and safety of at-risk and exploited women and children in the developing world." She discussed her book — reviewed by Andrea Miller in the September 2013 Lion's Roar magazine — with Danny Fisher via email.
What makes Dakini Power unique?
It's the first book to feature the life stories of the most accomplished contemporary female Tibetan Buddhist teachers who bring new insights into Buddhism in the West: Pema Chödron, Khandro Rinpoche, Thubten Chödron, Lama Tsultrim Allione, Roshi Joan Halifax, and many more. That women participate fully could be the single biggest change with Buddhism coming to the West.
I was particularly interested in how they personally dealt with challenging situations on the path, such as loss, divorce, and illness. So we talked not only about meditation and compassion, but also about power and abuse, sexuality and seduction, devotion and rebellion. Their accomplishments and challenges mirror the enormous changes we see Buddhism undergo in the West.
What prompted you to write the book?
After studying Buddhism for some years I realized that I never met any female masters. Whether at the university or in more traditional circles, the teachers always happened to be men. So, where were the women? I became curious and sought them out. Of course they existed, but they just weren't as much in the limelight. I was even more surprised when I couldn't find a book that features the most influential women of the Tibetan Buddhist tradition in the West. Traditionally, dakinis don't teach so much through words, but very much through their being and their way of life. So it seemed very fitting to focus on the female masters' lives, how they dealt with challenges, what motivated them to move forward. I find the examples of these courageous women extremely inspiring.
What did it do for you and your practice?
After my initial honeymoon period with Buddhism had waned, I had some serious questions about how this age-old tradition would fit with my modern upbringing and my academic research, so it was immensely valuable for me to ask some of the women how this was working out for them. Most of all, I learned that you never give up. These women followed their calling against all odds, sometimes despite life-threatening challenges. That is inspiring!
Whose story surprised you? Or, whose story taught you something new?
Honestly, every single one of them. Take Elizabeth Mattis-Namgyel, for example. There she was, the daughter of a rambunctious Marxist record label manager in Santa Monica, California, falling in love with a very traditional Tibetan Lama who had just disrobed. Or Chagdud Khandro – how did this Texan woman go from working as a tough journalist in New York to becoming a spiritual master in Brazil? Or Thubten Chödron – she used to be Cherry Green, a good Jewish girl in California, now she's the abbess of a traditional Tibetan monastery in Washington State. That's a clash of cultures! But in a bigger way, this flexibility test is not only what happens with the individuals, but with Buddhism coming to the West. What do we learn from each other? Both cultures have to explore what is essential to their survival, where they get bent out of shape if they change, and where they have to be flexible and adapt in order for the two cultures to communicate, so that it becomes a beautiful dance.
You refer to how all of the teachers you look at in the book were considered both "too feminist or not feminist enough." Would you say a bit about this tension? Who's doing the evaluating in these situations? What's your take on feminism and spiritual leadership in this context?
Ultimately, the real spiritual path leads beyond any divisions of culture, gender, or geography, but in the meantime, both Asians and Westerners have their own sets of prejudices and deeply ingrained beliefs about hierarchy and fairness. Some of the women featured in Dakini Power don't see this tradition as patriarchal at all. Others are more feminist and outspoken. As teachers they all play with the various expectations that come their way and sometimes they break the mold quite purposefully. I feel that there are many paths for women to choose in this tradition. There was an audible gasp in the audience when Venerable Karma Lekshe Tsomo visited my class at the University of the West and one student asked this eloquent nun if she was a feminist. Karma Lekshe Tsomo replied confidently without hesitation: "Yes, of course!" Some people think feminism has no place in Buddhism, because they associate it with something aggressive, but Karma Lekshe Tsomo defines feminism as believing that women are fully human, and that the continued discrimination is a human rights issue. Even the Dalai Lama says he's a feminist. If gender plays no role, then why are nuns still ranked among the group with the worst health and education? Don't Buddhists have a responsibility to include everyone equally?
Would you say a bit about the role of women practitioners in the academic study of Buddhism here in the West, and their contributions? I notice the book doesn't include figures like, say, Jan Willis, Rita Gross, Judith Simmer-Brown, Miranda Shaw, Janet Gyatso, and yourself, for example.
I wish I could include them all. Though my book profiles teachers like Venerable Karma Lekshe Tsomo, who is a professor at the University of San Diego, my focus was not primarily on the academic achievements of female scholars. Dakini Power does include poignant statements by Rita Gross who gave me a wonderful interview, and quotes from Judith Simmer-Brown's invaluable book Dakini's Warm Breath. Their work and the other female scholars you mention have been groundbreaking and are must-reads for anybody interested in Buddhist women.