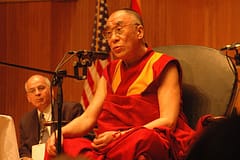 In a BBC interview on Saturday, Tibet's exiled spiritual leader, the Dalai Lama, expressed concern about the self-immolation protests in Tibet. His Holiness does not encourage these self-immolation protests and questions their overall effectiveness in protesting Chinese repression. His Holiness joins Tibet's exiled Karmapa Lama, Ogyen Trinley Dorje, in expressing his concerns over the phenomena.
"There is courage—very strong courage," the Dalai Lama told the BBC. "But how much effect? Courage alone is no substitute. You must utilize your wisdom."
More, with video, at the BBC.