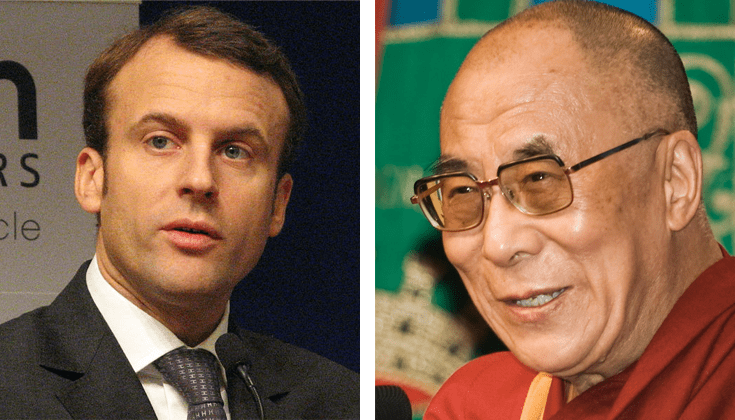 Emmanuel Macron (left). His Holiness the Dalai Lama (right). Photos via Wikimedia Commons.
DalaiLama.com reports today that His Holiness the Dalai Lama has issued a letter to Emmanuel Macron in response to Macron's win of the French presidency yesterday.
In the letter, the Dalai Lama recalls his previous meeting with Macron, and offers prayers and good wishes, saying, "Since France is one of the pillars of the European Union, I am confident that you will be able to play an active role in its successfully meeting the challenges that lie ahead."
Read more of His Holiness's comments here.
Dr. Lobsang Sangay, President of the Central Tibetan Administration, also congratulated Macron on his victory, saying, in part:
It is a testament to the strength and resonance of France's three founding principles – Liberty, Fraternity and Equality – in these divided times. [. . . ] As you embark upon your responsibility as France's new President, we remain optimistic of your continued support towards the resolution of the Tibet issue based on the Middle Way Approach.