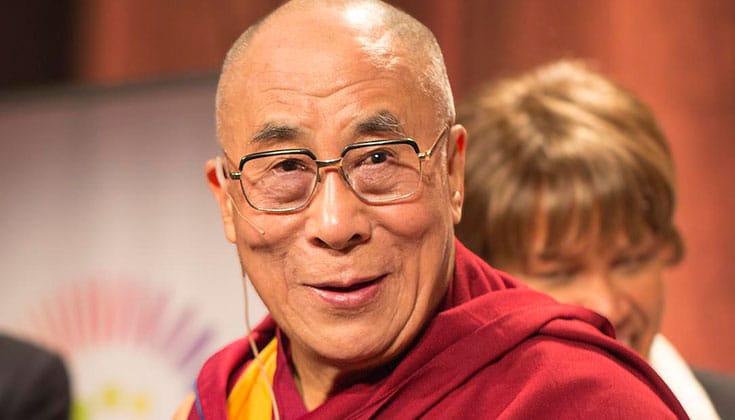 The Dalai Lama. Photo by
Christopher Michel
.
Speaking at a conference in Northern India, the Dalai Lama voiced concerns about America under President Trump. In an article published on Wednesday, Washington Post columnist Josh Rogin reported that the Dalai Lama commented on Trump's "America first" policy, saying, "Your ancestors really considered the importance of liberty, freedom, democracy… the present president, in the very beginning, he mentioned 'America first.' That sounded in my ear not very nice."
The Dalai Lama said he was worried that the United States was becoming more "selfish, nationalist." He also expressed concern about environmental policy, saying, "The present president is not much paying attention to ecology. So, on that, I feel some reservation… But anyway, the American people elected him, so I must respect [that]."
Exclusive: Dalai Lama calls America First "not very nice" https://t.co/7sXdfjlxad

— Josh Rogin (@joshrogin) October 11, 2017
According to Rogin, the Dalai Lama stressed the importance of nonviolence and collaboration to create prosperity around the world. He also said that Britain's vote to leave the European Union was a mistake, and said that the European Union should serve as a model for diplomacy around the world.
The Dalai Lama made headlines in September of 2016 for mocking Trump's hair and mouth in an interview with Piers Morgan:
The @DalaiLama offers his @realDonaldTrump impression: pic.twitter.com/NPSaf75U5n

— Lion's Roar (@LionsRoar) September 22, 2016
Nonetheless, the Dalai Lama has remained open to meeting with the president, and Secretary of State Rex Tillerson has affirmed the United States' commitment to supporting Tibet.
THANK YOU FOR READING LION'S ROAR. CAN WE ASK FOR YOUR HELP?
At Lion's Roar, our mission is to communicate Buddhist wisdom in today's world. The connections we share with you — our readers — are what drive us to fulfill this mission.

Today, we're asking you to make a further connection with Lion's Roar. Can you help us with a donation today?
As an independent nonprofit committed to sharing Buddhist wisdom in all its diversity and breadth, Lion's Roar depends on the support of readers like you. If you have felt the benefit of Buddhist practice and wisdom in your own life, please support our work so that many others can benefit, too.

Please donate today — your support makes all the difference.

Lion's Roar is a registered charity in the US and Canada. All US & Canadian donations are tax deductible to the full extent allowed by law.