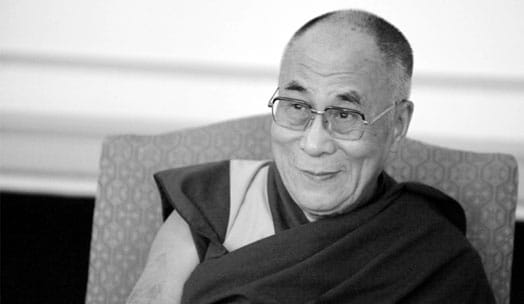 Via constitutioncenter.org
Last week, US Senator Dianne Feinstein marked the Dalai Lama's 80th with a resolution; today, another honor for His Holiness has been announced. On October 26, The National Constitution Center (NCC) in Philadelphia will  present him with the Liberty Medal,  which "honors men and women of courage and conviction who strive to secure the blessings of liberty to people around the globe." (Read the NCC's full announcement here.) Past recipients include Malala Yousafzai, Hillary Clinton, Kofi Annan, Steven Spielberg, Václav Havel, and Lech Walesa.
As the Philadelphia Inquirer writes:
About 3,000 to 4,000 Tibetans from exile communities in Washington, New York, and Canada are expected to travel here for the Oct. 26 ceremony. They'll gather on Independence Mall, swelling a crowd that usually numbers 1,200 to 1,500, to support and honor one of the world's celebrated human-rights advocates.

"We're so excited and thrilled," said Tsering Jurme, a leader in the Tibetan Association of Philadelphia. "All the Tibetan community is excited and looking forward to this day."
The ceremony will take place at 5 p.m. on Monday, October 26, at the National Constitution Center on Independence National Historical Park in Philadelphia, and will be shown locally on WPVI, Channel 6.
THANK YOU FOR READING LION'S ROAR. CAN WE ASK FOR YOUR HELP?
At Lion's Roar, our mission is to communicate Buddhist wisdom in today's world. The connections we share with you — our readers — are what drive us to fulfill this mission.

Today, we're asking you to make a further connection with Lion's Roar. Can you help us with a donation today?
As an independent nonprofit committed to sharing Buddhist wisdom in all its diversity and breadth, Lion's Roar depends on the support of readers like you. If you have felt the benefit of Buddhist practice and wisdom in your own life, please support our work so that many others can benefit, too.

Please donate today — your support makes all the difference.

Lion's Roar is a registered charity in the US and Canada. All US & Canadian donations are tax deductible to the full extent allowed by law.