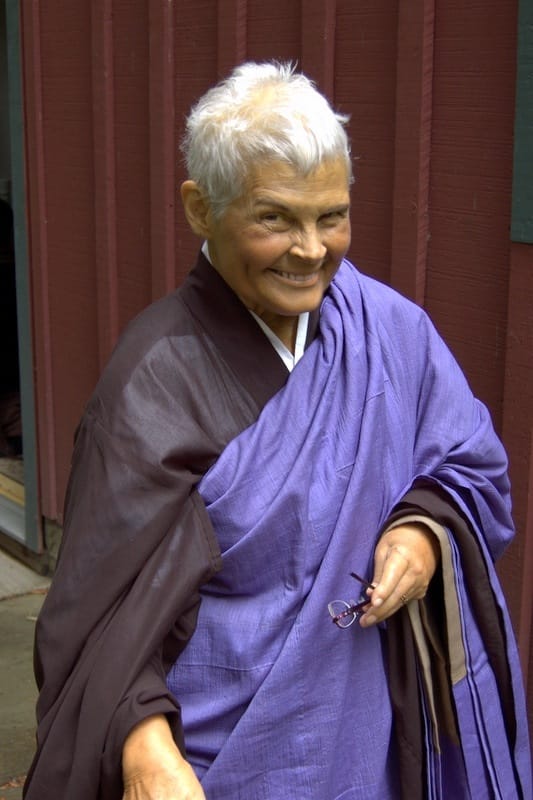 Renshin Bunce sent this photo to Buddhadharma this morning and writes, "This picture was taken of Darlene at her robe-receiving ceremony at the Russian River Zendo on October 7, 2010.  She's wearing the lined 9-jo okesa that the sangha sewed for her.  It was intended to be her okesa for the mountain seat ceremony, but she didn't live long enough for that." The photo was taken by Renshin.

Darlene Cohen passed away on January 12. She was a Zen priest in the lineage of Suzuki Roshi. Her teaching focused on helping people work with physical or psychological pain, a subject she knew all too well. In the Fall 2010 issue of Buddhadharma she wrote, "I've had rheumatoid arthritis, a painful and crippling disease, for more than thirty years. Back in the mid-seventies, my rheumatologist recommended I try a number of risky medications to curb my RA, but told me frankly that I would not be able to take any of these drugs for more than ten years because of their impact on the liver and kidneys. I thought, well then, why not strike out on my own right now and find out how to control this disease without medicine? Despite the bravado that decision implied, I often felt afraid and alone…" Darlene helped many people work with their pain and suffering, both in her "Suffering and Delight" meditation groups and through her books, such as Turning Suffering Inside Out and Arthritis: Everyday Exercises for Body and Mind.
Like many, I'd admired her courage and genuineness in the face of great suffering. I recall discussing potential magazine covers with her for an issue of Buddhadharma on pain, in which her article appeared, and she was quick to explain to me that the proposed serene image of a woman who was recovering from cancer was not the way to go. She wrote, "suffering almost always comes w/pain AT FIRST and for most people" and to suggest otherwise would be to negate their experience and reinforce a view she often saw in her years of working with people in terrible pain.  "They'd say 'I know I SHOULD be able to stop at just having pain [without adding suffering], but…'  and they'd collapse into a puddle of self-hatred."  Fortunately, Darlene was a faithful guide and champion for people in pain. She will be greatly missed.
An announcement about Darlene's death released today by Susan Ji-on Postal of the Empty Hand Zen Center reads:
Early this morning, at about 1:15 Pacific time, beloved teacher Surei Kenpo Darlene Cohen peacefully breathed her last. Tony and Ethan, husband and son, were with her at home.

Cynthia Kear, newly transmitted by Darlene, called with the details a while ago. The Memorial Service date is still not known, but it will be at Green Gulch Farm Zen Center in Marin County, both Dennis Keegan and I will be attending, Michael Wenger officiating.

Here at Empty Hand we begin the cycle of services for the 49 day Memorial Period on Sunday.

To write to her family:

Tony Patchell
P.O. Box 2234
Guerneville, CA 95446

We have been touched by an extraordinary person of great passion for the Dharma and great compassion for the suffering of all beings.  May our ceremonies and love support Darlene's journey as she now enters the great mystery.