Alexander Weinstein's The Lost Traveler's Tour Guide comprises a collection of tour guide entries for fictional fantastical destinations. In this excerpt, Weinstein offers advice enjoying your time in the exotic locales of Bhodur, Bent, and Luxore.
The Markets of Bhodur
Long before tourists arrived, Bhodur's artisans carved sculptures and left them in temples as offerings to the gods. They memorized the faces of the local nymphs who frequented their lakes and the gods of thunder who rolled over their mountains, and they spent months carving the visages into sandalwood and stone. It was only due to the curiosity of wandering backpackers that these treasures were discovered by the West. Do you have another one of these? visitors asked, lifting an effigy from a temple alter. Bhodur's artisans sent word home to sisters, brothers, uncles, and aunts to produce more effigies and soon found they could earn money for their family by selling statues along the roadside. Artisans migrated from the mountains to erect makeshift booths for their wares, while others rolled out food carts, and farmers left their fields and moved to the city to make their fortunes in its open-air markets and collectable shops.
Indeed, in Bhodur, you can find blankets dyed with the bloodroot of sunset and the foxglove of mountains. Every stall in Bhodur glows with objects lined up for sale. They shimmer as we wander from shop to shop, seeking to stock our suitcases with exotic riches. At every stall, intricately carved statues can be found for a fraction of what they'd cost back home, and we walk away with glass beads, silver bracelets, and coffee tables inlaid with mother-of-pearl. Bhodur has quickly become a destination for our merchants to stock boutiques back home, and they fill shipping containers so as to sell treasures to those of us who are too poor to purchase a plane ticket but rich enough to buy a tapestry.
According to the artisans, the gods themselves are flawed, and so their wares contain a slight fault.
But, before you book your tickets or purchase an extra suitcase, it's worth knowing that Bhodur's craftsmanship always contains an imperfection. According to the artisans, the gods themselves are flawed, and so their wares contain a slight fault: their clothing has a frayed thread, their statues a chip where a guided chisel fell, and their bracelets a dent from an imprecise bevel. One finds travelers inspecting artifacts with disappointment, shaking their heads as they pick up a singing bowl engraved with the face of a local nymph. Do you have one without a mistake, they ask, pointing to the dent. Come back tomorrow, the artists promise, we'll have one with no faults.
And so, commerce has become Bhodur's lifeblood as tour buses clog its smog-filled roads, blaring pop music and scenic descriptions, while its artisans sit along the roadsides, working tirelessly to carve the faces of their gods for our walls at home. They lay out their wares in the morning light, hoping to fulfill our desires, all of us wishing for something much better.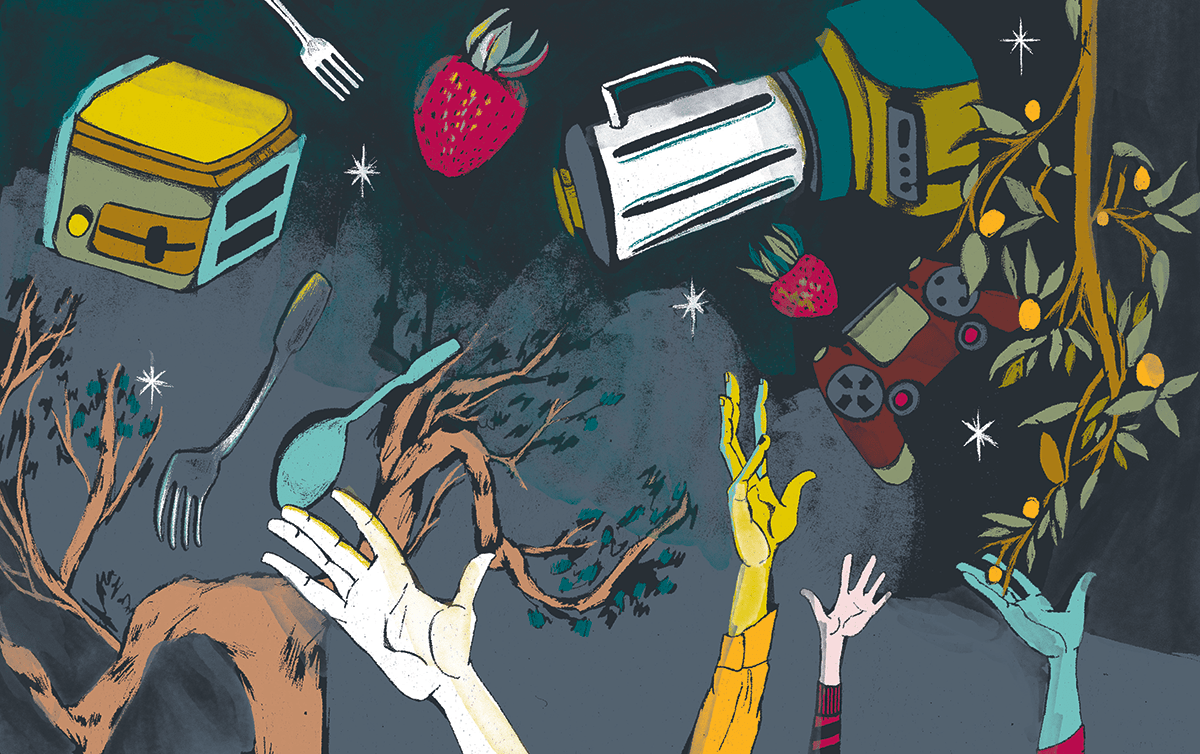 The Land of Bent
Whichever god created the topography of Bent must have had the temperament of a drunk. For, here and there, caper bushes are thrown sporadically along roadsides; olive trees rise without warning; forests of fir, aspen, and cypress emerge like mistakes; and just when you've gotten a handle on that, a field of wild strawberries emerges, a tall cherry tree in bloom, or a kumquat bush squats in the middle of a square as if on a whim. No wonder the poetry of Bent speaks of God as a barfly, or that the town should be filled with taverns and wineries more readily than temples and courthouses.
Maybe it's this bacchanal flamboyance that explains why in Bent's summer months visitors can experience one of the world's most unusual weather patterns. From June to September, during dusk's final moments, the sky over Bent turns a deep violet, and then, like stars emerging, objects begin to materialize in the air. Spoons and forks, serving trays and doilies, blenders and cookware all float high above, ready for the taking. In summer, whole houses can be furnished by climbing the tallest hill and reaching out. Children scoop comic books and gaming consoles from the clouds, and on many a midsummer's eve, one sees men and women with fishing poles casting their lures aloft to reel in sofas and coffee tables.
Everything we've ever wanted is floating above us.
How does this phenomenon occur? Unfortunately, we cannot tell you—we're guidebook writers, after all, not scientists—but suffice it to say that cooling air descends and heat rises and ionized particles solidify, and so on and so forth, until the air above Bent begins to produce washing machines for the taking. Tourism continues to flourish, and come mid-May, crowds flock to the mountains to secure the best spots. Those hoping to be the first to pull in toaster ovens and flat-screen televisions take to camping on hills weeks before the season begins, and they arrive with extra suitcases and shipping containers, prepared to fill their houses.
But be forewarned: autumn is a time of great loss. The items produced by this unusual phenomenon melt like spring snow when summer ends, and each object captured from the sky dissolves back into the air. One feels the first cold breeze, and we watch our silverware and desk lamps disappear. Opening our cabinets, we discover all the towels gone. A child riding his bicycle finds himself on the sidewalk; our new laptop vanishes in the middle of an important email; and homes filled with hot tubs and KitchenAid mixers reveal empty sockets where the appliances once stood.
Many say it would be best to never climb the hills in those summer months. Better to leave the floating treasures high above, their chrome catching the setting sun, their crystal casting prisms of light onto our faces. Locals suggest staying indoors or traveling abroad during the season, and customs officials remind us not to fill our luggage with free knickknacks subject to import duty. But who can resist the summer hills when evening presents its items so readily? Everything we've ever wanted is floating above us, so close to our grasp we need only reach out toward the pleasures, every one of them guaranteed to bring us sorrow.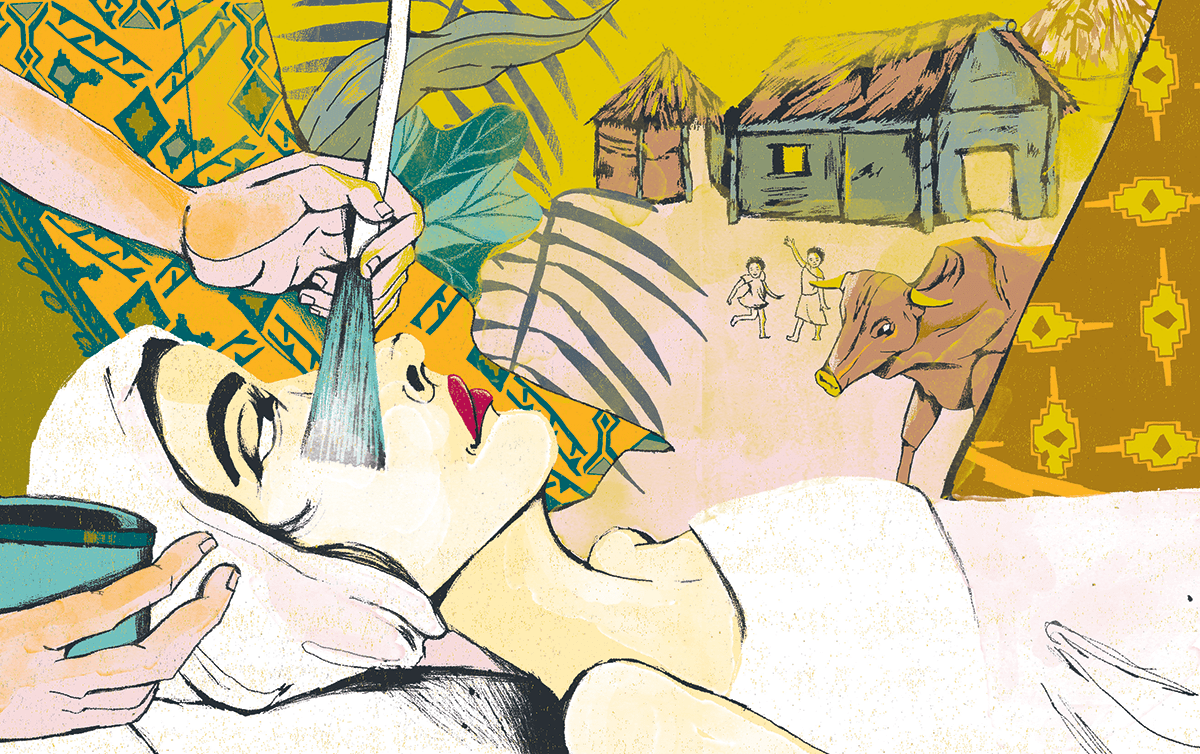 The Spas of Luxore
If you've already booked your tickets to Luxore, you're certainly familiar with its hot stone massages and mudpack facials, its bamboo palaces where organic buffets are piled high, its yoga studios where gurus liberate us from worldly desires, and its oceanfront bars that serve lychee-nut cocktails and rum drinks.
Travel to the city requires rail transportation (plans for a private airport are scheduled to begin this spring) and we recommend purchasing first-class tickets with sleeping cabins, bathrooms, and access to the dining car. The added expense is well worth it, since second- and third-class cabins are filled with locals and livestock, providing no facilities for relieving oneself other than a hole through which one can see the tracks below.
The drive from the station to Luxore's gates isn't scenic. Dogs scratch themselves against shacks, families roast corncobs over burning trash, while children, no older than our own, play in a river choked by garbage. There are beggars crouched by our cabs' exhaust fumes, their hands extended toward our window for coins. We recommend focusing on your guidebook instead. Read about the tantric retreats at the island's westernmost end, or the benefits of pranayama breathing, until your taxi passes through the eco-village's gates, where a breeze blows across the balconies, carrying the scent of sandalwood and papaya. And while you may have heard reports regarding the city's stench—a smell so rank that tai chi classes had to be postponed—we're happy to report that the problem has been solved by the installation of wind turbines, which blow the rancid air back where it came.
Visitors should stop in The Hotel Sebastiaõ's lobby, which displays one of the country's most impressive murals. The mosaic presents a scene of local children playing in the fields, and speaks to the spirit of the native people, whose surviving artists were hired to work in the sugar factories. For those interested in learning more about indigenous tribes, hotels offer day trips to villages, where actors costumed as tribesmen reenact native life. Guests can watch women and children engaged in woodcutting, basket weaving, and jewelry making (all available for purchase from the gift shop) with traditional dances performed on Thursdays and Fridays.
We'd be remiss if our description failed to mention the Quxtchol berry, used for thousands of years in healing rituals, and most recently featured in our fashion and health magazines. The berry has proven beneficial for anti-aging, beauty, and pharmaceutical interests, and international corporations have employed locals to harvest the berries. Although the remaining tribes claim their fruit is disappearing, there are always plenty of Quxtchol berries at our eco-spa buffets. As for travelers interested in witnessing the ancient harvest dance, it's reenacted every Monday and Wednesday at the Visitors Center where colored beads are used in place of the berries.
If you're like most visitors, you'll be charmed by the friendliness of locals, who serve you food at the hotels, clean the pools, trim hedges, and sing their traditional songs while sweeping terraces. Indeed, one of Luxore's greatest gifts turns out not to be its hot oil baths, its Zumba classes, or its superfood smoothies, but the smiles of the people we meet who sell us their most sacred art. How simple yet beautiful their lives are. How inspirational to witness their joy amid such extreme poverty. It's their gratitude that teaches us to be grateful for the pleasures we have in life. We count our blessings as our massages begin.