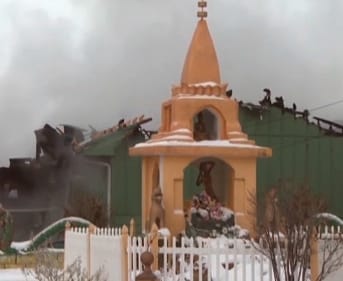 As Buddhadharma News reported back in December, the Lao Buddhist Temple of Colorado in Westminster was destroyed in a fire that likely stemmed from faulty wiring. The head monk, Ounkham Vuennasack, nearly died in the fire, having suffered smoke inhalation, mild burns and frostbite; while he recovered from his injuries, two-weeks later hebegan complaining of feeling dizzy and it was discovered that he has a cancerous tumor on the right side of his brain.
He is currently undergoing chemotherapy and wishes to see the temple rebuilt in his lifetime.
Members of the Lao Buddhist Temple want to ensure that wish becomes a reality by bringing their need for funds back to the forefront. The rebuilding efforts have an estimated price-tag of $600,000, and, according to a new article in the Denver Post, "Many in the congregation want to build a larger temple to make a bigger gathering place for the Laotian community in Denver, which is estimated to be about 3,000 strong."
You can make donations at any 1st Bank location under the Lao Buddhist Temple Fire Relief Fund. Visit their donation page for more details.