A Dharma Bum practitioner talks about the importance of the Dharma Bums food redistribution program.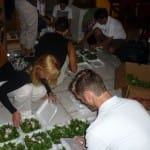 A few months back, I was volunteering for the Dharma Bums Temple, handing out food to the homeless. Along the way, I met two women. They were camped out on a sidewalk, sitting on cardboard, drinking vodka straight out of the bottle. The area had the pungent smell of urine, and the two women had clearly not showered in quite some time.
"Would you like a salad?" I asked.
"Honey, I don't need a salad. What I need is a prayer," she told me.
She told me her story: The night before, her friend got drunk and punched a guy, knocking him out.  As a result, she told me, retribution would be coming. They needed to go back to the group of men and get what's coming to them, before the men came to them.
"Can't you talk about it or apologize?" I naively asked.
"This is the street. It's eye for an eye out here," she told me.
These two women were filled with fear, knowing that they were soon to fight a group of men.
"We are going into battle," she told me, "and right now what I need is a prayer."
I was with two other Dharma Bum volunteers. We rested our stack of salads on the curb and knelt down with the two women. The women put down the bottle of vodka long enough to take my hand in hers, and five of us knelt on the cold, hard concrete and prayed together. We prayed for peace and their safety in battle. We prayed for an end to suffering.
This is why I continue to volunteer with the Dharma Bums food redistribution program.
I hope you will join me.
We meet at the Dharma Bums Temple every Thursday at 5pm. We gather food that would otherwise go to waste and repackage it to hand out to people who need it.
Please join us. We need your support.
Peace,
Dharma Bum Ken