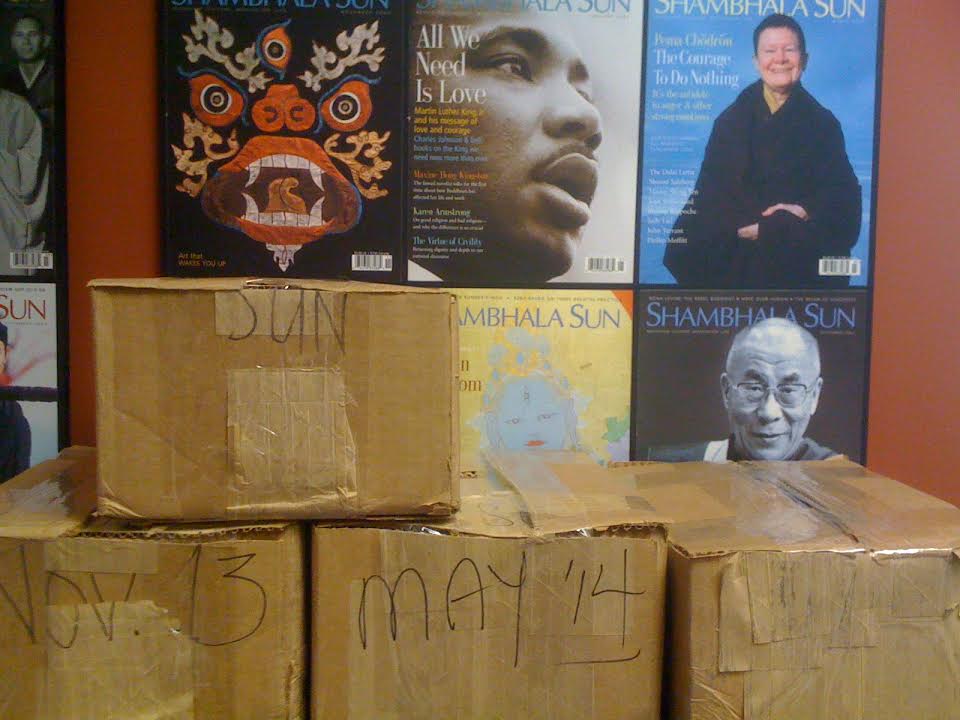 We've just packed up and sent out our second annual collection of copies of our magazines, as well as some select Buddhist books, to the Los Angeles County penal system, to be shared among chaplains and interested inmates there who wish to explore and practice the dharma. We're hardly the only ones to do this sort of thing; lots of Buddhist publishers fulfill prisoners' requests for Buddhist materials, and then there are organizations that more formally work as an interface with prisoners in need, like the Prison Mindfulness Institute and the Liberation Prison Project. And just last week there was this announcement from the good people behind the venerable publication, Inquiring Mind, in which they announced the end of their magazine but that they intend to share their back issues — 17,000 of them — with prisoners in need.
All of this is because, as the folks at the Liberation Prison Project write, "Dharma resources are one of our most precious gifts. Many of our students will never get out of prison, never get to attend a teaching, never take an initiation… and you can't imagine how they appreciate the books. We ourselves have shelves full of unread books, but they have nothing. They read and read them, then read them again, and they share them with their friends."
The suffering one encounters in prison can be profound. Just as profound is the chance to put lessons into practice that can address and help soothe the suffering mind. So the dharma can be especially valuable for those who must remain there. We've had the opportunity to publish many inspiring and important stories of Buddhist practice and outreach in prison. I hope you'll read them, get inspired, and look into the organizations like the ones linked here and see how you might help a prisoner in need.