Recently, I was fortunate to sit down with The Dharma of Star Wars author Matthew Bortolin to discuss his thoughts on The Force Awakens. With "awakening" right in the title, the movie seemed sure to continue the Buddhist themes found in all the Star Wars films. You can read more about how those themes came through in my Q&A with Matthew in the first issue of the Shambhala Sun under its new name, Lion's Roar (available February 1st). In these two clips from our conversation, we discuss how awakening plays a role in the newest film, and how the Jedi have always been mindfulness masters.
And, while we're on the topic. We couldn't help but notice something that looks like a meditation bench that could belong to a certain Jedi master near the end of the film. Is that what our young hero is pausing to examine in the below gif (excerpted from video circulating online)?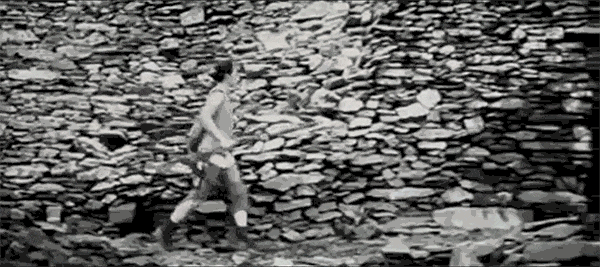 Matthew Bortolin comments:
"I noticed that during my first viewing and had a good chuckle. They really went for the "master on the mountain top" motif. Meditation (and its accoutrements) is not out of place in Star Wars. There are lots of times we see Jedi meditating. Yoda has a sort of zafu he sits on in the Jedi Temple. Even Vader has a meditation chamber. I wonder, though, if the placement of Luke's meditation bench–abandoned there–is suggestive of his state of mind and his troubled appearance in that final scene."
Can you help us at a critical time?

COVID-19 has brought tremendous suffering, uncertainty, fear, and strain to the world.
Our sincere wish is that these Buddhist teachings, guided practices, and stories can be a balm in these difficult times. Over the past month, over 400,000 readers like you have visited our site, reading almost a million pages and streaming over 120,000 hours of video teachings. We want to provide even more Buddhist wisdom but our resources are strained. Can you help us?
No one is free from the pandemic's impact, including Lion's Roar. We rely significantly on advertising and newsstand sales to support our work — both of which have dropped precipitously this year. Can you lend your support to Lion's Roar at this critical time?