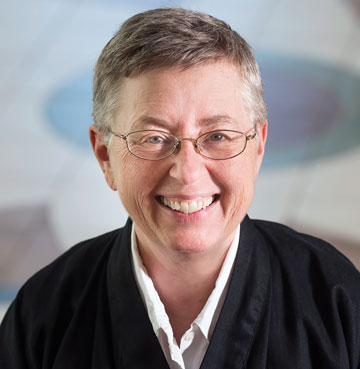 University courses can help even committed practitioners expand their knowledge of Buddhism's history and context, says Daijaku Judith Kinst. Academia is making a valuable contribution to the dharma, and vice versa.
Study is nothing other than asking questions, all the way down. Real questions—ones that challenge us—lead us to the edge of the known and keep us alive with inquiry.
So I ask you to consider: What principles guide your life? What do you turn to in times of distress? What shapes your understanding of this world and your place in it? Such questions propel us into a deep exploration of our assumptions, of what's most valued by us, and of what intrigues and challenges us.
This is the essence of study—not collecting facts, creating a dry abstraction of reality, or narrowing our vision to what we think is right or wrong. A narrow path is easily blocked; a fragile one is easily broken. We broaden our vision when we look at the Buddhist teachings from many perspectives.
This is a lifetime's effort and is not limited to academic study. However, the systematic study of Buddhist teachings in an academic setting has particular gifts to offer. Academic study both demands and supports well-grounded investigation. It requires that we place what we study in context and come to know its shape, role, and many meanings.
When we study the dharma in this way, we learn the history of the various Buddhist traditions and the cultures that have influenced them. We learn about the connections and dialogues between them—and their deep disagreements. Buddhism becomes not a monolith, but a living, changing stream. We wrestle with things and learn to speak and listen with respect and curiosity.
From Buddhism 101 to graduate study of the most complex or esoteric topics, the effort remains the same. This is the beauty of the academy. At its best, it requires us to encounter our deepest questions. In this way we honor the Buddha's teachings.
Study has been a part of the tradition from the beginning. Buddha's spoken words were preserved with care, first orally and then in writing. They interacted with the minds of the people who recorded them, and the records that were handed down formed the foundation of all later developments. "Thus have I heard" is the touchstone.
To entrust ourselves to the path we must come to know that it's reliable—that taking the leap of transforming the self is a wholesome step. Developing such trust can be accomplished in many ways; however, building a solid understanding of the path contributes greatly to its realization.
We're thinking creatures. We string together our impressions and construct an understanding of whatever we encounter. But these understandings can be wildly off the mark. If we weren't prone to erroneous understandings of the nature of reality, we wouldn't have to work to undo racism, sexism, and all the other ways we harm and oppress each other. So how we understand reality and teachings matters.
Because we turn to our institutions of learning to provide us with a means to educate ourselves about the world and our role in it, they play a crucial part in shaping our lives. If we're going to consider how Buddhist education will evolve over the next forty years, we must develop a clear-eyed view of the factors that impact it.
Higher education is in crisis now. Aims and expected outcomes are shifting. Academic degrees are, increasingly, financially out of reach for many people, and the student debt crisis is exploding. This is unsustainable. With climate change, technological developments, and changing demographics, the shape of education will almost certainly change dramatically. We must face this squarely and rethink what we mean by education. This means reflecting on our values, engaging in thoughtful conversations, and developing a vision of what's possible.
What's needed with regard to Buddhist education? How can we educate future leaders to respond to current needs and those that will emerge? Where do we turn for examples that will guide us?
We must take care, as we ask these questions, to include those that are left out of a conversation that often focuses on elite universities—we must include those attending and teaching at community colleges, smaller, poorer colleges, and schools in far-flung areas. If we don't do this, we'll perpetuate systems of privilege and limit our vision. We must ask, is the buddhadharma any less relevant for the education of a nurse's aide than it is for a physician? If there is anything that looking toward traditionally Buddhist cultures tells us, it's that Buddhism is for all people.
Developing programs that produce educators with a solid understanding of Buddhist teachings, who are able to create classes appropriate for varied educational settings and connect Buddhist teachings to people's day-to-day lives and work, will lead to new insights and perspectives.
We must ask what types of academic education will help us create new systems and responses to our changing world. Educational institutions rooted in the dharma are particularly good models for what's possible. For example, an institution that has the Buddhist teachings of interdependence as a basis for its curriculum can make a unique contribution in discussions about how we could respond to climate change.
In the last few years a group of educators from schools and organizations with programs in Buddhist ministry and chaplaincy have come together to share resources, concerns, methods, and friendship. Within this group, those of us from Buddhist educational institutions found we have a particular affinity.
Institute of Buddhist Studies, the University of the West, Naropa University, and Maitripa College are each different. However, we're all rooted in the Buddhist tradition, welcome students and faculty from all Buddhist schools, and engage deeply from that basis with non-Buddhist traditions. We've discovered, in our discussions, that having the dharma as the foundation changes the entire institution and the education it offers.
In all these schools, the "translation" of material from non-Buddhist sources occurs in an environment in which the richness of Buddhist teachings is the context. Students come from a wide range of traditions, and a diversity of views is valued, encouraged, and inevitable. This directly impacts the way students grow and develop.
In the case of the Institute of Buddhist Studies, where I teach, we're also deeply connected to the Graduate Theological Union, which means students from other GTU schools have the opportunity to study Buddhism in a Buddhist institution. The inclusion of students from other theological schools makes for a lively classroom.
In our program, and the others, students come to know one another as lifelong students of the dharma. They challenge one another to bring forth new insights, build a strong theoretical basis in the dharma for their service in the world, and grow in their ability to articulate it to others. They build a confidence that doesn't require erasing real differences or making another wrong. The leaders we'll need, as we face the challenges ahead, grow and thrive in these institutions founded on the dharma.
Read the rest of the series, "Buddhism's Next 40 Years: Deepening Our Practice and Study."