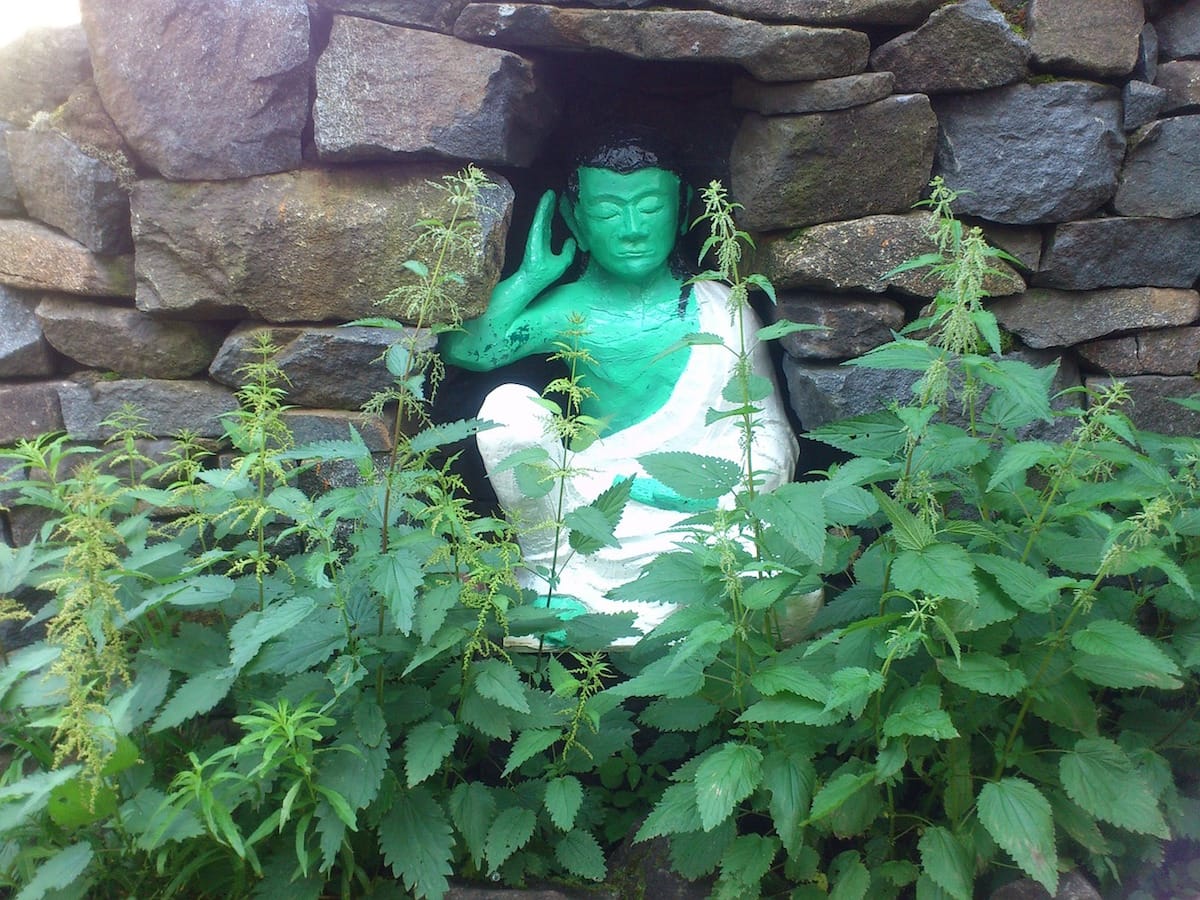 Note: In 2018, Sakyong Mipham Rinpoche became the subject of a number of allegations of sexual assault and misconduct and stepped back from the community he led, Shambhala. While Lion's Roar does not endorse him as a Buddhist teacher, we understand that some may want to access his past teachings in light of recent events, and so we are continuing to make this article from our archive of past issues available for those who wish to do so.
Sakyong Mipham Rinpoche on the three activities that are essential to training our minds — hearing, contemplating, and meditating.
The power of the mind is something we may not think about very often, but if we consider how little power we have over our minds when we're faced with negative situations, we appreciate just how potent the mind can be. We've all been tormented by jealousy or grief or anger; we've all experienced the way such emotions can carry us away from our reasonable, day-to-day state of mind. From the Buddhist perspective, an appreciation for the mind's tremendous power is a precursor to training the mind to awaken itself.
Three activities that are essential to training our minds-hearing, contemplating, and meditating-are already quite natural to us. You hear shocking news-the new boss at work has fired you. You may have to hear it several times and ask a lot of questions before the news truly sinks in. This is hearing.
Then you think about it. You mull over the news. You may think about how it happened, trace its origins, figure out what went wrong. This is contemplating.
 Then, you settle in and find you are completely absorbed in the feelings of shock and anger. You may think about getting revenge. You will doubtless fantasize many different scenarios with tremendous clarity and vivid detail. When we are carried away by strong emotions, the source of our emotional disturbance becomes our reference point. This is meditating. We find ourselves continually returning to a central reference point; we are fully absorbed. We can't escape.
The powers of hearing, contemplating and meditating are built-in, you could say. Our minds have these tendencies naturally, but when we train our minds through shamatha (mindfulness) practice, we can actually strengthen our ability to hear, our ability to contemplate, and our ability to meditate. Those abilities can be cultivated into powers that we can draw upon to free ourselves from the grip of negative emotions.
Let's use shamatha practice as an example of how hearing, contemplating, and meditating strengthen the mind. The overall view of shamatha practice is that we can strengthen our minds through meditation practice. Through regular shamatha, our minds become more resilient and more pliant, so that when we are faced with the negative emotions that used to take over our minds entirely, we are not trapped. When we meditate, we are developing the power to gain some perspective on seemingly overwhelming thoughts.
How, then, is shamatha able to work effectively on our minds? First, we hear the instructions on how to do it. Then we think about those instructions. We contemplate how it feels to place the attention on the breath and to try to keep it there. Then, we actually try it. Contemplation gives way to meditation. We sit on the cushion and use our breath as our reference point. When our mind wanders, we always return to the breath. Most of us need to hear the instructions again and again in order to remember them. And then we should mix the meditation practice with contemplation of our experience.
In this way, our view of shamatha, of training and strengthening our minds, is fully established and can be relied upon again and again. But the whole process began with proper hearing. Without proper hearing, we could well have gotten off on the wrong track and something we were calling shamatha, something we were calling meditation practice, could be taking us in an unhelpful direction. That is why hearing is emphasized first.
What is the proper attitude for hearing dharma teachings? Usually when we are listening to someone, we tend to think, "Oh, okay, I got it." We want to "get it" quickly. We are eager to apply our own viewpoint to it. But before we place our own view on what the Buddha taught, before we apply our new interpretation, first we should try to hear what is being said to us. We could let the dharma sink in and penetrate us. We could get to the point where we can drop our own baggage and listen to what is being said.
When we hear dharma teachings, we don't just listen. We listen and then we hear. Our minds have to be available for this experience. We have to take time and let the levels of subtlety sink in. We listen and remain open to the meaning, so that at some point the meaning strikes us very deeply. When we pay attention, we recognize our meditation experiences from what we've heard. When this happens, the implications for the rest of our lives are very profound. This is the first moment when we can really say that we have heard the dharma. This is a penetrating experience. This is hearing.
Another important point to remember is that hearing does not only mean going to a program at a meditation center and taking notes during the talks. Hearing also refers to study. When we read a teacher's words we are hearing the dharma. It's good to remember to hold our minds open and to pay attention when we read the dharma, the same way we would if we were attending a dharma talk.
When we actually hear the instructions on how to meditate, and when we hear the teachings on what meditation means, then that meaning penetrates us. We understand our experience through contemplating what meditation means to us. With our new-found understanding, we return to the meditation cushion and observe our experience. Eventually, we see the relationship between hearing and studying the dharma teachings and deepening our understanding of them.