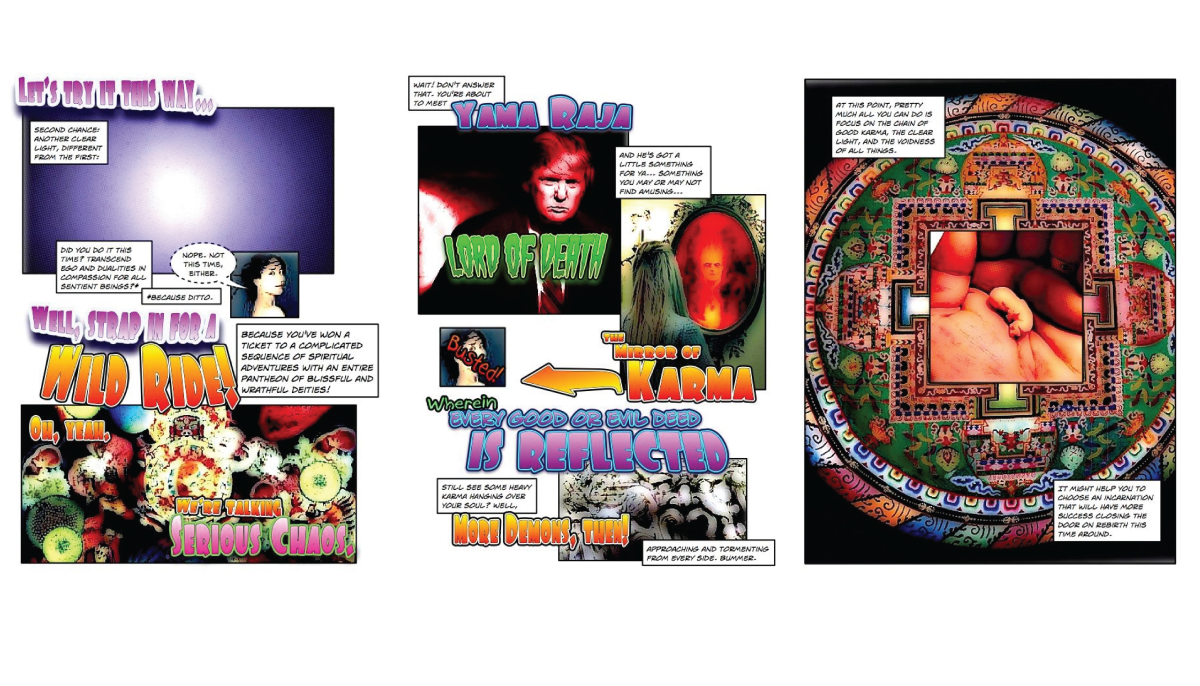 It's fun! It's visionary! It features Donald Trump as Yama Raja, the Lord of Death. It's "The Comic Bardo Thodol" (aka The Tibetan Book of the Dead), as created and executed by writer/artist Thomas Scoville.
How nice to see it making the rounds online again, since it's now been posted on UltraCulture.org. It first surfaced in 2008, and I reached out to Scoville, who explained how it came to be:
"I'm kind of amazed by how much coverage it's gotten. It was just some background research I'm doing for a novel — I'm trying to use the BT as a guide text for a pop culture novel. Though I'd read bits and pieces of the BT for years, I realized I'd never gotten my mind around the whole thing — it's not very 'sticky' to a western mind like mine, I guess. So I had the idea of dumbing it down: if I were a teen, how would I explain it to me? — comic book form, with pop culture figures and images to make it stickier and less threatening. So I tried that. An hour a day for about a week. I'm just tickled that so many people found it entertaining and/or informative."
See The Comic Bardo Thodol for yourself, here.
THANK YOU FOR READING LION'S ROAR. CAN WE ASK FOR YOUR HELP?
At Lion's Roar, our mission is to communicate Buddhist wisdom in today's world. The connections we share with you — our readers — are what drive us to fulfill this mission.

Today, we're asking you to make a further connection with Lion's Roar. Can you help us with a donation today?
As an independent nonprofit committed to sharing Buddhist wisdom in all its diversity and breadth, Lion's Roar depends on the support of readers like you. If you have felt the benefit of Buddhist practice and wisdom in your own life, please support our work so that many others can benefit, too.

Please donate today — your support makes all the difference.

Lion's Roar is a registered charity in the US and Canada. All US & Canadian donations are tax deductible to the full extent allowed by law.