Four great teachers from across Buddhist traditions. 80 participants. What happens when you get them all together to explore happiness as Buddhists might see it? James Kullander has the report from what proved to be a very special weekend.
It's Sunday afternoon and Omega Institute's and Lion's Roar cosponsored weekend gathering, "Discovering Happiness," has just ended. Before I head home, tired but elated, I check my email and read in the Writer's Almanac e-newsletter about the birthday of the English poet Philip Larkin, who said, "I think writing about unhappiness is probably the source of my popularity, if I have any. After all, most people are unhappy, don't you think?"
That quote strikes me, since I have just spent the weekend exploring the nature of happiness and how to find it. Frankly, I do think most people are unhappy. That's the bad news. The good news is that our happiness is entirely up to us. As I listened to the teachers over the weekend, it became increasingly evident that genuine happiness is always available to us and cannot be taken away. That's because our happiness is dependent on nothing outside us. What we need to do is welcome all our experiences with a sense of curiosity and self-awareness, to even be a friend to our experiences no matter what they are, even if — or especially if — things don't go our way.
This line of thinking — that happiness is individually and collectively available all the time — is not from some pop song or greeting card. Rather, it is a fundamental tenet of Buddhism. I first heard this shocking message in 1993, during my first Buddhist meditation retreat in Nepal, and I keep hearing it in every Buddhist retreat I go on, in every Buddhist book I read. Somehow I forget, so it helps to get a refresher course; it seems every time I hear Buddhist teachings I feel as if I am hearing them for the first time. Perhaps that's because my life is always changing, always ripe for something new and different. What did not interest me, or what I did not understand last week, might interest me now—and be completely comprehensible, like I'd known it all along.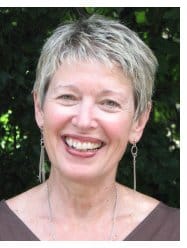 "A good deal of our unhappiness comes from blaming ourselves or others for things that go wrong," said Polly Young-Eisendrath, one of the four presenters at the gathering, the third such gathering in the What the Buddhists Teach series offered at Omega Institute. She offered a Zen story by way of example: You are rowing a boat across a big lake. It's a beautiful day and you are going to meet a friend for lunch, and you are rowing very hard. Then out of the blue another boat hits you from behind. Immediately, you whirl around, enraged and ready to lash out at whomever hit you, but you see the boat is empty. What happens to your anger? Your anger dissolves. As soon as you see there is no one to blame, your anger dissolves. That's what are lives are like; no matter where we are or what we are doing, there is no one to blame for our unhappiness. It's our own reactions to people and circumstances that make us unhappy.
The other three teachers who offered their wisdom to the program's 80 participants were Sharon Salzberg, Gaylon Ferguson, and Barry Magid. The topic of happiness, like the two previous themes — Fear and Fearlessness (2007) and Mindfulness, Love and Relationship (2008) — was chosen because, according to Shambhala Sun editor Melvin McLeod, Buddhism offers "both practical, helpful advice for our day-to-day lives, as well as profound insight into the nature of realty and our lives as human beings in addressing these questions." After all, McLeod told the crowd, the starting point of Buddhism is the first Noble Truth, the truth of suffering. The fruition of Buddhism, he said, is the end of suffering. "Thus we can say that Buddhism is entirely devoted to the question of human happiness. That this is its raison de'être," he said.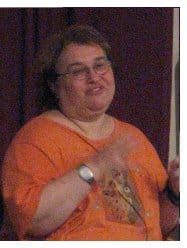 Sharon Salzberg offered a lovingkindness meditation as a way to tap into the fundamental root of our happiness because, as she pointed out, the more kind we are to others — as well as to ourselves — the happier we are.
Lovingkindness does not deny the suffering and pain of the world, she said, but it gives us the energy to sustain the effort to be present in all manner of difficult situations in which we might find ourselves. It connects us to the resiliency of the human spirit.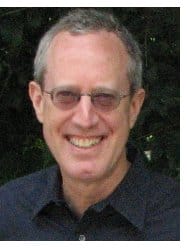 Barry Magid's presentation focused on the perfection of every moment in our inner and outer lives just as they are. So often Buddhist practice gets diverted, he said, and people want to become stoic and autonomous — a "stone Buddha" that can't be hurt by anyone ever again. The real danger, Magid said, is that "we can almost do it." And the more we deny our wants and needs, the more we believe our practice is becoming deeper. We think we can get rid of our suffering if we can get rid of our vulnerability. But the real outcome of a deep practice, he said, is more vulnerability. In fact, he pointed out, we need to avoid seeing our practice as an effort in escaping or transcending the human condition. "The practice of zazen (sitting meditation) is the practice of leaving everything alone," he said.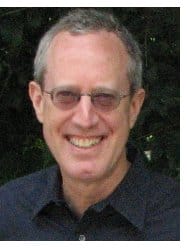 Gaylon Ferguson opened the program on Friday night encouraging us to accept our experience just as it is, which Magid echoed, thus bringing us back to where the weekend began. It's important to allow things to happen to us, to welcome our experience — even if we are bored, Ferguson said. It's important to engage and embrace our experience as it is happening, and not try to manipulate it. He opened the floor to questions and comments, and people offered these — which I grasped was the method behind his message. He asked us to feel what we were feeling as we were feeling it. It seemed to me that he gently guided us into the deep waters ahead of us.
I have saved Gaylon's opening remarks till the end here, because they seem to be an apt way to close, a way to take the teachings of the weekend with us long afterward, and for me to share them. All beings want to be happy, he said, quoting the Dalai Lama. This is an element of our awakened nature, and it is inherently and fundamentally a good impulse.
Thing is, he said, we find ourselves doing things that do not lead to the happiness of others or ourselves. These activities or emotions or thoughts are like clouds that come between us and the sun, our innate goodness. The teachings of the Buddha, Ferguson said, have to do with ways that remove those clouds. And we can train ourselves to remove the clouds. Our awakened, happy nature is the sun, and we can learn how remove what covers that nature.
Which is what the word "discover" means. It means to uncover, to expose to view anything that was previously covered up. So when we discover our happiness we are uncovering what it is inherently, always within us.