Each Friday, we share three topical longreads in our Weekend Reader newsletter. This week, Buddhadharma deputy editor Koun Franz discovers a new dharma in the Winter 2019 issue of Buddhadharma.  Sign up here to receive the Weekend Reader in your inbox.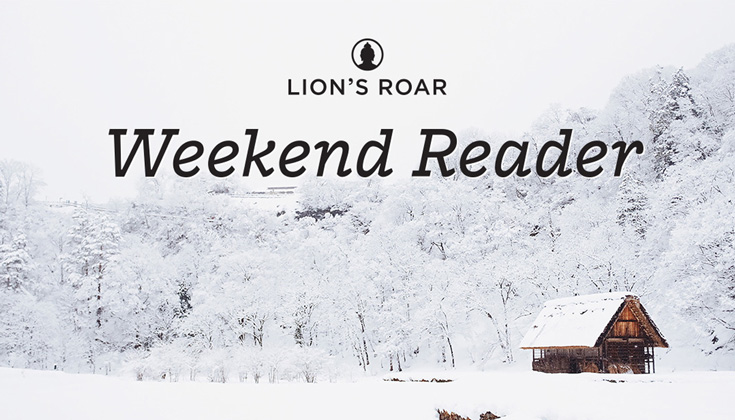 Putting together every issue of Buddhadharma is a process of discovery. We don't do cover themes; we don't try to put together a lot of articles on a single topic. We just try to share the best dharma we can. That means reading new books, talking with favorite teachers (and teachers we're just getting to know), and occasionally receiving an email with an article we never even imagined. It's a lot to comb through, but it's worth it. Every time we bring a powerful or unexpected voice to the page, we're reminded why we do this — not just why we make this journal, but why we practice, why we love the dharma, and why it's so exciting to be witness to the developments taking place in Buddhism today.
The winter issue of Buddhadharma is full of surprises. The first time I saw a painting by Tsuneo Iwasaki, whose life and work are featured in Paula Arai's "If You Could See the Heart Sutra," my mind stopped. Besides being beautiful, the paintings open up a whole world of possibilities around how we might approach the sutras. We can study them, sure, and we can chant them, but can we give them shape? The evidence says yes. And whether you can read Tibetan or not, Patrick Dowd's article, "How the Sacred Treasure of Literacy Came to Tibet," will change the way you see the language forever. Here's a taste of what's inside.
—Koun Franz, deputy editor, Buddhadharma
The Dalai Lama and Thubten Chodron remind us, in no uncertain terms, where this practice starts and what it's really all about:
"For obscurations to be removed from the root by the wisdom realizing emptiness, our mind must first be capable of meditating with single-pointed concentration. To subdue the subtle internal distractions that interfere with concentration, firm mindfulness and introspective awareness are necessary. To strengthen our mindfulness and introspective awareness and to gain concentration, we must first overcome the grosser external distractions by developing mindfulness and introspective awareness of our physical and verbal actions. This is done through the practice of ethical conduct."
Jeff Wilson's article is a perfect example of how view, when it's grounded in compassion, can be timeless. Jeff Wilson offers an intimate look at Shinran, the founder of Shin Buddhism. Through his suffering, Shinran arrived at a humble version of compassion that the world needs as much today as it ever has. Wilson writes:
"It's clear that the persecution, displacement, and poverty he experienced led him to feel solidarity with the neglected, the abused, and the displaced."
I think the title alone will give most Buddhists pause. Zenju Earthlyn Manuel speaks of "the blackness of the wounding and trauma of oppression," then introduces a "greater blackness," one that not only contains all that hurt and rage but also makes space for them to become sources of wisdom and transformation.
"I took my vows within the greater blackness, not the blackness of the wounding and trauma of oppression. The blackness of oppression was what remained when the greater blackness was robbed long ago of its true beauty, expansiveness, and mystery. When I plant my feet in the earth, I am on the path of Daikoku. In these times, our rage is a call to cultivate our heart–mind and to abandon a distorted sense consciousness of blackness and whiteness that ultimately manifests suffering when we lose sight of what it is to rest in the vastness of both and everything in between. Our lineage is the earth."