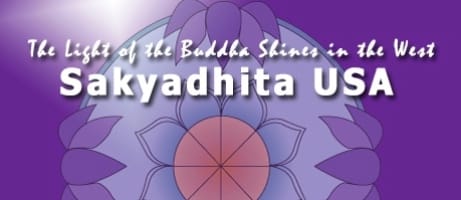 On April 1, Sakyadhita USA and University of the West will be co-sponsoring a conference called "Diversity in the Dharma: Buddhist Women Engage Race and Exclusionary Politics in America." The conference will be held at University of the West, in Rosemead, California. Its keynote speakers will be Myokei Caine-Barett, Shonin, and Dr. Pamela Ayo Yetunde.
According to its organizers, the conference, which will be open to all, will "provide a platform for discussions on how the politics of race and exclusion that plague many of our communities can be addressed through a lens of Buddhist teachings," and will include "panel presentations from leading activist Buddhist organizations about their own efforts at turning exclusion into inclusion. […] Represented will be the San Francisco Zen Center, Against the Stream Los Angeles, the East Bay Meditation Center, and the Buddhist Peace Fellowship. Also serving on a panel will be Funie Hsu, Cal State San Jose Associate Professor of American Studies, who writes about the cultural appropriation of Asian American Buddhists' contributions that renders them invisible in mainstream white American Buddhism."
For more information, visit the conference's web page.