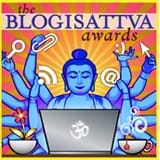 We here at the Shambhala Sun are big fans of the "Buddho-blogosphere" – that is, we love to see the diversity and dialogue that's manifesting among the online sangha of Buddhist bloggers. And quite a sangha it is: there are monks and nuns and teachers and students and dabblers, all interacting and making their voices heard. As I've contended before, the web can be considered a gift of skillful means, in that it's a place wherein we can each contribute to dharma discussion, in whatever way best suits how we communicate.
Of course, we try to bring you some of the best Buddhist bloggers right here on SunSpace. (Karen Maezen Miller, Danny Fisher, and I, for example, have been dedicatedly blogging about Buddhism for, pretty much, as long as blogging about Buddhism has been happening in some sort of regular fashion.) But the web, like the dharma itself, is truly vast. How does one find the always-fresh and vital voices that are joining the fray?
That's where the "Blogisattva Awards" come in. I spoke to Kyle Lovett, the blogger behind the admittedly "adult" blog The Reformed Buddhist, who, along with Precious Metal blogger Nate DeMontigny, has been instrumental in bringing back the Awards, which were first launched a couple years back by Buddha-blogger Tom Armstrong. NOTE: All links in this post (and there are many!) open in new windows.
How is it that you came to resurrect the Blogisattva Awards?
My friend Nate DeMontigny from the Precious Metal blog was mentioning something on a forum about how cool it would be to resurrect these awards, since they had always been fun and exciting for the Buddhist blogging community in the past. I responded with "that would be great idea"; one thing led to another, and with the encouragement and blessing of the Awards' founder, Tom Armstrong, it kind of took on a life of its own. And boy has it ever! We can't thank Tom Armstrong enough for blazing a trail for us Buddhist bloggers, and for being somewhat of an online blogging father figure to many of us. …We wanted to change the awards to the Zombie Buddha Awards since it was resurrected, but Tom struck that idea down.
I wonder if you have a favorite blogger who you discovered through the Blogisattva Awards previously?
Yes, indeed. Through the Blogisattva Awards in the past, I discovered Justin Whitaker of American Buddhist Perspective, a great guy and an amazing academic, who I later participated with in the group blog, Progressive Buddhism. I also found Michael, the incredible blogger and photographer from One Foot in Front of the Other who unfortunately passed away a couple of years ago; James Ure of The Buddhist Blog who is one of the most compassionate bloggers I know and one of the first established Buddhist bloggers to give me tips and encouragement as a blogger myself, and of course the always kind, thoughtful and skilled writers Tanya McGinnity of Full Contact Enlightenment and Rev Danny Fisher, who are both panelists this year.
I know that you're careful to make sure the Blogisattva Awards don't become some kind of popularity contest. How, then, do you make your choices regarding panelists?
We sought people that we felt were skilled writers and journalist in their own right first and bloggers about Buddhism second. All of this year's panelists are very conscientious of the Buddho-blogosphere with all the twists and turns it has to offer, and have been themselves a part of the community for a long time. Each of them have gone through the process of deciding to make their practice of Buddhism public on a blog, and have felt the excitement, pains and rewards that becoming a Buddhist blogger can bring. It takes great effort and care to create inspiring, insightful and sometimes provocative posts, and we felt that these panelists could relate, appreciate and honor hard work and excellence when they saw it. (We are also accepting cash money bribes for winners, sorry no coupons accepted; Buddhism doesn't offer redemption. (Queue Brit Hume joke and loud sigh.))
Who are the panelists this year?
Rev. Danny Fisher – A professor at the University of the West, and a very popular blogger in his own right. [Fisher is also a regular contributor to Shambhala SunSpace.]
Barbara Hoetsu O'Brien – A former student under John Daido Loori, she is an excellent journalist and blogger at the About.com site.
J. Andy Lambert – Andy is an "in-the-trenches Buddhist blogger" for Houston Chronicle's online Belief Portal.
Philip Ryan – A thoughtful and popular blog editor over at Tricycle Magazine, who has been covering Buddhist news and the Buddho-blogosphere for quite some time now.
Tanya McGinnity – One of my favorite bloggers, from Full Contact Enlightenment, who herself has won a Blogisattva Award in the past.
Of course Nate DeMontigny of Precious Metal is co-administrating the awards with me, and Anoki Casey of Dharma Dots and Buddha Badges did just an amazing job on the new graphics on the site. And Jesus is also with me…no, just kidding, he stayed home this time around.
So, you'll be accepting nominations for the 2010 Awards until November 1st. Do you have a general impression of how many of this year's bloggers are new to the Buddho-blogosphere, and if there's a noteworthy new trend or direction as far as what Buddhists are discussing online?
Yes, it is astounding; I would say 20-25% of the Buddhist bloggers have started their sites within the last 12-16 months. The growth of online Buddhist blogging in the last three years has been astronomical, and every month there seems to be a new and unique voice coming forward. It truly is a community whose reach seems almost endless. There are monastic blogs, ordained and lay teacher blogs, academic blogs, news and link websites and of course just about every tradition of Buddhism blogged about by individual practitioners.
We are also seeing more and more teachers writing online, to reach out to students and those practitioners who don't have the luxury of a Sangha nearby their homes. Its amazing: I was chatting on Twitter with Sharon Salzberg a couple weeks ago; I mean, where else could someone just strike up a conversation with such a well known teacher. What the online world has to offer real world folks is truly tremendous! I think as the growth of Buddhism explodes here in North America, we are finding more and more folks turning to the online Buddhist community for information and support, to fill that teacher and flesh and blood Sangha gap that exists today.
Visit the Blogisattva Awards — and nominate your favorite Buddhist bloggers — here.