The Tibet Oral History Project (TOHP) documents the extraordinary lives of exiled Tibetan elders—the last generation to live in a free, unoccupied Tibet — and preserves memories of their homeland for future generations.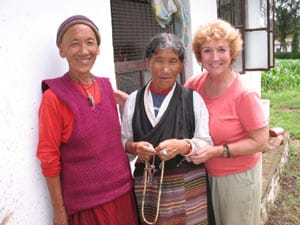 Founder Marcella Adamski, Ph.D. (shown here, right), a clinical psychologist working in San Francisco, explains:
"When I met His Holiness the Dalai Lama in 1999, I asked what could be done to help the people of Tibet. He requested that the elders who fled Tibet following the Chinese invasion be interviewed before they pass away and their stories are lost forever. To fulfill this request, I founded the Tibet Oral History Project in 2003."
When the Dalai Lama was forced to flee Tibet in 1959, an estimated 80,000 Tibetans followed their spiritual leader into exile in India where most now live. TOHP's interviews document the refugees' early peaceful life in Tibet and the devastating impact of the Chinese invasion and occupation on their families, livelihood, social structure and religious practices.
Adamski was fortunate to recently receive a second audience with His Holiness the Dalai Lama in October, when she presented a brief overview of the work completed thus far. "This is very good," said His Holiness as he looked with interest at the elders' photos. Tashi Wangdu, former Secretary of the Bureau of His Holiness the Dalai Lama in New Delhi, India and adviser to TOHP, noted "His Holiness was very pleased to learn that someone was fulfilling his wish to document and preserve the stories of Tibet's oldest people."
To date TOHP has recorded the oral histories of 120 exiled Tibetan elders, most living as refugees in India. English transcripts from 67 interviews are posted on the Interviews page of TOHP's website to provide worldwide access to this important collection. A series of short videos highlighting the elders' insightful and intriguing stories about Tibet have just been added to the Project's website. Here are a few examples:
Tsering Wangmo, age 87
Tsering Wangmo lived a typical nomadic life in Tibet, which began early in the morning with milking, churning curd and making cheese. Her regular chores also included raising animals and weaving. She was often selected to dance at weddings and taught traditional songs and dances. She performs mo 'divination,' which is a type of fortune telling done with rosary beads. Tsering Wangmo tells about her daily nomadic routine in this video:
Tsering Wangmo (#74) from TOHP Videos on Vimeo.
Lhakpa Tsering, age 72
Lhakpa Tsering was 13 years old when the Chinese first arrived in his village and he recalls that "everything was in chaos." The peacefulness and prosperity of the villagers was replaced by fear and hunger. As conditions worsened, Lhakpa Tsering and other young men hid themselves in the hills for a week. In 1959, he and his wife were imprisoned by the Chinese for six months to discourage them from fleeing to India. In the following video Lhakpa Tsering explains the numerous hardships imposed on the Tibetan people in his village:
Lhakpa Tsering (#69) from TOHP Videos on Vimeo.
Ngawang Chosang, age 73
Ngawang Chosang's parents were tenants on the local monastery's property, and as a form of tax they sent their son to become a monk when he was 7 years old. At the age of 28, Ngawang Chosang went to Lhasa and enrolled in Sera Monastery. He made his escape to India in 1962 and labored to build the new Sera Monastery in Bylakuppe, India. Before leaving Tibet Ngawang Chosang witnessed the arrest and public beatings of many monks, instigated by the Chinese, which he describes in this video:
Ngawang Choseng (#91) from TOHP Videos on Vimeo.
Additional short videos and transcripts of entire interviews are available on the Videos page of TOHP's website. For more information visit www.tibetoralhistory.org or contact us at [email protected].