A report of Namgyal Monastery Institute of Buddhist Studies' new residential monastery, by Mary Gilliland.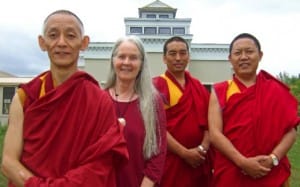 Namgyal Monastery Institute of Buddhist Studies in Ithaca, NY, is pleased to announce construction under way of a second residential monastery. His Holiness the Dalai Lama visited the site to bless the projected 5-building facility and named it Dü Khor Choe Ling (DKCL), "The Land of Kalachakra Study and Practice." The design of DKCL is the shape of a Kalachakra 3-D Mandala.
Built around a central courtyard, the complex will provide a private residence for H.H. the Dalai Lama, a 120-seat Shrine Room, housing for monks and students, and facilities for classrooms, offices, dining, and meeting rooms. Two of the five buildings have been completed and enclosed. The monastery warmly welcomes donations in order to complete the interiors of these buildings, as well as to complete the entire facility.
Founded in 1992, Namgyal Ithaca is the first and only branch outside India of the personal monastery of H.H. the Dalai Lama. For nearly 20 years, Tibetan monks and Americans have collaborated in Namgyal Ithaca's daily operations and teachings, working together to support this branch monastery in the Western hemisphere. The Ithaca branch offers Western students the opportunity to study authentic Tibetan Buddhism in a monastic setting.  In keeping with the tradition of the Dalai Lama's original Namgyal Monastery in Tibet, Namgyal Ithaca is a non-sectarian institution and thus offers students the opportunity to study aspects of all the sects in the Tibetan Buddhist tradition. Classes at the monastery are taught by monks from Namgyal India deputed by the Dalai Lama to live and teach in Ithaca; teachings are also given by prominent visiting scholars, clergy, and teachers from all traditions of Tibetan Buddhism.  Programs at Namgyal Ithaca include a three-year core curriculum, weekend teachings, summer retreats, evening meditation, conferences, Tibetan language classes, and the celebration of Tibetan holidays.
Namgyal Ithaca monks travel to give lectures, create sand mandalas at museums, colleges, and community centers, lead pilgrimages to sacred sites in India, serve as Buddhist chaplains at Cornell University, and assist His Holiness at public events. As emissaries to the West, Namgyal monks are repositories of Tibetan language, culture, and religion.
Their monastery also serves as a cultural center for Ithaca's vibrant Tibetan community. Selected as one of the first sites in the U.S. to host a group of Tibetans authorized by the 1990 U.S. Immigration Act to resettle in this country on permanent resident visas, Ithaca is home to multigenerational Tibetan families and one of the largest Tibetan populations per capita in this country.
When His Holiness visited Ithaca to bless DKCL's Shrine Room, he remarked that "preservation of Tibetan Buddhist culture in [a] free country is now very very important." Namgyal Monastery Institute of Buddhist Studies is dedicated to this goal. Construction of Dü Khor Choe Ling is a response to the growing student base and the need for retreat facilities and student housing. When the capital campaign is successfully completed, Namgyal retreats will be held at DKCL, as will Summer Camp for Tibetan and non-Tibetan students, and opportunities for scholarship, for dialogue between scientists and sages, and for interfaith dialogue.
For a virtual tour of the new monastery, go to www.namgyal.org, where you can also find information about Namgyal programs, the capital campaign, and the November 2010 "In the Steps of the Buddha" guided pilgrimage to India.