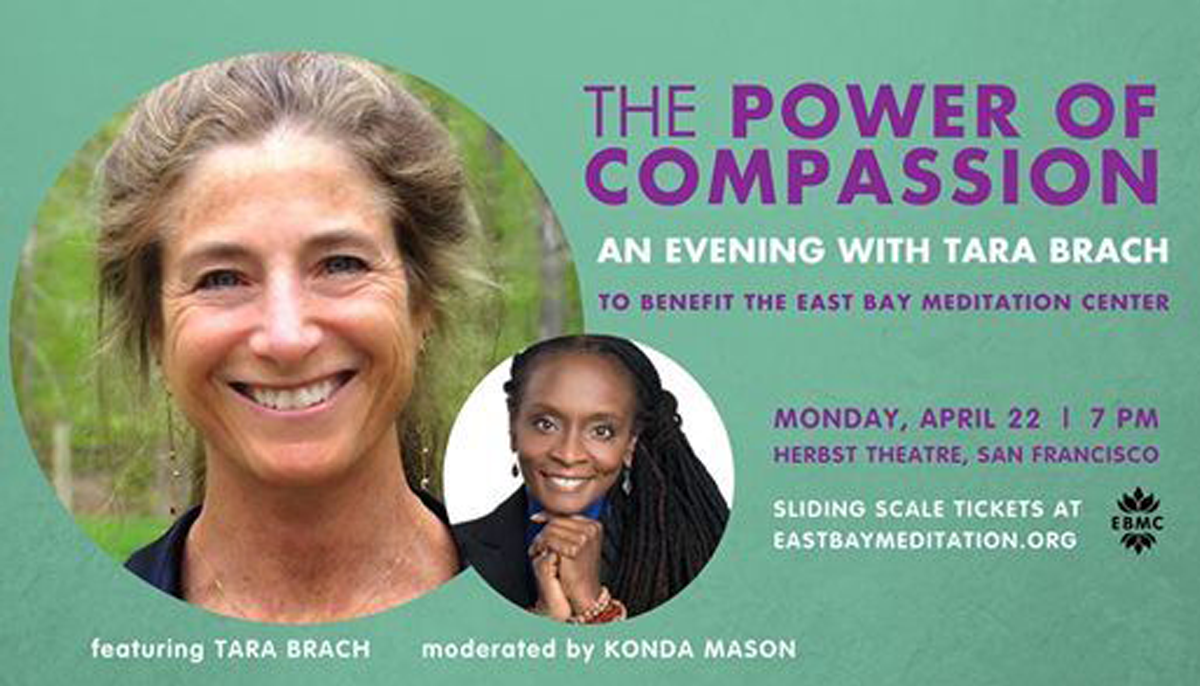 On April 22, East Bay Meditation Center, the leading-edge, Bay Area spiritual community profiled by Lion's Roar magazine's Lindsay Kyte last year, will host "The Power of Compassion," a benefit event featuring  Tara Brach. Brach is the founder of the Insight Meditation Community of Washington, D.C., and the author of Radical Acceptance and True Refuge. The event will be moderated by Konda Mason, Spirit Rock Meditation Center teacher and cofounder of Impact Hub Oakland.
While tickets for the in-person event sold out quickly, a generous donor has made it possible for EBMC to livestream the event, and tickets to the livestream are now available.
East Bay Meditation Center, as Kyte writes, "offers meditation and teachings from Buddhist and other wisdom traditions, with a focus on social action, multiculturalism, and diverse populations. The Center is based on the principle of radical inclusivity, which community coordinator Mushim Ikeda says means creating a space where everyone is welcome and feels safe to practice and experience community. EBMC is viewed by many as a leader and model as American Buddhism changes to meet the needs of people with different backgrounds and life experiences."
Read the full EBMC profile, "Where Everyone Can Thrive," here.
THANK YOU FOR READING LION'S ROAR. CAN WE ASK FOR YOUR HELP?
At Lion's Roar, our mission is to communicate Buddhist wisdom in today's world. The connections we share with you — our readers — are what drive us to fulfill this mission.

Today, we're asking you to make a further connection with Lion's Roar. Can you help us with a donation today?
As an independent nonprofit committed to sharing Buddhist wisdom in all its diversity and breadth, Lion's Roar depends on the support of readers like you. If you have felt the benefit of Buddhist practice and wisdom in your own life, please support our work so that many others can benefit, too.

Please donate today — your support makes all the difference.

Lion's Roar is a registered charity in the US and Canada. All US & Canadian donations are tax deductible to the full extent allowed by law.