According to Edward Espe Brown in the March 2010 issue of the Shambhala Sun, mindful cooking is not about being detached while you're de-boning or or being subdued while you're sauteing. Rather, mindful cooking is about letting your passion cook. Here's an assortment of books to help us get another taste of mindfulness.

The Complete Tassajara Cookbook
Recipes, Techniques, and Reflections From the Famed Zen Kitchen
By Edward Espe Brown
Shambhala Publications, 2009; 526 pp., $35 (cloth)
The Complete Tassajara Cookbook is a collection of Zen chef Edward Espé Brown's best work. Thirty-five years ago, when Brown wrote Tassajara Cooking, he shied away from giving recipes in the usual sense, preferring to list ingredients without specific quantities in hopes of encouraging experimentation. Some of the recipes in this new volume are likewise refreshing loose, but Brown has come to realize that more specific instructions allow people to add to their repertoire, so most of the recipes are more precise. The one constant is that he always conveys his delight in vegetarian cooking. It's not just about working on food, he says, but working on yourself, and awakening your capacities for living in the moment.
After the jump, seven more books for the mindful cook (and eater) in you.
The Tassajara Bread Book
By Edward Espe Brown
Shambhala Publications; 2009, 168 pp., $28.95 (cloth)
Brown says studying Zen with Shunryu Suzuki Roshi and being a member of the meditation community at Tassajara in California was one of the things that saved him from feeling disconnected and alone. Another thing that saved him was learning to bake bread. In this deluxe new edition of the 1970 classic, The Tassajara Bread Book, Edward Espe Brown makes his case for homemade bread being one of the most warm-hearted efforts that one can undertake. He sees it as a "profound expression of caring," which can renew us and reconnect us with our common heritage. He encourages readers to nourish their own spirits by filling one another's stomachs with whole food ingredients and fresh tastes and he offers detailed instructions for more than one hundred recipes. Some are traditional, such as sourdough bread, bran muffins, and chocolate mousse pie, while others are more exotic, such as Asian spice muffins, mustard gingerbread, and jalapeno-corn bread. This book is an admirable effort to create a closer-knit community of those who eat to live and those who live to eat.

The Blue Heron Ranch Cookbook
Recipes and Stories from a Zen Retreat Center
By Nadia Natali
North Atlantic Books, 2008; 206 pp., $29.50 (paper)
Nadia Natali and her husband purchased a remote, unserviced, 40-acre property near Ojaj, California when the eldest of their children was three-and-a-half. For twenty-eight years since then they have lived close to the land, providing for their family and for the visitors to their small Zen retreat, dubbed the Blue Heron Ranch. Natali's simple, wholesome, and practical dishes are the result of long hours in the kitchen and can be adapted to serve two or twenty. Recipes from The Blue Heron Ranch Cookbook are complemented by charming illustrations by one of her daughters and Natali's short reflections on the joys and challenges of living in the Californian wilderness.
One Taste
Vegetarian Home Cooking from Around the World
By Sharon Louisie Crayton
Provecho Press, 2008; 206 pp., $29.50 (paper)
One Taste author Sharon Crayton is a trained nutritionist and sophisticated chef who traveled the world to collect recipes and know-how. But the search left her empty. "I was completely caught up in my expectations for perfect, specific results;" she says, "a slave to my shoulds, coulds, and woulds." The Tibetan Buddhist teacher Dzongsar Khyentse Rinpoche motivated Crayton to transform the way she cooked, which had a deep effect on her life: "Over time I realized that maybe the problem was not the task of cooking itself but the attitude I had toward this universal and essential activity." Her hybrid cookbook/meditation manual will motivate you to take your meditation from the cushion to the kitchen.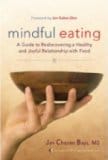 Mindful Eating
A Guide to Rediscovering a Healthy and Joyful Relationship with Food
By Jan Chozen Bays, MD
Shambhala Publications, 2009; 240 pp., $16.95 (paper)
According to the U.S Department of Health, nearly two out of three American adults are overweight and it's estimated that millions of Americans are bulimic or anorexic. A primary cause of this epidemic of eating disorders, says longtime Zen teacher Bays, is the lack of one essential human nutrient: mindfulness. Her book, Mindful Eating, will help you learn to be present at the table—to notice how each bite looks, feels, smells, and tastes. This in turn will allow you to identify your habits with food; tap into your body's innate wisdom about what, when, and how much to eat; and develop a more compassionate attitude toward yourself. Bays, who has been teaching mindful eating for more than twenty years, peppers her book with exercises and the real-life stories of people who have discovered that, although the palate offers many pleasures, sometimes what we hunger for isn't food, but rather the feeling of being truly alive.
The Cosmos in a Carrot
A Zen Guide to Eating Well
By Carmen Yuen
Parallax Press, 2006; 150 pp.; $14.95 (paper)
While she's only twenty-two years old and a relative unknown, Carmen Yuen joins the company of Frances Moore Lappé (Diet for a Small Planet) and Jane Goodall (Harvest of Hope) with this Buddhist guide to mindful eating. Yuen is a student of Thich Nhat Hahn, and The Cosmos in a Carrot is infused with his gentle imprint. Part one discusses how the Buddhist teachings—such as no-self and interbeing, the five mindfulness trainings, and the Middle Way—can be applied to a philosophy of eating well. Part two offers many practical guidelines for a healthy diet. Part three looks at the activities related to eating—grocery shopping, cooking, cleaning up—as opportunities for meditation and bodhisattva activity.

Tibetan Cooking
Recipes for Daily Living, Celebration & Ceremony
By Elizabeth Kelly
Snow Lion, 2007; 152pp.; $19.95 (paper)
If there is a recipe for eating—and living—close to the earth, it must be Tibetan, a cuisine known for its simplicity, not variety. Staple dishes are based around the scarce foodstuff available to a nomadic people living at altitude: meat, dairy products, and grains. Elizabeth Kelly is an adept at preparing traditional Tibetan food—even going so far as to dry supplies of meat in the eaves of her family home—and Tibetan Cooking offers a representative sample of Tibetan main dishes (both meat and vegetarian), hearty soups, and tasty condiments, as well as menus for traditional celebrations.
The Greyston Bakery Cookbook
More than 80 Recipes to Inspire the Way You Cook and Live
By Sara Kate Gillingham-Ryan
Rodale, 2007; 200 pp.; $26 (cloth)
We've tried several of the recipes from this sumptuously designed collection, The Greyston Bakery Cookbook, and found them uniformly scrumptious. But beyond the recipes, Greyston Bakery's history also bears noting. It was founded as a storefront cafe twenty-five years ago by Bernie Glassman Roshi, who wanted to run a business based on the principles and practice of Zen and to contribute to the struggling local Yonkers community. Today Greyston is a collection of businesses—including housing, child care, youth and AIDS health care programs—supported by revenue from the bakery and employing local disadvantaged community members.