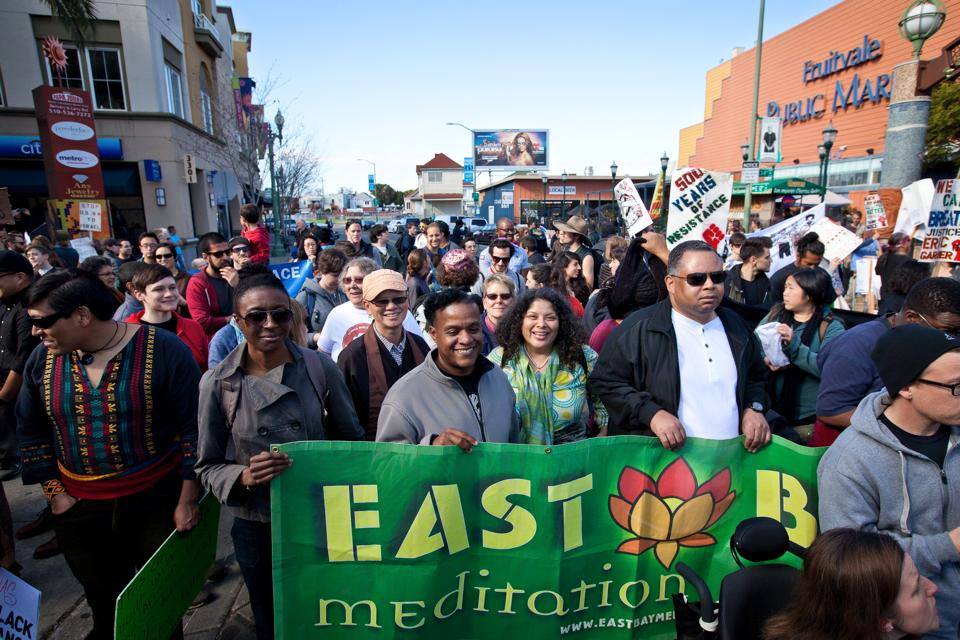 Photo via
East Bay Meditation Center
on Facebook.
The East Bay Meditation Center is currently raising funds for their center at Lake Merrit as part of their Sixth Annual Dharma-thon.  Click here to donate.
In the late 1990s, a group of Buddhist teachers and practitioners in the San Francisco Bay Area began talking about the need for a new meditation center in Oakland, California, a city that is generally more diverse, working-class, and affordable than the rest of the Bay Area. The center's mission, from the start, would be to welcome and support as many communities as possible. They wanted their center to explicitly welcome people of color, LGBTQI-identified, teenagers, and people in recovery, with low incomes, or with chronic illness and disability. In the process of envisioning their new center, the founding group approached these communities directly and asked what they wanted in a spiritual home. In the end, the goal would be to provide "a safe space for individuals who daily confront the effects of oppression, racism, or homophobia and heterosexism in their lives, and who therefore may choose to initially avoid mixed programs."
In 2001 the group incorporated as a nonprofit, and in 2005 changed their name to the East Bay Meditation Center, or EBMC. Their first meditation programs for people of color were held in 2006, with an official center opening in 2007. Recalling the opening, Larry Yang, one of the core teachers, said, "We got a beautiful Buddhist statue for the altar. Before the statue was installed, we had hung a rainbow banner on the wall behind it. Because it was really important to be inclusive of communities who don't normally feel included, from the onset."
One of the central groups is the Alphabet Sangha, for the LGBTQI community, which meets once a week. Meetings include time for discussion, meditation, and a dharma talk given either by someone LGBTQI-identified or who co-teaches with an LGBTQI teacher. "Without the center," one of the members says, "I haven't had a home for deepening into meditation practice. And as a transgendered and queer person, it's important to have that safe space, to feel comfortable going deeper without feeling misunderstood or invisible."
The mission of EBMC is "to foster liberation, personal and interpersonal healing, social action, and inclusive community building." The center and its programs are funded entirely by donations. The leaders of the center wish to give "full access to as many diverse communities as possible, with the principles of full economic accessibility and social justice."
The nine-member board of directors, or Leadership Sangha, is collectively approved. Most of the core teachers have been trained in the American Insight or Vipassana movement, but a pool of over eighty Community Teachers represent a striking range of Buddhist traditions, as well as other spiritual traditions. Mushim Patricia Ikeda, a core teacher, was primarily trained in Korean Zen. Jack Kornfield, Sharon Salzberg, and Zoketsu Norman Fischer also teach at EBMC. The leadership is committed to finding qualified Buddhist teachers who are also trained in diversity awareness and cultural sensitivity. EBMC teachers such as Larry Yang have conducted outreach efforts to bring more diversity into leadership roles. As a result of this, for example, Community Dharma Leaders Program at Spirit Rock Meditation Center recently had a striking increase in participation of People of Color and/or LGBTQI-identified, from just 8% in 2011 to 40% in 2012.
"I feel safe there," one EBMC member of color says. "So that's an important aspect of being able to really practice, really hear what's being said to me, in the dharma."
More on Insight Meditation, Inclusive Dharma, and EBMC: