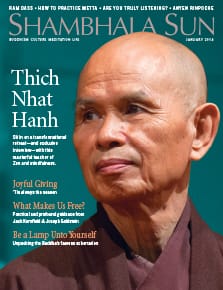 Deputy Editor Andrea Miller's editorial introduction to the January 2014 issue of Lion's Roar magazine.
On retreat at Blue Cliff Monastery, a teenager got up in front of the eight-hundred-plus retreatants and posed this question to Thich Nhat Hanh: "What is the hardest thing that you practice?"
As he always does before speaking, the Zen master paused. "That is," he finally said, "not being overwhelmed by despair."
During the Vietnam War, Thich Nhat Hanh, known to his students as Thay, founded the School of Youth for Social Service, a volunteer organization that aided victims of the violence. One village located near the demilitarized zone separating North and South Vietnam was bombed, so Thay and his young social workers helped rebuild it. Shortly after, the village was again bombed by the United States, and again rebuilt. This happened four times.
"If we gave up, that would have created a feeling of despair," Thay explained to the Blue Cliff retreatants. "That is why we kept rebuilding."
When people have given in to despair, they can be driven to do desperate and dangerous things. So it's important, Thay said, never to feed the seeds of despair in others. That does not mean that you should lie about dire situations, but you should think carefully about your words and frame what you say in a constructive manner.
Young Vietnamese frequently asked Thich Nhat Hanh if he thought the war would end soon. The truth was he could not see the light at the end of the tunnel; the fighting had been going on for so long that it seemed like it would continue forever. Yet Thay did not say that to the young people. "Dear friends," he told them, "the Buddha said that everything is impermanent. The war is impermanent also—it should end someday. Let us continue to work for peace."
In this issue of Lion's Roar, you will find the story of my retreat experience with Thay at Blue Cliff Monastery in Pine Bush, New York. During the course of this retreat, I got to explore concrete tools for working with despair and other unhelpful emotions, and what I took away with me is this: for transforming suffering, mindfulness practice is key but a community is necessary to support that practice.
"In order to produce the powerful energy of enlightenment, compassion, understanding, you need a sangha, a community," Thich Nhat Hanh says in my interview with him on page 58. "You build a sangha and together you help each other nourish the buddha and the dharma in you."
In "Before He Melts Away," also in this issue, we get an intimate step-by-step look at how one practitioner used meditation and mindfulness to work with his despair, grief, and fear. James Hanmer finds himself in the middle of a nightmare: his toddler son is diagnosed with a life-threatening form of cancer. There is no silver bullet that's going to make this situation disappear, but meditation gives Hanmer insight, strength, and a measure of equanimity. He realizes that even in his darkest hour, he's fortunate. He is, after all, alive and can put his whole heart into easing the suffering of his family. Though I've read this story again and again, I choke up each time. Be prepared to be moved, but also be prepared for a happy ending.
On my way home from Blue Cliff Monastery, I went to the Earl of Sandwich in Newark Airport and had my own small experience with the insight brought about by mindfulness. A week prior, I'd have thought that the noise and busyness of the restaurant were just ordinary life. But post-retreat I was experiencing everything through the surreal lens of reverse culture shock—the cranked-up pop music, the frenetic clink of cutlery, the laughing-shrieking-talking tableful of women eating nachos.
My sandwich came and I chewed slowly without picking up my book or cell phone. I contemplated how many beings had worked to make this meal possible for me. The cows and factory workers. The farmers and truck drivers. The cooks, waiters, and dishwashers. After six days of practicing with a sangha, I was open to connecting with my world this way, bite by bite.
I looked around the restaurant and saw a little girl with a zebra-print suitcase and a solitary man lost in his Kindle. The people around me were tired and stressed, bored and excited, slightly irritated and slightly drunk. They reminded me of other people I knew; they reminded me of me. Then suddenly, if just for a moment, I saw clearly. This whole laughing, hurting, busy world—it is all my sangha.