The May 2012 Lion's Roar magazine includes a special section of eleven Buddhist teachers and writers on embracing change, and we're also sharing exclusive related writings online. First there was a helpful piece by Susan Quinn; now, we're pleased to share this tender guest post by psychotherapist Jacey Tramutt.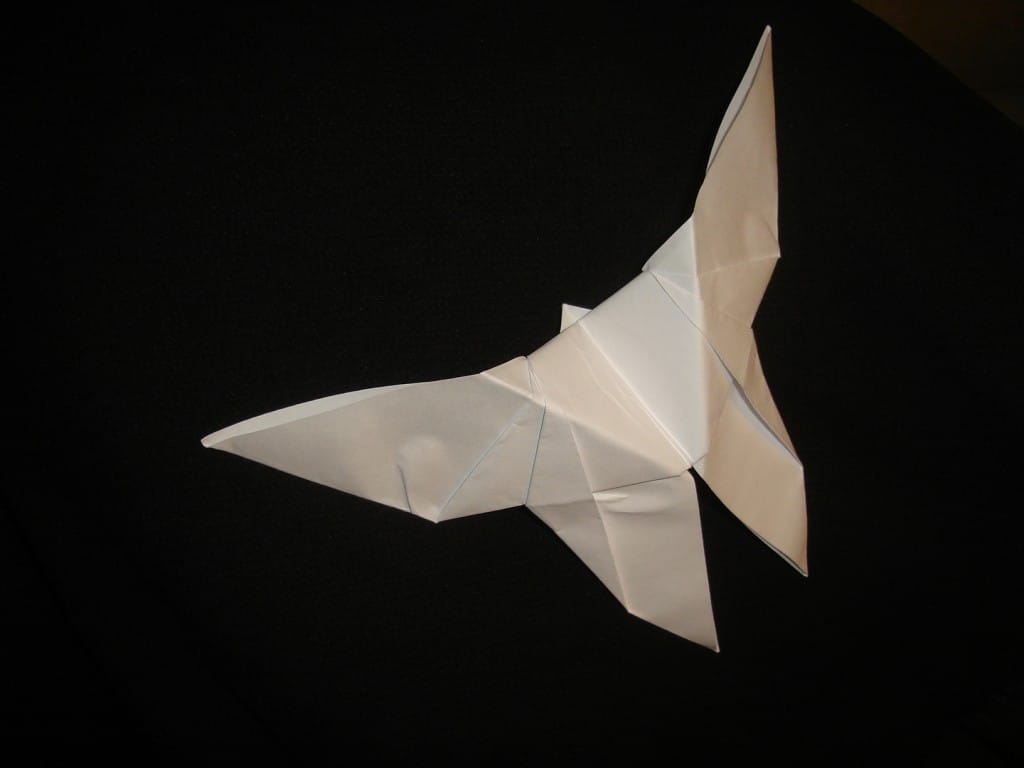 My grandmother is dying. She's ninety-one. She can't open her eyes, speak or swallow. She lies in her bed, mouth open, struggling to breathe. Every breath is raspy, gasp-y and slow.
She wears the butterfly necklace I gave her for Christmas and it flutters and falls with her breathing. I touch it gently. "It symbolizes transformation, Grandma," I say. "I love you." I cry as I sit beside her. I wipe my eyes and get up and go to the other room to see my 94-year-old grandfather. I tell myself, "He needs some attention too." Deep down I know I am looking for a way to distract myself. Avoiding the seat next to death.
"Are you getting off at the next stop?" My grandfather asks. I play along, pretending not to notice his dementia. "Maybe," I reply, "I was thinking this stop or the next one.  How about you?" "That's what I was thinking," he responds. Then after a moment's hesitation he says, "What about Mother?"
Mother is what he calls my grandmother. Now it is I who hesitate. "Her next stop is heaven, Grandpa." After seventy years of marriage and all that goes with that, I fear he will lose his last pillar of reality. My grandfather looks into my eyes and says, "I've heard that before." He dismisses my words with a swat of his hand. Denial. It can be such a beautiful thing.
What to say? He has heard it before. Only this time, it's different. This time, she is dying.
"How about we all get together for supper later? I'll tell Mother," he says. "Sounds good, Grandpa," I reply, and make my way back to my grandmother's side. There is no noticeable change. The labored breathing goes on. Her body struggles to live. (Or does it struggle to die? I can't tell.) "It's ok to let go, Grandma," I say. Then I check myself: can I take my own advice? I sit quietly with her following my breath. Feeling my shaky body on the in-breath, letting go on the out-breath, and noticing the pause of nothingness between breaths. Being present with the face of death, which has assumed the face of my beloved grandmother. Can I let go? I cry and reach for her hand. "I know it's not easy," I say, "I'll miss you so much." In that moment, despite her frailty, I know it is she that is the much stronger one of the two of us. Dying takes incredible strength.
I read to her a passage from the Tibetan Book of the Dead, as translated by Robert Thurman. I insert the word God for Buddha, respecting her religious beliefs and language.
Hey! When the impulse of my lifespan is worn out,
As dear ones cannot help beyond this world
And I must wander alone in the between,
May God mild and fierce exert the force of his compassion
And clear the dense fog of darkness of mis-knowledge!
Now that I wander alone, apart from my loved ones,
And all my visions are but empty images,
May God exert the force of his compassion
And stop the fear and hate-drawn terrors of the between!
When the five lights of brilliant wisdom dawn,
Fearlessly, bravely, may I know them as myself!
When the forms of the Lord mild and fierce arise,
Bold and fearless, may I recognize the between!
She makes some noises that sound like, "Ahh." I know she can hear me and understand. "You are so brave Grandma," I say, and look around for a distraction. There are photo albums on her dresser that show her young and vivacious, classy and tall, hair stylish and eyes blue. Photos of her and my grandpa making homemade raviolis in the Denver home they shared for fifty-four years. Photos of family holiday celebrations — my father, mother, brother, aunts, uncles, husband, and cousins all smile back at me from happier times. My favorite is one of her holding my son, her great-grandson, when he was one month old. My family: I feel it unravel as she breathes, morphing into something new. Our family will not be the same.
I close the photos and return to the present. It's so hard to sit there, the hardest meditation I can recall. "All you have to do is breathe," I remind myself. "Be." My eyes dart to the clock. It's been two minutes. It feels like at least twenty.
I want to leave yet I want to stay — knowing these are the last moments I have with my grandmother, at least in this lifetime, they are precious. They are generous with the gift of being able to say goodbye. "Goodbye, Grandma," I say. "Goodbye." How many times should I say it? I sit with my restlessness. I feel the desire to escape the moment a fiery inferno inside me. I come back to my breath. I notice the ease of it in comparison to my grandmother's, and I find gratitude. For a brief moment, I can relax.
It's time for me to leave. I forget my coat and have to go back in. Did I do that on purpose? One more goodbye. One more kiss on her burning forehead. One final squeeze of her hand. One more tear to let fall on her withered cheek.
On the morning of the next day, January 5, I get the news from my father. She died at 2:00 am. I sob. It doesn't matter that I knew it was coming. I trust the wisdom of my body and let it weep, a heaving motion that seems to originate from somewhere deep inside me that I did not know existed. Losing my grandmother is a unique loss, a unique grief. I breathe and let myself feel it. My eighteen-month-old looks at me inquisitively. "Momma is sad," I explain. "Great Grandma died this morning." He looks at me puzzled. "She went bye-bye," I explain, and a look of understanding comes over his face. My husband holds me as I grieve.
The family moves into funeral-planning mode. My job is to get a slideshow together of her life. Luckily I made one for her ninetieth birthday and it only needs a few additions. I have photos of her from the time she was four months old, up until a month before her death. My brother is given the task of decorations for the reception. I call him up. "Any ideas?" I ask. "Butterflies," he responds, and I say, "Perfect."
We decide to make origami butterflies. The YouTube video makes it look so simple, but I get frustrated and say, "I suck at this. Maybe we should do something else." My brother looks at me and non-judgmentally says, "Well, you haven't really practiced." I can't help but laugh and hear the truth in his words as my inner critic is revealed. In the end my brother makes the butterflies, colorful and precise. She would have loved them.
A few days later I am up at 5:00 am to feed my son. I am grumbling sleepy thoughts in my head. Suddenly, my mind is still. On the wall illuminated is a giant origami butterfly. My rational mind races in. Is it the moonlight shining in from the window? The light from the clock? I don't investigate because I don't want to know. Instead I stand there, holding my son close, and feel the presence of my grandmother.
Twelve days later – Jan. 17, 2012 – my grandfather dies. He looks so similar to her in his final hours: hair white and wild, eyes tightly shut, head back, mouth open, and breath rugged. I hold his hand and say, "I love you Grandpa," and feel my grief pooling in my jaw. It has nowhere else to go; my body is full. He doesn't respond, but I know what he would say if he could.
He used to say, "Okay," after I'd say, "I love you," I share at his funeral. "I don't remember when he started saying, 'I love you,' back to me, but he did. My grandfather had an incredible capacity to love, as demonstrated by the fact that he only lived twelve days without my grandmother."
Everyone keeps saying, "They are together now." My husband asks me, "Do you believe that?" "I don't know," I reply, "But I hope so." Later that night I am dreaming my grandfather is lost and no one can find him. I see a TV in a store window and the news is on. There is my grandfather! The announcer says, "An unknown man has been found near a butterfly."