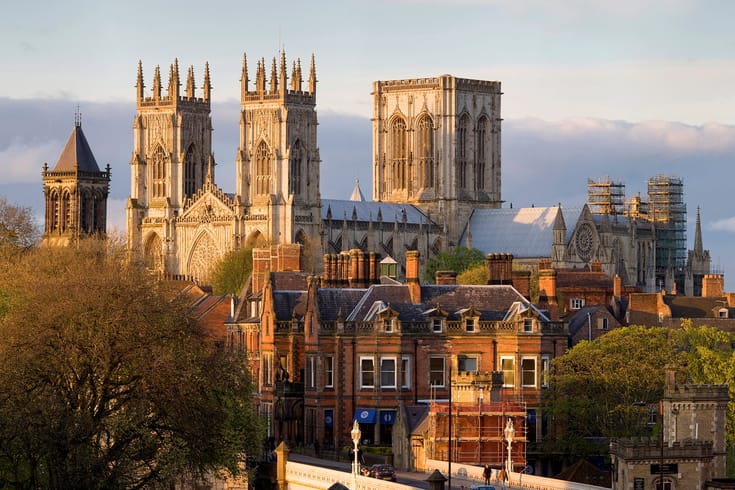 York Minster. Photo by
andy
.
This week, The Telegraph reported that York Minster — the church that is the seat of the second-highest office in the Church of England, the Archishop of York — has been hosting Zen classes for the last two years. Some say the classes are controversial.
The church's Canon Chancellor, Christopher Collingwood, has an enthusiasm for Zen Buddhism. The classes began after he arrived at the church and interested congregants learned of his interest in Buddhism, and now take place every other Friday for an hour and a half, as advertised on the church's website.
"Funnily enough, I have been quite surprised at the number of people who are really interested in it," Collingwood told The Telegraph. "I'm sure there are those who think I'm an out -and-out heretic but it seems to me perhaps Zen poses fewer problems [than other non-Christian customs] because it doesn't claim to be a system of belief."
The Telegraph described York Minster, which is the second-largest Gothic cathedral in Northern Europe, as "arguably England's most venerable church", "renowned around the world for its daily cycle of prayer and choral worship."
Since the publication of the Telegraph article, which was titled "York Minster brings in Zen Buddhism, quietly," many news outlets have taken a different angle on the issue. Two day's later, a Guardian headline read "York Minster criticised for allowing Buddhist meditation." That article gave voice to the conservative evangelical lobby "Christian Concern." The only source the article cited that criticized the Zen classes was a press release from the far-right organization. In the press release, the group also criticized the church's decision to bless last year's Pride march. Also picking up the press release, Newsweek proclaimed, "British Cathedral Slammed for its Buddhist Meditation Sessions." Like The Guardian, Newsweek also relied on only the press release to substantiate its headline's claim.
In a statement on Monday, the York Minster say, "The Zen Sangha group has been granted the use of a meeting space in the Old Palace—the Minster's Library located in Dean's Park—for the last two years. They do not and have never met in the cathedral… The Zen group is not a religious order of any kind and the Chapter of York would not give permission for any such religious order to be set up at York Minster."